Political
Influencer
Marketing
Empowering India's Transformation Through Influencer Marketing
Talk to us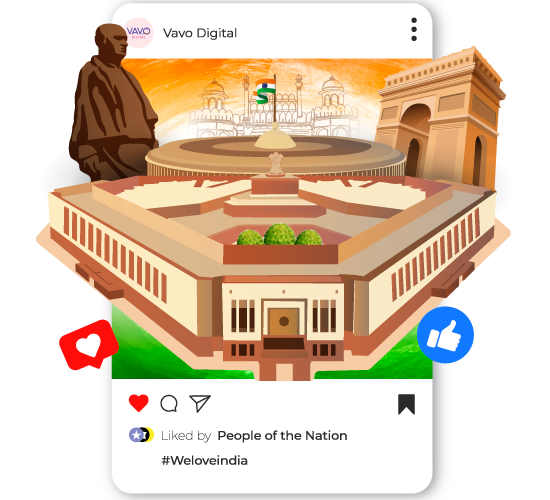 We Can Help You To
Achieve
Unleash the Revolutionary Potential of
Influencer

Marketing

for Government, Political Parties, and NGOs

we are dedicated to revolutionizing the political landscape through the transformative power of influencer marketing. Our groundbreaking approach combines the time-tested principles of political campaigns with the cutting-edge dynamics of social media and influential voices. Together, we can create a winning strategy that not only captures attention but sparks real change. Prepare to witness the true power of influencer marketing in politics.
Here's how we create impact to the very grassroots of where it matters.
Our team of experts meticulously handpicks influencers who flawlessly align with your campaign's values, objectives, and target audience. We go beyond superficial metrics, focusing on influencers with a genuine passion for politics and an established record of engaging their followers on vital political and social issues.
Custom-Crafted Campaign Strategies
We create bespoke influencer marketing campaigns designed to achieve your precise goals. Whether you seek to increase awareness, stimulate policy discussions, drive voter registration, or mobilize volunteers, our strategies are finely tuned to resonate with your target audience and ignite profound action.
Comprehensive Campaign Management
From influencer coordination and content creation to campaign monitoring and performance analysis, we handle every intricate detail of your influencer marketing campaign. With a dedicated team by your side, rest assured that every aspect will be flawlessly executed, enabling you to focus wholeheartedly on your political mission.
Working with Vavo Digital has been a delight so far. I must praise their team's hard working personnel and never giving up attitude. Furthermore, they remove the unnecessary intermediaries, making communication simple and quick.
It has been a pleasure working with Vavo Digital thus far. I must commend their devoted staff. Everything is meticulously taken care of. Everything was completed on schedule, from briefings to the payment procedure.
Vavo Digital, the finest influencer management agency which serves PAN India brands. They constantly keep influencers informed about projects that not only build our portfolio but also resonate with our audience.
Collaborating with Vavo Digital was an excellent experience in every way. They make the process simple and comfortable. Additionally, I'm continually informed about promotions that are available and appropriate for my profile.
It's so much easier and smoother to work with Vavo Digital. I must appreciate their hard work and team management. Every single thing is taken care of minutely. From briefs to the payment process, everything was done on time
Honestly, working with Vavo Digital was warm and appreciable! The explanation of the brief was clear, the execution of the campaign was smooth and timely payments were done. It's always a pleasure to work with them.
Vavo Digital is a great platform to work with brands. They always keep their influencers updated with campaigns which are suitable for them. They also help in finding new brands to work with which is appreciable.
A fantastic agency to work with in influence marketing. Thanks to their solid relationships with influencers, any campaign they run for a brand is a success. The cherry on top is their capacity to fulfil their targets on time.
Vavo Digital is a praise-worthy agency since they devise plans after careful decisions to make sure that the work done is satisfactory to both the consumers and the clients. We always look forward to working with them.
We've been able to fill the gaps between our organic and paid initiatives, which has allowed us to allocate our budget and resources.Thanks to Mahek Bassan, their brand strategist, we have forged a fantastic connection with them.
The spirit of the team to meet deadlines was appreciable. Their sharp insights and recognition of our target market opened our eyes, which improved the campaign's effectiveness. Also, it provided good value for the money.
We have always placed a strong emphasis on digital marketing and advertising, but thanks to Vavo Digital, we can outsource our needs to nano and micro-influencers who handle everything from campaign design to implementation.
The team did a wonderful job explaining to an international client the details of Indian meme marketing. We got the quality of work as expected and any given feedback was taken constructively to improve.
The Influencers that Vavo Digital had shortlisted were after a thorough understanding of our objective, they were credible, had good engagement percentages, and targeted our clientele directly. We were satisfied with the results.
Since the beginning of our business, influencer marketing has been our primary method of promoting our business and Vavo Digital has assisted us in connecting with the right audience in six major cities.
Our
Creator's

Squad

We are adding more right in the moment you see it!
Subscribe to our
newsletter
Stay up to date on the latest news.