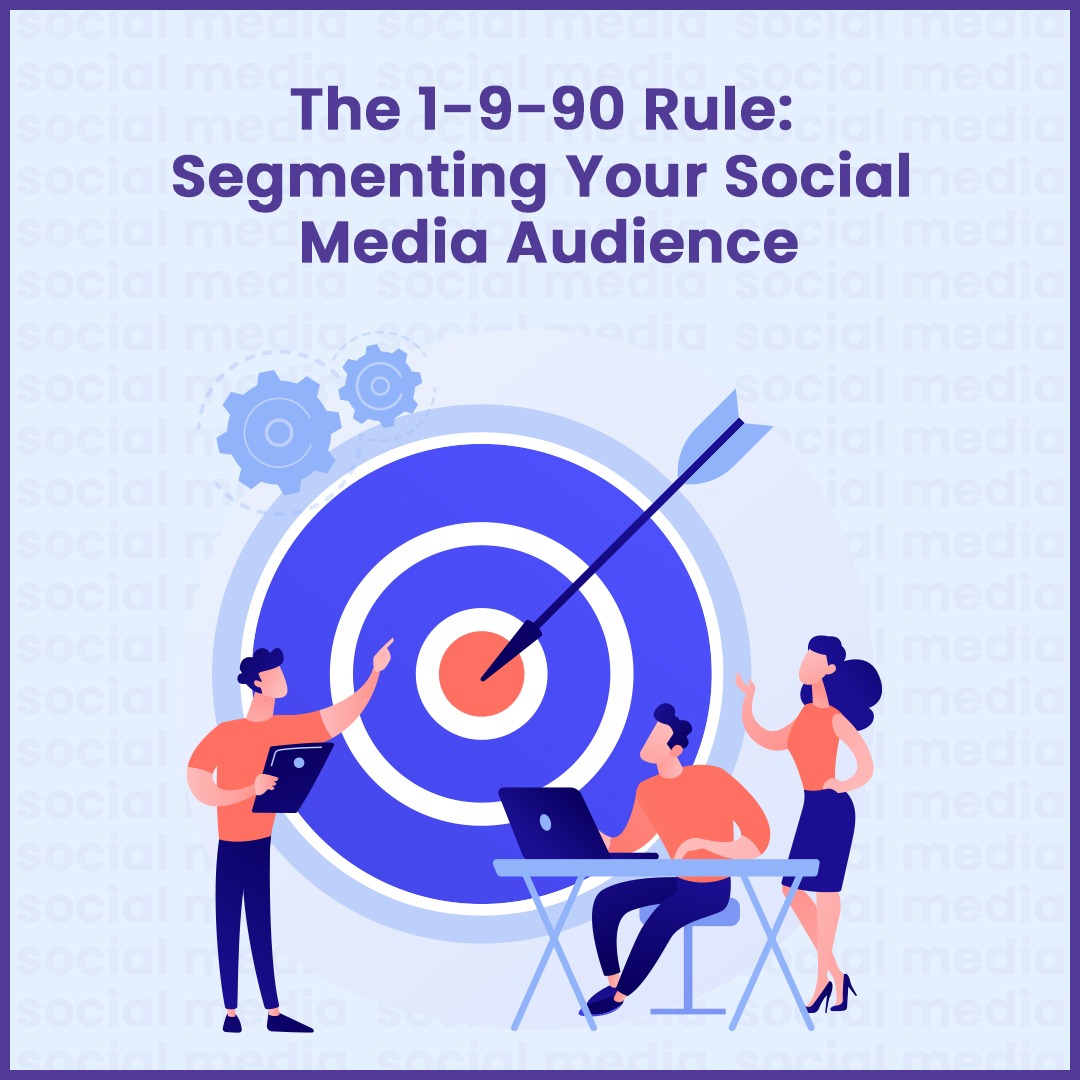 The 1-9-90 Rule: Segmenting Your Social Media Audience

Do you ever read reviews of other people's experiences with the product or service before you visit a restaurant or buy it? The majority of individuals in today's generation, according to studies, believe in other people's perspectives and experiences since we all learn from other people's experiences. Because of this, websites like Glassdoor or Amazon reviews exist. In terms of interactions and contributions on social media, this is where the 1-9-90 rule seems to become helpful. When a group of people is divided into three segments, it is easier to understand them. How is that even possible?

Let's understand the basics first,
What Is An Influencer Model?
Source: Zig Marketing
An influencer model is a framework for segmenting influencers based on their influence. It's a good approach to communicate with influencers clearly and on the channels where they are most active. Influencer segmentation and research involve a wide range of additional factors, which are covered in greater detail below. But the most important thing to remember when discussing any social influence model is that it depends on a certain subject or market.
These subjects and markets are the foundation for the influencer model we are discussing today. The top 1% of individuals in each industry (and issue) are influencers. 9% of participants in such a market are promoters, while the other 90% are lurkers.
Influencer Segmentation: The 1-9-90 Influencer Model
In 2006, Charles Arthur made one of the earliest allusions to the 1:9:90 model when he said that "if you get a group of 100 individuals online, then one will create content, 10 will 'interact' with it (commenting or giving changes), and the other 89 will just view it."
Since then, there have been many changes in market dynamics, impact, and how the material is produced, distributed, and packaged online.
1. The 1%
The top content creators, opinion leaders, and influencers are listed here. The market changes when people say something, write, tweet, or publish it. Most discussion sharing for any given issue is usually never driven by more than 50–100 people. They can develop new markets. They can introduce new product groups. Only journalists and members of the traditional media used to make up this group. Depending on the market, you can include just about anyone in this group today.
2. The 9%
These are social media experts who are enthusiasts. They are quite active online and primarily use social networks. They offer suggestions for products, eateries, coffee shops, apparel, and more. Whether positive or negative, they discuss their brand encounters with their networks. They subscribe to newsletters, download stuff, comment on it, and share it—any activity that communicates their opinions to their peer group.
3. The 90%
This represents any market's vast majority. Daily, they lurk, read, and consume content. Without contributing much to the discourse, this group is willing to use Google to learn about new items, read reviews, and consume the content of their peers. However, don't ignore them because strength comes in numbers. Based on their purchasing habits, they determine how persuasive the 1% and the 9% are in actually telling your brand's narrative.
Influencer marketing can do wonders when done right, this festive season explore influencer marketing campaigns and amplify your brand. Curious to know how, read: 5 Effective Tips To Use Influencer Marketing During The Festive Season
Why Does This Influencer Model Work?
Influencers will be crucial in social media marketing campaigns for reaching decision-makers as they browse the web and conduct product and service research. Additionally, by using influencer segmentation, marketers can design unique programming for the 1%, 9%, and 90% of consumers.
For example, You chose five industry leaders to collaborate on creating a branded e-book that presents their viewpoints on the future of work. You offer each influencer complete editorial freedom, brand it with your messaging, and disseminate it throughout the digital channels used by your business, such as SlideShare, Twitter, and LinkedIn.
Several tech enthusiasts then download, read, and distribute the guide. Some might cite the manual in a blog post while including their professional judgment. Some people might want to post it on LinkedIn or Twitter.
Based on the opinions of the 1% and 9%, the rest of the market will determine whether or not to download the guide. To gain additional viewpoints, they may use Google or consult their coworkers.
Let's assume that this e-book is a huge success and that it reaches thousands of potential clients. Not only is your brand being subtly supported by a third party, but you could also be in line for a flood of new leads. That is the 1-9-90 model's strength.
Conclusion
You may gather information about each of these audiences by segmenting them according to the 1:9:90 model and creating content that they will find interesting. Making little time and financial expenditures can help you better use data to influence your marketing choices. Data can offer discretion and clarity, whether prioritizing media outreach or being savvier with paid marketing.
It's time to remove any uncertainty from marketing. Start utilizing social data to inform business decisions, tell better stories, and connect with audiences where they are already present. By doing this, you'll be able to cut through the noise and engage your audience with material that matters.
Vavo Digital, one of the best influencer marketing agencies, is aware of influencers' significant influence over their audience for brands across all industries. We help you establish relationships with these influencers so that they can effectively spread the word about your business.
Are you interested in learning more about influencer marketing and how it may help your brand? Please email us at hello@vavodigital.com, and we'll respond as soon as possible!