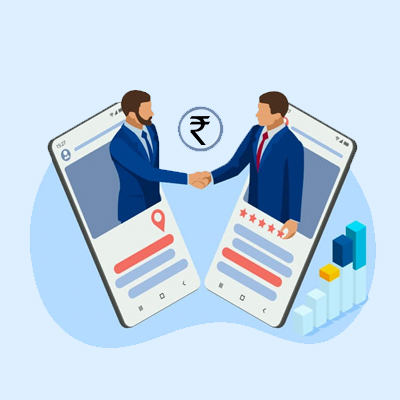 Influencer marketing to grow your B2B business

How do you find the right influencers? How do you manage the promotions and campaigns? Which platforms work the best for B2B Influencer Marketing?

In a nutshell, it's all about how every business today wants to work with influencers. While Instagram influencer marketing hit $8.08 billion in spend in 2020, the growth trajectory of the industry is not limited to consumer brands. Influencer marketing has become the most preferred tactic for B2B companies to connect with their target audiences.

Brands have long known that their customers want content that tells a story or provides value to the product they buy in any way. This is why we've seen so many companies, both B2C and B2B emphasising on how they started, what made them to build this brand and most importantly their values.

And the same can be made real through Influencers. Instead of the typical, ad-like promotion, consider asking the influencers to work your product or service into a story or experience.

Let's take a well known example, Microsoft, a technology brand, partnered with National Geographic for a unique B2B influencer marketing campaign. They leveraged some of the most famous adventure photographers and macro and micro-influencers on Instagram for the campaign. Microsoft's main objective was to encourage young women to work in science, technology, engineering, and math (STEM) disciplines and wanted to empower women to pursue their dream jobs. They called it the "Make What's Next" campaign.

Microsoft planned to launch this campaign on the occasion of International Women's Day. They posted 30 photos on 5 of National Geographic's Instagram channels. 

And guess what?

✓The photos got over 3.5 million total likes in a day.

✓Microsoft was able to reach about 91 million people.

With this powerful B2B influencer marketing campaign, they proved once again that they are the leaders in innovation.

But with multiple brands targeting the same audience, how can you reach that audience more effectively than others?

It is quite challenging, as it needs strategy, creation, launch, monitor, and optimization of your campaigns to drive the best results.

Many businesses and marketers use social media platforms. Let us guide you through!

> Product giveaways

Giving away products and services introduces your audience to your brand risk-free. Long used as a sales technique in the form of free samples to consumers, when applied to influencer marketing it means giving those samples to influencers. Here, the idea is to encourage influencers to talk about your products on their own to customers unfolding various perspectives.

> Hold Events for B2B Influencer Marketing

Business events have had the reputation of being a drag. Little do people know that these events can be as exciting for their brand as a full-blown party. Event are also a powerful marketing opportunity. This goes far beyond just setting up a booth or paying to have your logo put on promotional materials.

If you have influencers who love to promote your products, consider leveraging their power at events. You could sponsor a seminar featuring your product. Alternatively, consider having influencers participate in product launch parties. This is a highly effective technique for B2C brands as well.

> Include B2B Influencers in Your Content

People love branded content, and they respond well to influencer marketing. This content can take a wide variety of forms. For instance, you could include people in blog posts, videos, podcasts, and much more. Here, the idea is to allow the influencers to be creative, with the assistance of your marketing department. Alternately, you can give influencers a branded miniature website to post content, granting them much more creative license.

Sometimes influencers can make huge differences, especially for smaller brands. In short, if you haven't tried these techniques you're missing out on a lot of impact. To know more sign up with Vavodigital to experience exceptional growth in marketing and digital presence.