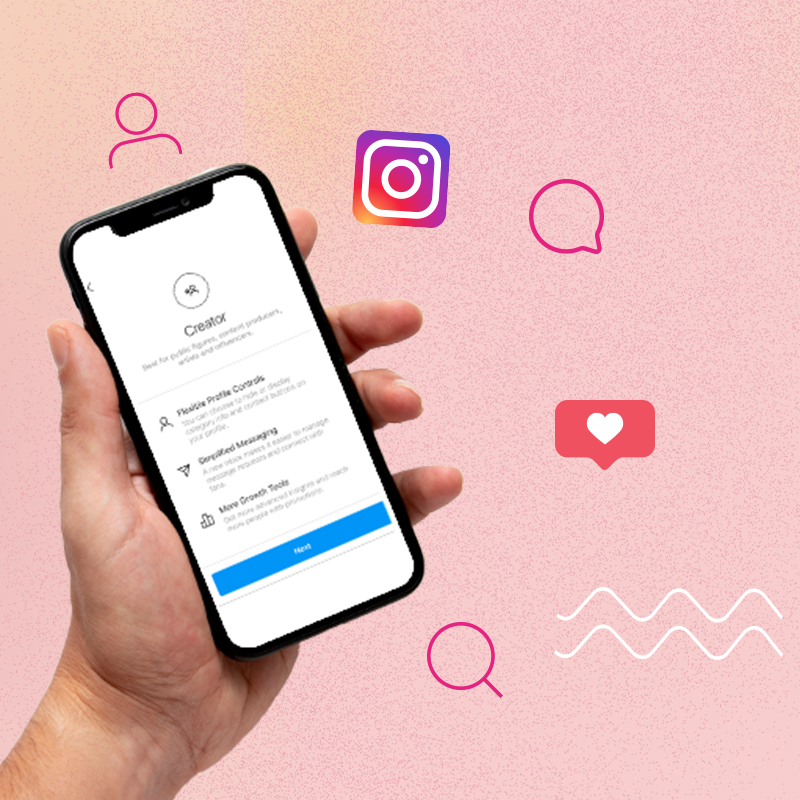 Instagram creator account: What are they and why you should switch to it?

Change is the only constant thing in the world.

If you are an influencer, we know that you've been working hard towards building your persona online, collaborating with brands, and keeping up with the platform and its trends. In a sleuth of ongoing changes to Instagram marketing, there has been a particular one that has piqued everyone's curiosity — Instagram creator accounts.

Built for its MVPs – Instagram Influencers and content creators, creator profiles are similar to business profiles but offer users exclusive features, analytics, and more. We're sure you're also as intrigued as we are by the benefits that come with it (Shopping🛍, analytics📈 , and whatnot), wondering about its drawbacks, differences from normal or business accounts, and trying to figure — "Should I switch?

Read on to know more!
Instagram creator account 101: What you need to know and how is it different from a business profile
Instagram creator profile is created to make a space to specialize in the experience for the needs of creators. In simple terms, a creator account allows you to look at exactly who your followers are and cater content to them directly, along with flexible controls, simplified messaging, and growth tools.
Why should you have an Instagram creator account?
If you're an influencer or creator actively trying to monetise your content and build more partnerships with brands, switching to a creator profile could prove to be hugely beneficial. Instagram will continue to roll out new features that will help you open up more doors than ever before, along with the following plus points that might just help you take that leap of faith.
1. Access to more growth tools and Creator Studio
One of the biggest concerns you have as an influencer is understanding your follower growth and trends, and that's why Instagram creator profiles are designed with analytics in mind. They offer access to creator studio that is an easy-to-use dashboard management tool that allows you to see all your Facebook and Instagram analytics (that you'd otherwise access in the app) – on your desktop.
Furthermore, creator profiles let you track metrics easily across Content, Audience, and Activity insights such as daily follow/unfollow data, audience's age, gender, location, reach, the total number of impressions, and more. As an influencer, these can help you know what content is sticking better with your audience, and also give brands proof of your work more impactfully!
2. Simplified messaging and cleaner inbox
If you're an influencer, we're sure you've been bombarded with DMs from "where did you buy that", or collaboration requests, event invites, and more. This can get overwhelming at times to manage, and that's where creator profiles come in. Creator profiles have DM filtering options, three new tabs: Primary, General, and Requests allow you to prioritize messages from brands and friends, or rank them by relevance or time to make sure you never miss an important request.
3. More control over profiles
Creator accounts allow for more control over your profiles, such as choosing the exact category to describe yourself (writer, blogger, actor, etc.) instead of a public figure, an option to remove contact details altogether and only getting contacted by DMs or choose the preferred contact option (email or phone). By giving creator accounts more control over how they're contacted, you will be able to filter out "cold" messages and spend more time engaging in meaningful interactions with brands you prefer to work with.
4. Fast monetization of Instagram marketing efforts: Shoppable posts
Creator accounts allow influencers to create shoppable posts so that the followers don't have to go through the trouble of searching the web or DMing the influencer to ask for details. Instead, they will be able to simply click the link provided on the photo of the wanted product, and be taken directly to the store where they can make a purchase
5. Instagram and IGTV scheduling
Instagram Creator Studio also offers publishing tools for both Instagram feed posts and IGTV. This could give you a unified place to manage your presence and content across both Facebook and Instagram. Keep a note however that creator accounts do not let you auto-schedule and publish your posts later through Instagram.
How to switch to the Instagram creator profile?
If you want to change to the Instagram creator account, here's a handy guide:
Step 1: Open the 'Instagram' application on your device and go to settings.
Step 2: Tap 'account' and switch to professional account', if you are migrating from a personal account. Tap 'creator' and 'switch to creator account', if you are migrating from a business profile.
Step 3: Now, choose your category from the options available that describes your profile best.
Step 4: If you desire to, you can connect to your Facebook page from the list that appears or skip it.
Step 5: Now, review and give anyone form of contact information. However, you have an option to display or hide this on your profile.
Step 6: You can choose your profile display options. Now, you may hide or display the contact details or category on the profile.
***
There are unique advantages and disadvantages to each Instagram profile, and it ultimately depends on what you're trying to achieve with your account. You can always switch to a creator account, test it out, and go back to your normal preference if it doesn't work out for you!
After all, the world is your oyster and at VAVODigital, we are your ship captains motivating you at every step to dive deeper and find the hidden treasures!