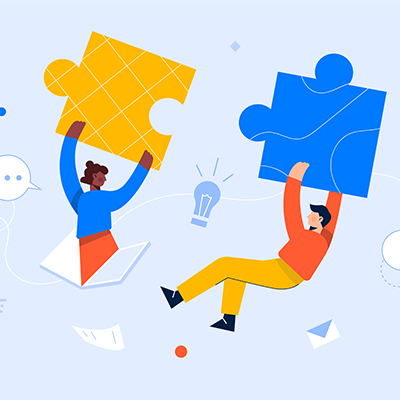 Instagram Launched New Collab Feature

Are you witnessing how beautifully the marketing industry is evolving? Have you noticed how marketers are embracing these frequent trends and changes?

The marketing industry surely doesn't believe in the pause button. Social media platforms like Instagram, Snapchat, etc., are always aiming to introduce new features and trends to allow brands to level up their creative minds.

However, one will always see marketers pacing themselves up and actively leveraging these trends and features with their campaign strategies.

And it looks like that these marketers will have to pace themselves up again. Yes, you read that right!

Instagram has again successfully created a buzz in the industry by introducing their all-new 'Collab' feature. Wait, what? Damn, yes!

First Reels, then Reels Remix, and now 'Collab.' Makers of Instagram are continuously wooing their users.

Now you might be wondering what this new 'Collab' feature is?

We are sure that you might be surprised like we were. By using the 'Collab' feature, users can now invite other accounts or a person as a collaborator whenever they publish a post or a reel. How amazing is this?

Off lately, Instagram has been known as a platform where most of the successful, authentic, and valuable collaborations have taken place. And we are pretty sure that many brands and creators will aim to leverage this new feature for their upcoming collaborations.

But, how is the Collab feature going to benefit the users? When one account accepts the invite of the other account, both their names will be highlighted in the post or the reel header. Secondly, the post will reach followers of both accounts simultaneously and they will even be able to see their shared feedback.

However, we would again like to put it into the limelight that collaboration through this feature can only happen when the other person or account accepts your invite.

Adding on, the 'Collab' feature is currently available only in two countries i.e., India and UK. Further, since Instagram is testing the outcome of this feature right now, only a limited number of users can have access to this feature. It will be soon made available to a wider audience.

Oh, and did we say that only public accounts will have access to the 'Collab' feature? Yes, it is. Hence, if you wish to leverage this feature, ensure that your account is public.

Now that you are aware of what the 'Collab' feature is all about, let us tell you how to use it!

1) Post photos, videos, or reels like you normally do.

2) Go to the 'Tag People' option. Once you tap it, you will see another option i.e., 'Invite Collaboration.'
3) After tapping on Invite Collaboration, search for the account you wish to collaborate with and then select it.
Now, you will have to wait till the time the other person or account accepts your invite. Once the Collaboration Invite is accepted, both your and the other creator's name will be visible in the header section of the post.
Next, the other collaborator will be able to share your post on their profile and as said above, will be shown as another author in the post header.
The introduction of the 'Collab' feature has become the talk of the industry and we are extremely excited to see how this new Instagram feature unfolds as it will enable deeper engagement between Brands, Creators, and Individuals who have similar passion points!