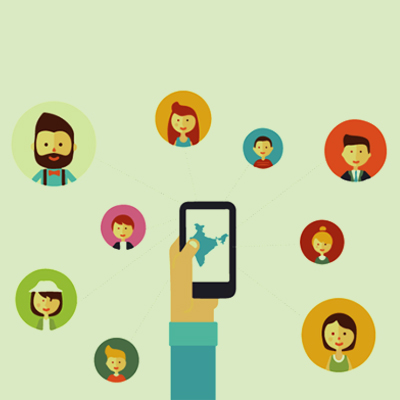 It's time to reflect and revolutionize: An open letter to Indian Content Creators

Hello dear content creators,

We see you. We hear you.

In today's day and age, you are our window to the outside world. You affect not only our decisions as a consumer, but also help shape brands' image — new and established alike. Your reach expands geographies and barriers and each one of you holds the key to a unique offering.

Now, even though social media is ever evolving, no one knows better than you the capability you have to change consumer behaviour.

But as they say, with great power also comes great responsibility; not only with what you choose to promote or associate with, but also how you go about being your true self online. What you're truly accountable for as a content creator and what will ultimately set you apart is how you adapt to that change, conquer it, and make a difference. To be honest, sepia filtered aesthetic pictures of instagrammable cafes and trendy outfits are easy to come by.

If existential questions like 'Are you truly influencing your followers?' 'Are you promoting products that you truly can stand by?' 'Do you really have a trusting and engaging community online?' call out to you as an content creator, here are some rules of thumb that might help you focus on the positives:

1. Authenticity

Influencing is much more than taking a pretty picture, recommending restaurants or endorsing brands and products through rose tinted glasses. It's about sharing a message, carving a niche for yourself, and engaging with the community that you have so built with all your hard work.

You're a role model for many, whether you like it or not. And therefore, you need to put more care and thought into knowing what path you want to take: The one where everything seems perfect or the one that lets you be a normal human being (albeit with good taste) online.

Know what you want to be known for. Share your journey and how you can help others. Be vulnerable, laugh at the failures, and own up to the all-too-familiar imperfections. Work with brands that you really want to work with and be honest. Above all, have hope and know that it's always quality over quantity. As you move forward, the size of your followers will be less relevant but at the same time, your followers will grow if you have something unique to offer.

2. Self-worth

We know that it's a tough struggle that people in the outside world don't know about. Being a content creator today involves exhausting routines, consistent creativity, and the need to be 'always online'. But instead of blindly looking at the rupee signs, know what you're truly worth, and don't hesitate to ask for it.

This is not to say that conceitedly shooting that number up will work. Be honest about how much work a particular outcome will involve and work your way backwards from there with the brands you choose to work with.

3. Expansion

Don't put all your eggs in one basket or work only with 1-2 select platforms to build your personal brand. Because unfortunately, this will leave you vulnerable to any shift in the digital market. Look at Tik Tok for instance. All the creators based out of India from there are left scrambling to pick up the pieces. The sensible thing to do is to dive deeper and expand to multiple platforms, maximise exposure, and take the time and effort to strengthen your presence across channels.

Additionally, with this space commercialising by the minute, authenticity is vital. The 'fake it till you make it' clones are everywhere, but people will only listen to so many sponsorships or promoted endorsements before they drown your voice out and stop listening to what you preach.

4. Coexistence

Now, we know that it might seem like a never ending rat race with a bleak end sometimes, but it's important to remember that we've just gotten started. The industry is big enough to accommodate all of you and then some. Citizen content creators — micro and nano are on the rise, primarily because they are more hands-on with their audience, have higher visibility and can facilitate personal interactions. This only means that all of you have a chance, irrespective of those numbers at the top of your profile.

***

At VAVODigital, we understand all the highs and the lows that come with being a content creator and we've built the platform only keeping you in mind. With us, you won't have to worry about knowing what brands you should reach out to, how much you should charge, whether your content will work or when you'll get paid. Starting out or established, we treat everyone as a priority.

With our platform, we'll help open avenues for you with 6+ social media platforms, an engaging community of influencers across categories, and unlimited campaigns from the brand of your choice. You'll get a chance to be your own boss, negotiate your terms and the type of content you want to be known for. We'll assist in deciding on a ballpark figure according to the brand expectations each time, so that you don't miss out. And to top that off, we'll make sure you get paid on time through the milestone payment feature within the platform itself.

To try this out for yourself, Sign up on VAVODigital's platform today to unleash your potential. Reflect and revolutionise.

Thank you.