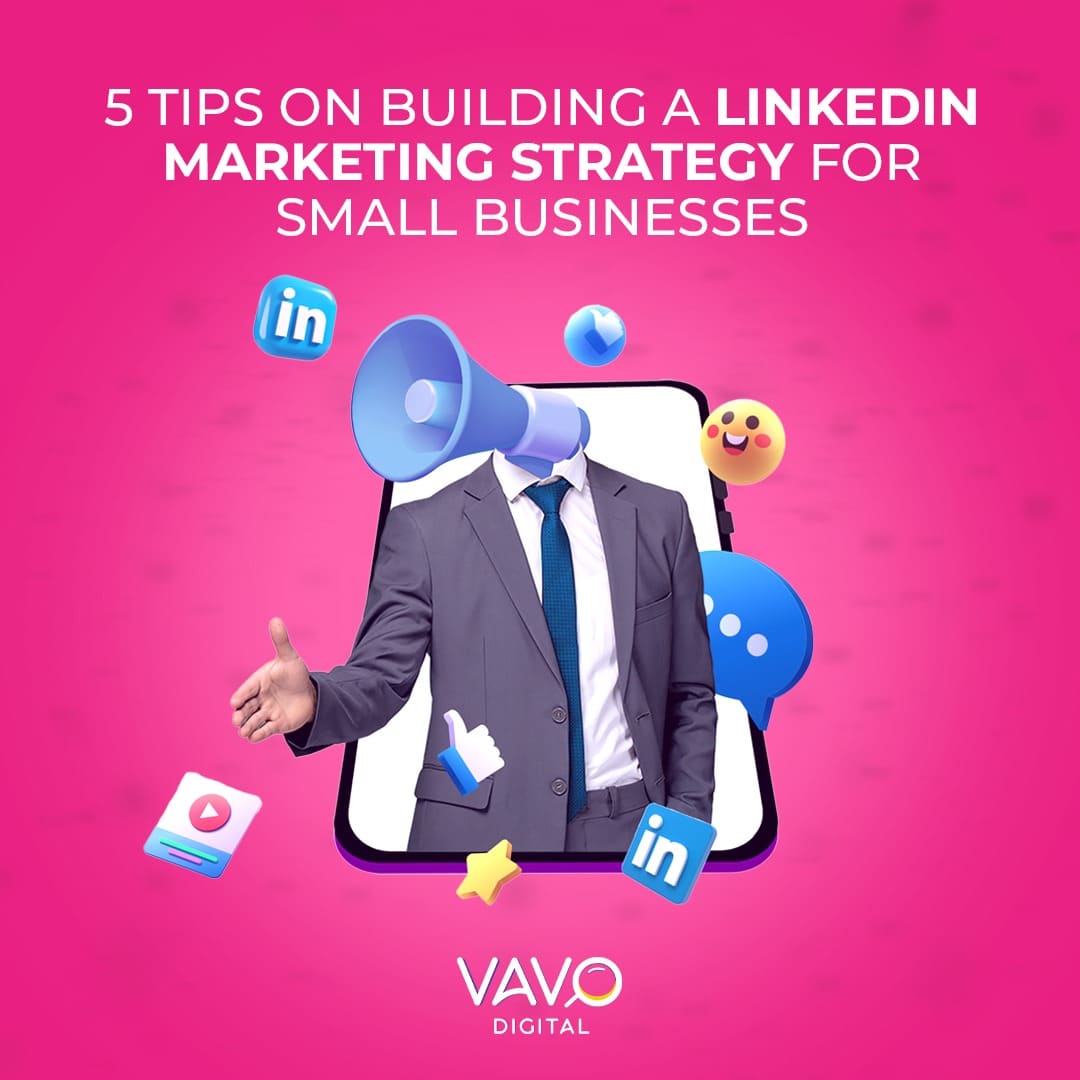 5 Tips On Building A LinkedIn Marketing Strategy For Small Businesses

As of this year, there are more than 660 million people registered on LinkedIn, of which 303 million are regularly using the service. A small company may increase brand exposure by utilizing LinkedIn's advantages. One may also strengthen your B2C and B2B relationships.

LinkedIn is a whole different species when compared to other social networking platforms. To establish an effective strategy, preparation and perseverance are required. But once your LinkedIn efforts are really underway, the results might benefit your business in a number of ways.

One of a small business's most crucial components is its marketing plan since it is essential to its success, growth, and development. Due to the fact that LinkedIn has transformed from a purely professional platform into a powerful marketing tool, many people are using it to increase their brand recognition, forge solid connections, and find new business opportunities.

Sehaye helps you to understand the needs of the brands and influencers. Thus, with the help of Sehaye, you can easily collaborate with brands and influencers of your choice and fit!

The social media site of choice for B2B marketing is widely recognized as being LinkedIn.

However, B2C companies may succeed on LinkedIn as well. All you require is a sound approach built on LinkedIn goals that are integrated into your whole social media marketing strategy. You can also read, 5 LinkedIn Profile Hacks that will help you Outperform your competition.

Note: Staying consistent is crucial. Establishing a strong presence on LinkedIn is a gradual process, so it's vital to remain patient and dedicated in your endeavors.
In this post, we will be discussing the 5 LinkedIn marketing tactics that are essential for your company to create a large audience:
Improve your profile
A well-structured profile may reveal a lot about the person using it. Give visitors a sense of who you are, what you do, and your area of expertise. Put a professional photo and a cover photo on your profile to attract the attention of your network.
Create a professional and engaging LinkedIn profile for your business. Use a high-quality logo and cover image, and ensure your "About" section clearly communicates your brand's story and values. A succinct, factual, and pertinent anecdote about yourself should be included in your "About" section.
Don't forget to regularly update your banners and photos because doing so will assist you in drawing in more natural traffic. Make sure you include clever headlines so that people can relate to you.
Knowing your audience is important
The demographics of the users on LinkedIn are different from those on other social networks. Users are often older and earn more money.
Credits: Hootsuite
That, however, is only the beginning. It's critical to recognize your target audience and the information that they want from your LinkedIn page. Understanding this set of people's interests would be the first step in shaping your content and messaging to appeal to their preferences as they are probably interested in your business.
You'll find it easier to market your company to your connections if you are aware of them.
Interact with your connections and followers by responding to comments, asking questions, and participating in relevant LinkedIn groups. This will help build a sense of community around your brand.
Create an effective content strategy
To produce high-quality content, your writing must be educational, timely, and original, whether it be in the form of an article, a carousel post, a brief video, or even simply a blog post.
Share valuable content regularly. This could be industry insights, case studies, or how-to guides. Use a mix of text, images, and videos to keep your audience engaged.
Including keywords and hashtags will increase your exposure and impressions, which will increase your LinkedIn following.
By soliciting feedback from your network about your own material, you may further engage your audience. By doing this, you not only engage in actual discussion with your contacts, but you also increase your chance of getting found in other people's feeds. Calls-to-action and rich media can only go so far in assisting your regular blog articles' LinkedIn marketing strategy. For your postings to work with the platform's algorithm, you must also optimize them.
Connect with the people in your network
Participation is the key to success on LinkedIn. Keep in mind that you are developing a reputation that will eventually result in sales. Building that reputation involves responding to comments and participating in the discussion.
Seek out chances to help. Congratulate your coworkers and connections on their successes and professional developments. Support people who might be just starting their job search.
Most importantly, be sure to keep an eye on the comments left on your own LinkedIn material and react to them to show people that you are aware of and value their feedback. Keep in mind that their interaction with your material multiplies its impact.
Monitor and improve your performance
The viewer will have a better understanding of the type of material that connects with your audience as you begin to comprehend them better. You may gain valuable information by monitoring the outcomes of your LinkedIn material. To improve your LinkedIn marketing approach, use these over time.
Monitor the performance of your posts and ads. LinkedIn provides analytics to help you understand what's working and what's not. Use these insights to refine your strategy over time.
Again, crucial strategic information is provided by LinkedIn analytics. The performance of your LinkedIn Page and posts may be seen clearly using the native LinkedIn Analytics tool.
Wrapping it up
You may improve productivity and attain company excellence with the aid of a well-defined plan. You may outperform rivals, provide value to your company, and develop long-term business success by using five crucial LinkedIn marketing methods.
Vavo Digital is thus always willing to aid brands seeking a head start. If you have any questions, kindly get in touch with us at hello@vavodigital.com. We provide 360° marketing concepts.