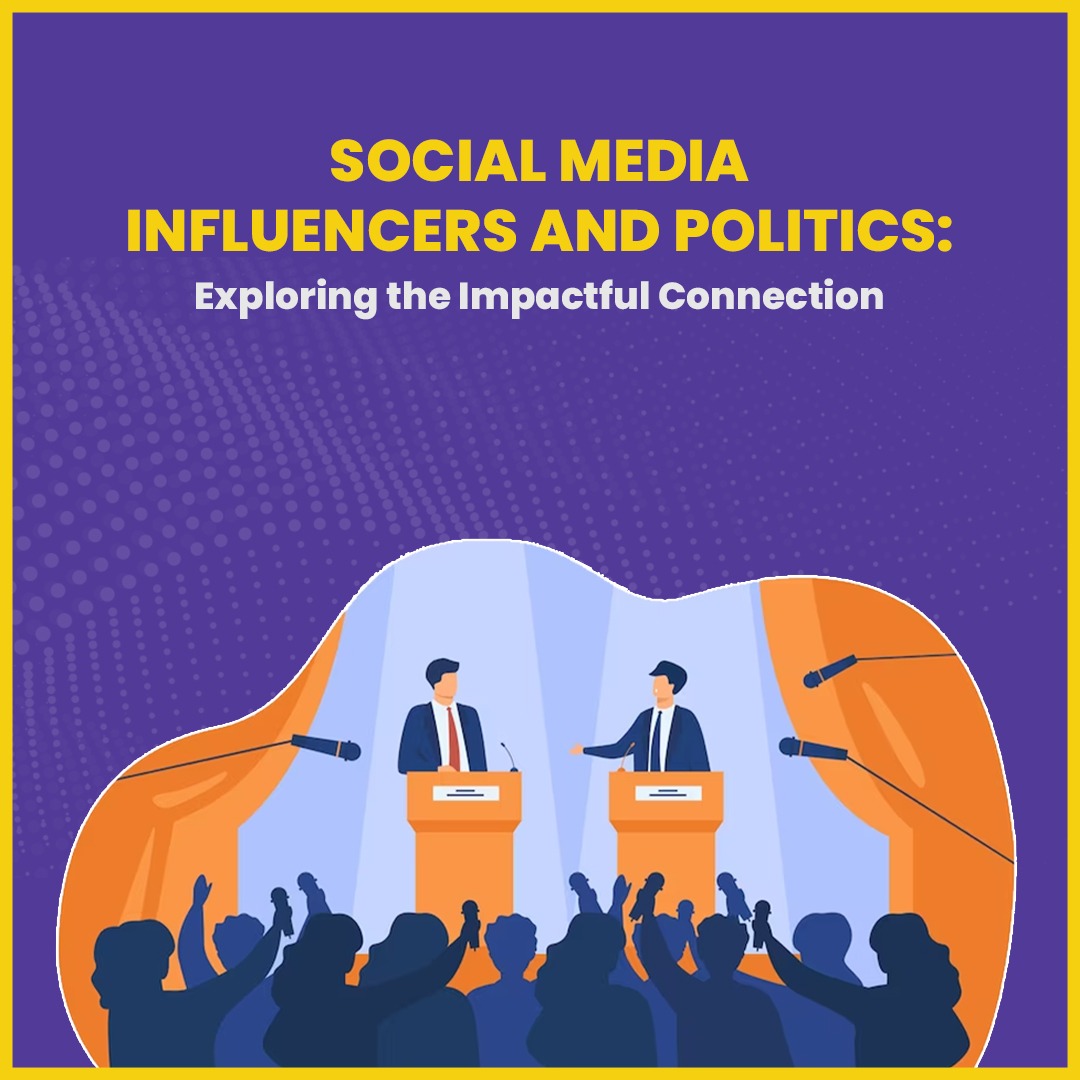 Social Media Influencers & Politics: Exploring The Impactful Connection

The new Doordarshan in today' politics is social media influencer marketing. It is essential, and many leaders throughout history, from our beloved Prime Minister Modi to the leader of the opposition party Rahul Gandhi, have adhered to it either openly or in secret during elections. 

Therefore, using influencers on social media to advertise should be considered a strategic way to sway vote pools.
Why is everyone behind the trend of hiring social media influencers for the propagation of respective party messages?
Politicians have been aware of the effects of Digital India in every nook and cranny of the nation for some time now. India is a young, developing nation with a majority of young people. With the rise in popularity of podcasts recently, this habit has become more widespread.
Therefore, we must list a few guidelines on behalf of our stakeholders.
The Best way to change public attitude towards you and the party accountability is by making your political message more powerful for the voters to recruit self-participating supporters from throughout the nation.
Efficient Fundraising
Using these sneak peeks from social media, you may loosen the chains of your political party's poor reputation and get ready to find a new one.
Also, you can free yourself from the constraints of your political party's negative image ahead.
If a politician's social media presence excites its viewers, it could completely alter the outcome of the party elections. This is the position of a self-sufficient influencer who has developed from nothing and earned the respect and trust of their following.
Are Views, Likes, Shares, and Comments Probable Vote Banks for the Politicians?
Credits: Election Commission Of India
The fact that people trust their influencers to act impartially while interviewing these brilliant individuals is no longer a secret. So, the answer is a resounding "YES!" 
There are amazing numbers to prove this point. The information through IMPACT says that a whopping amount of Rs15-20k crores were spent in 2019 by political parties on advertising digitally. Similarly to this, it is thought that influencer marketing initiatives influenced 3-4% of the recent Karnataka elections' digital investment. 
The second thing to keep in mind is that the Election Commission also uses influencers to garner vote banks, in addition to political parties.
According to the survey, influencers' extensive social media advertising has caused an increase in the percentage of people using vote banks to cast their ballots to 72%.
Influencers influence young voters – Importance of Influencers in Political Markets:
The latitude to produce engaging material should be granted to the macro influencers who are skilled at interviewing politicians. Real facts from the political parties must accompany and support this creative freedom.
For many possibilities, the inclusion of influencers in politics is a significant step towards online socialization. Influencers are encouraging young people to participate more actively in the political process.
If you are looking to boost your voters then at Sehaye you can find influencers and work with them effectively. Sehaye is a platform with easy collaboration and communication. Our AI will help you find the right match for you.
People today are more inclined to listen to what appears on shorts, and reels than attend rallies by politicians. Hence any influencer who has been putting efforts into nation-building can steer the wheels of political party promotion through its credibility.
How Influencer Marketing can help Politicians?
Influencer marketing, which involves paying well-known people to endorse politicians on various social media platforms, is a growing trend in the world of politics.
An influencer has the power to change people's tastes and inclinations using true statements and facts. Influencer marketing has been quite popular in sectors like fashion and cosmetics, but it has also started to become prominent in political campaigns.
Why Use Influencers in the Political Market for your sake?
Find influential people who have a sizable social media following and work with them.
Talk with influential people in a meaningful way to sway public opinion in your favor.
Use influencers' content as an extension of the posts you make on social media.
Create a tailored social media strategy that focuses on the district's influencers.
To get influencers' support, make sure your campaign is a fantastic experience for them.
Speak with influential people in your neighborhood.
Recruit an influencer to serve as a spokesperson for your campaign or advocate for your cause. So, being a politician you can spread your personal brand using an influencer marketing medium.
Recent Activities of Importance.
Opposition leader, Rahul Gandhi opens up for a question and answer session to Mashable India, Siddharth Aalambayan, and Kamiya Jani for Curly Tales.
Veteran Actor, Akshay Kumar interviewed our Prime Minister, Modiji along with Narendra Modiji entertaining his young viewers through a special appearance in Man vs Wild show hosted by Bear Grylls.
Shraddha Jain a.k.a Aiyo Shraddha was also in the PM Office for a show.
Ranveer Allahabadia created podcasts with the intellectual brains of the country's Union Ministry. S Jaishankar, Piyush Goyal, and Rajeev Chandrasekhar were among them.
Raj Shamani, another famous entrepreneur and podcast host, interviewed Union Minister Nitin Gadkari and Madhya Pradesh CM Shivraj Singh Chouhan.
One of the recent successful campaigns run by Kamiya Jani from Curly Tales includes a cultural documentary named, 'Dharohar Bharat Ki'. The documentary is created in two parts with the motive of showcasing India's rich culture and heritage and its improvement under the leadership of PM Modiji. It is a thrilling tour of New India which went live on the YouTube channels of Doordarshan National, Aaj Tak, and Jio Cinema also.
Wrapping it up
As this chapter comes to a close, influencer marketing in politics also appears to have a promising future. Political leaders will employ mass influencers with strong and genuine followings to advertise more frequently.
Vavo Digital aims to accomplish bridges between influencers and brands, companies, or any other organization in need. It is open to all. Hence, if you need any help to increase your vote bank and reach out to a larger audience then you can contact us at hello@vavodigital.com to come in contact with us for any queries or support.