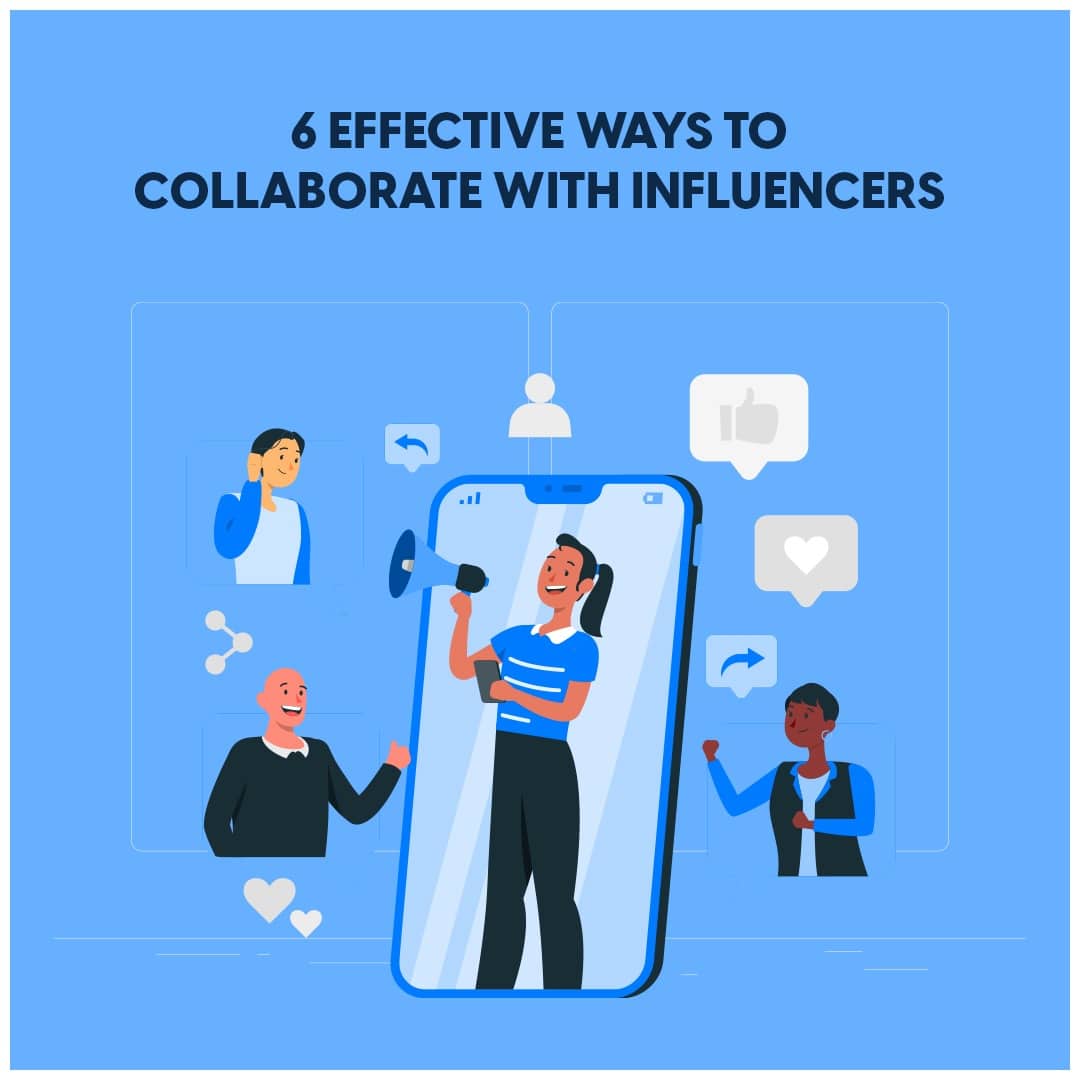 6 Effective Ways To Collaborate With Influencers

A skincare product that has been suggested to you by a lifestyle influencer you follow. A brand-new yoga mat that has been recommended by the online yoga instructor.

Specifically, recommended vitamins by a mother blogger you follow every week. What ties all these together? All of them originate from members of your online network.

Influencer marketing is that kind of advertising, that more than 60% of marketers collaborate which is at least 10 influencers on each marketing campaign to expand their audience.
How should an influencer marketing campaign get started?
Deciding who the ideal influencer is for your brand and industry. Selecting an influencer randomly is not an option.
You want a real customer who might use your product frequently. This element is essential to a successful influencer partnership since it gives the association a genuine feel. Research and select influencers whose values, niche, and audience align with your brand. Look for genuine engagement and followers.
Develop a clear and detailed brief that outlines campaign objectives, messaging, deliverables, and any guidelines or restrictions.
The appropriate influencers may help campaigns achieve up to a 20x return on investment. You may enjoy the marketer's high for months after you reach this level of influencer success. To know more about it, read influencer marketing for product launches in 6 simple steps.
Source : mediakix.com
Here are 6 suggestions for your next influencer partnership, along with samples you may use. Sehaye can facilitate efficient teamwork and simple communication.
Sponsored Social Media Content Collaboration – One of the most typical forms of influencer partnerships may be sponsored social media material, which is why it is included on our list. You've probably seen it before: an influencer promoting your company on social media by publishing #ad or #sponsored material. If done properly, it's also a quick and efficient approach to draw attention to your product or service. To further aid in the growth of your company, start by focusing on influencers with comparable passions and philosophies to your own. Additionally, don't limit your efforts to influencers with sizable fan bases. To communicate more clearly what you want from your side of the sponsored content, you'll need to set content guidelines and appropriate marketing objectives for the actual campaign. The influencer will produce content for you in return and publish it on their feed—in exchange for a fee.
Sending Influencers PR Gifts – Best for securing product reviews, saving money, and establishing enduring relationships. Giving your product away for free to influencers with no conditions or in return for a product review is known as influencer gifting, which is similar to but distinct from product seeding. Why on earth would you do that then? It's a method for connecting with influencers that is based more on giving than on getting something in return. When influencers advertise your company in exchange for unpaid postings, it is easy to see who actually likes your product.
Brand Ambassador Initiatives – One of the most well-liked forms of influencer partnerships is brand ambassador programs, and for good reason. Depending on the terms of the arrangement, brand ambassadors may utilize your product or service on a regular basis while also promoting it online. Companies will choose brand ambassadors to share postings about your brand's product or service on a daily, weekly, or monthly basis. Additionally, it could entail attending workplace functions, giving out gifts, holding contests, and more. Brand ambassadors will in some ways take on the role of the company's face and help to better market the brand.
However, consider these things before accepting an offer to have a brand ambassador:
The influencer should only be approached about being a brand ambassador after you have established a rapport with them and are aware of their other potential uses for your product.
To prevent misunderstandings and future arguments, provide explicit guidelines. It's often wise to have a strategy for all physical and internet promotions.
Content Collaboration – When you want to speak for your business in your own words, have the time to produce original material, and need quality backlinks for your website, this method is best.
Have bloggers or important thought leaders in your field agreed to be podcast guests? You have a fantastic opportunity at hand. When you guest post on a blog or participate in a podcast interview for free to promote your company, this is known as content collaboration.
What's best? You may communicate directly to customers and discuss your brand on your own terms. Although the influencer's website or podcast would serve as the platform, you have considerably more control over this type of partnership than you would with other types.
Account Takeover Options – Another well-liked alternative for brand partnerships is takeovers, which need far less dedication than something like a program for brand ambassadors. Even if it might not seem like it right immediately, having an influencer manage your account is considerably more beneficial than you might realize.
You work hard as a company to provide social media content for your networks. You may collaborate with an influencer to develop your content rather than attempting to create new content all the time. The influencer will produce and upload content on your behalf during a takeover.
Giveaways – Giveaways are when an influencer requests a specific action from their audience in exchange for the chance to win free merchandise from your business. Typical ones include of joining an email list, following your brand account, and tagging a buddy. The post offers information about the contest, including how to enter it step-by-step and information about when the winner will be revealed and what they will receive.
Conclusion
Finding the appropriate influencers for your products is crucial, regardless of the form of partnership you choose. The best potential influencer cooperation may be created by taking the time to choose the best influencers for your company, laying down precise parameters, and giving the influencers room to do their thing.
Vavo Digital offer comprehensive help with influencer marketing initiatives. Vavo Digital is ready to be your dependable partner at every turn, from locating the greatest influencers for you to assisting you with other details! Wish to learn more? Please contact us at hello@vavodigital.com and we shall reach out to you as soon as possible.