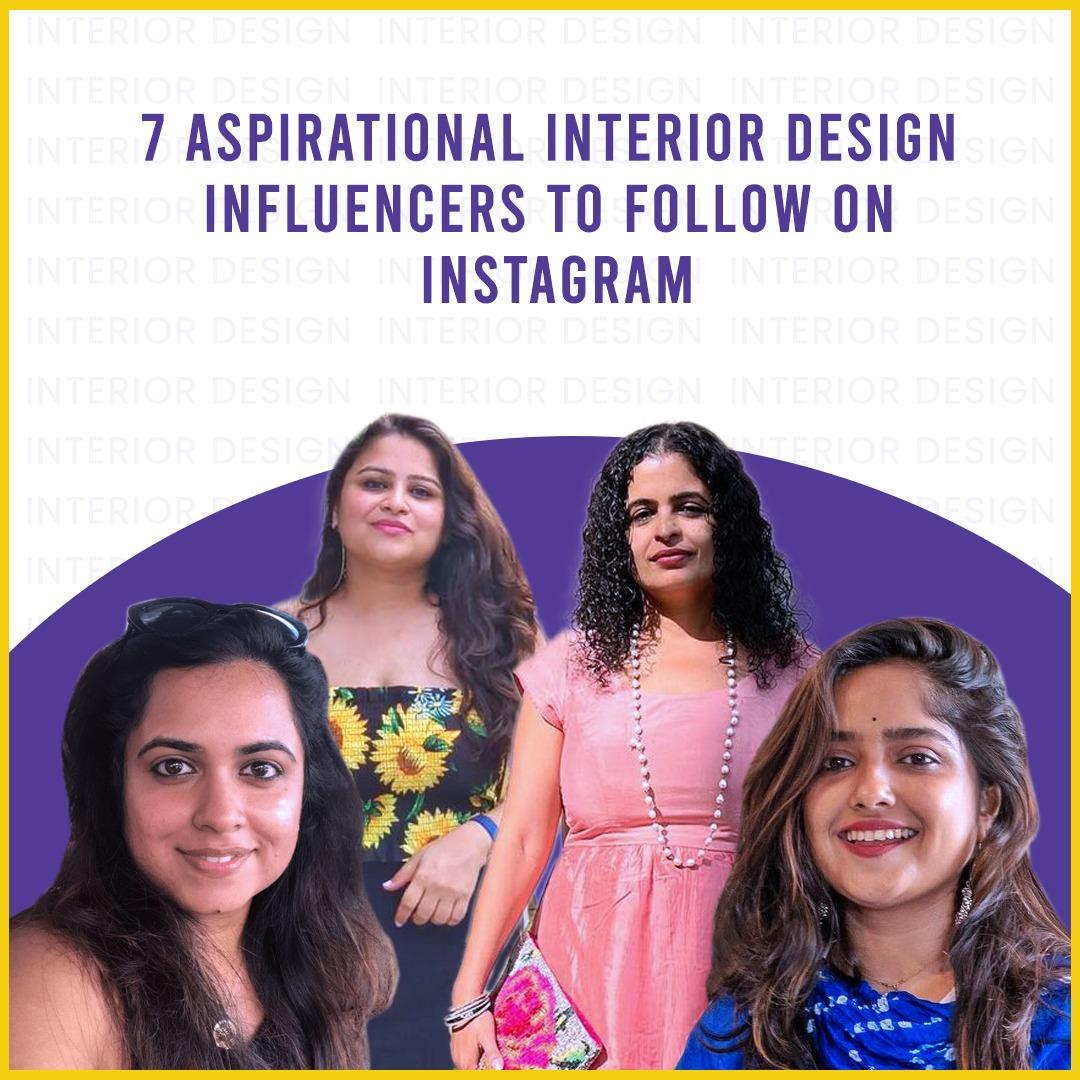 7 Aspirational Interior Design Influencers To Follow On Instagram

Instagram has become a wellspring of creativity on all fronts. There are countless accounts to be inspired by, covering anything from food to fashion to art and design. While there are countless Instagram users, navigating the crowded platform can be difficult. Interior design Instagram accounts, which range from seasoned professionals to new-age design influencers, foster a new feeling of connection between designers and clients, bringing the process into the mainstream. For designers, social media serves as both a creative outlet and an essential tool for client acquisition.
What Are Interior Design Influencers?
Influencers in interior design are people that have millions of followers thanks to their aesthetically beautiful content. Their content enhances the beauty of the interior design, whether they are detailing their house renovations, offering organising advice, or showing us which paint colour palettes go best with our design aspects.
How using interior design influencers can benefit your business?
You can win the endorsement of a well-known interior design influencer by using influencer marketing. In this manner, your target market will become instantly aware of your brand. #InteriorDesign has been used more than 115 million times on Instagram, demonstrating that it is a trending subject that will continue to dominate our news feeds.
Because so many individuals follow these social media influencers for their daily dose of decorating inspiration, brands have learned the value of influencer marketing for interior design. Their flexibility and broad reach provide them an advantage, opening doors for businesses for many brands.
With their social media savvy approach to design, a new generation of interior designers is setting the pace. We've compiled a list of some of our favourite interior designer accounts that everyone should #follow.
1. Shabnam Gupta–
Shabnam Gupta is a design enthusiast and aspiring artist who has designed restaurants (Tanjore Tiffin Room and Viman Nagar Socials, to mention a few) and private places for celebrities, including Rajkummar Rao and Patralekhaa most recently. She has always drawn inspiration and been creative from Mother Nature. Shabnam creates a creative approach that has now come to be recognised as her own by fusing earthy tones with a contemporary flair, a rustic edge, and bursts of vibrant colour.
2. Interior Maata–
Interior Maata, the online persona of designer Ananya Bhattacharjee, has over 238K Instagram followers and 813K YouTube subscribers. It not only engages its audience but also works with numerous businesses. She enjoys using her minimalist aesthetic to decorate the spaces.
3. Rooshad Shroff–
Rooshad's studio, whose name is linked with architecture, interior design, and custom furniture, takes satisfaction in contrasting contemporary design methodologies with age-old craft methods. Rooshad's Instagram profile will undoubtedly inspire you if your aesthetic leans more toward modern minimalism and updating vintage pieces.
4. Preethi Prabhu–
Another lover of all things homey, Preethi blogs about interior design and shows you how to style your own place. If you're interested in learning more about interior design and style or are interested in the industry, she even offers her own styling school. You can learn all about framing, filling empty spaces, adding a minimalistic touch, and more from her. Her feed is filled with lovely artwork and home goods that you'll want to get right away, so follow her right away!
Festive season calls for some tremendous influencer marketing campaigns! Don't know how to implement it? Read: 5 Effective Tips To Use Influencer Marketing During The Festive Season
5. Rosy Bajiya–
A well-known name in the home decor blogging space.Her simple aesthetics provide a sensory experience and encourage you to experiment with traditional home furnishings. To design spaces with a high level of elegance and sophistication, she plays with colours, patterns, materials, and lighting.
6. Tanvi Agarwal– 
If you connect with the hippie, boho, and colourful aesthetics, you need to follow this home decor influencer on Instagram. Going completely "Vocal for Local," she promotes handcrafted furnishings or products from Indian firms and craftsmen on her feed. Her home is full of happy places and vibrant colours, from candle stands, flower vases, lovely frames, and dreamcatchers.
7. Shalini Ganguly–
Shalini Ganguli, an expert home designer and décor influencer, skillfully combines Indian and modern trends. Her specialty is redecorating your home in a way that showcases your personality because, as we all know, your house is a reflection of who you are. Her page is a must-visit if you want to get serious design inspiration for a beautiful house.
Signing Off
We've all recently spent a lot of time at home, which appears to have sparked a need for something different from what we've grown accustomed to seeing. As a result, browsing websites for home decor and admiring Instagram accounts solely for home renovations have become pastimes for us. 
Pepper Fry X Vavo Digital
Recently, we collaborated with Pepper Fry which is an Indian online marketplace for furniture and home decor. This campaign required working with a niche category of influencers such as DIY, and Lifestyle. We deployed 100 influencers for this campaign which involved influencers talking about how space in their houses makes them feel the most homely. Some of the influencers were Rati Chaudhary, Decor Raga, Sunita Yogesh, and Pallavi Shankar The campaign was a huge success and went live for 2 months. 
If you wish to execute influencer marketing campaigns, sign up on Vavo Digital to collaborate with some of India's most well-known interior design influencers. You can also look at our list of the most influential people across a broad range of niches, and we'll assist you in managing your budget and laying the groundwork for your next marketing initiatives.
Note: All images are used for descriptive purposes only, all rights belong to the owner