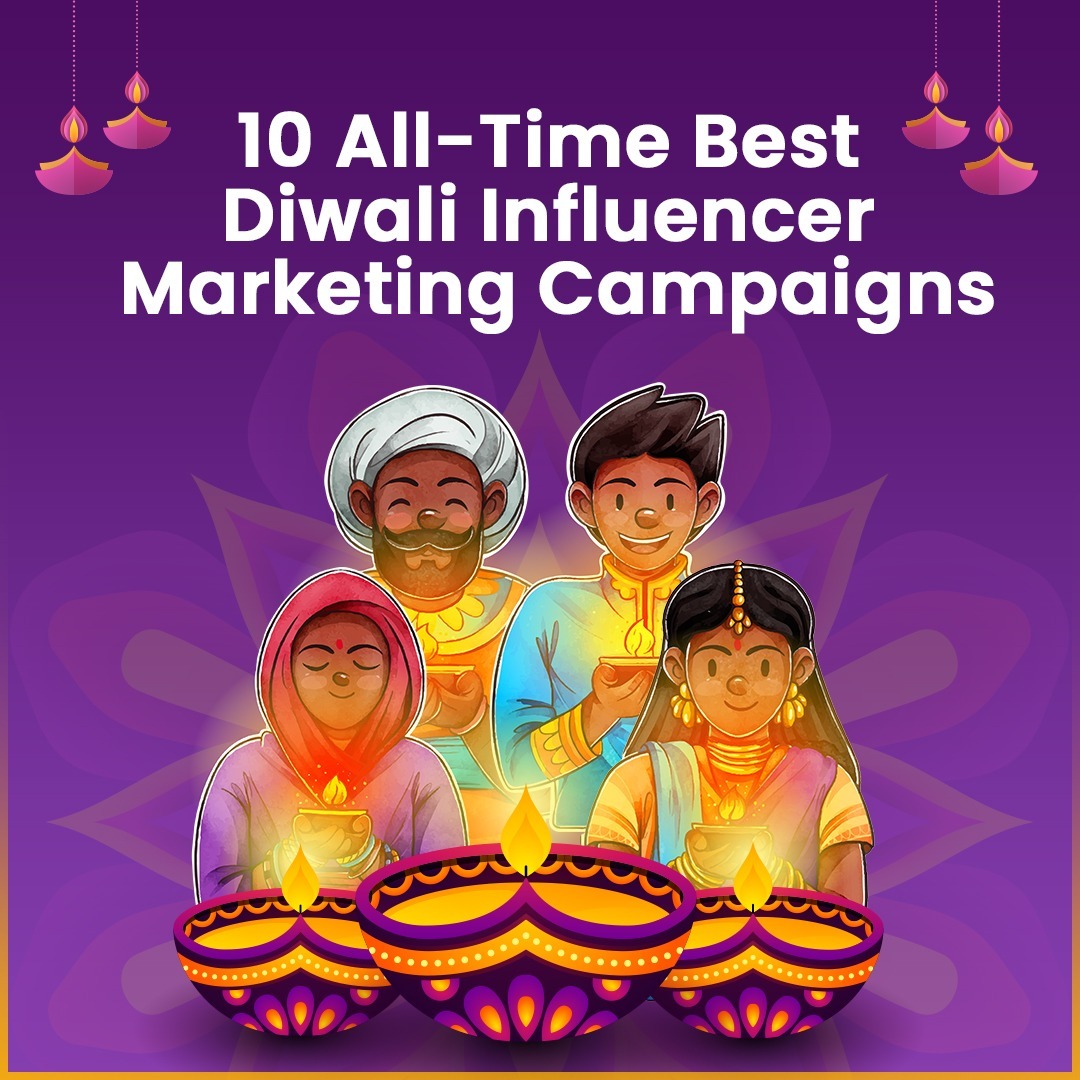 10 All-Time Best Diwali Influencer Marketing Campaigns

Diwali is not only one of the most awaited and special festivals of the year but also of the utmost importance on the marketing calendar. This is because festive shopping accounts for 30% of all retail sales. In fact, last year on Diwali, consumers nationwide purchased products worth a whopping 1.25 trillion rupees breaking a 10 year record. Thus, brands heavily invest in marketing during the festive season as they know there will be an even greater ROI if their campaigns are successful. 

Why Go The Influencer Marketing Route This Festive Season? 

According to Facebook's 2021 Seasonal Marketing Guide, social media has become a hotspot for tapping into festive spending and driving brand discovery. According to the report, half of those polled were able to find new items through these, and for the other 45% of respondents, influencers were the main factor in their purchasing decisions. 

When an influencer—a person with considerable power—is promoting or suggesting your brand to their audience, it naturally contributes to the development of credibility and trust—two elements that are extremely beneficial in the long run.  

Brands understand the importance of influencers, and with the festive season quickly approaching, marketers are boosting their investment in influencer marketing in order to capitalise on the rising demand.

As you plan your campaign, h​​ere are some of the best influencer marketing Diwali campaigns over the years, handpicked by us: 

HDFC Bank– Festive Treats 
Radhika Madan and HDFC Bank worked together to produce a reel that featured her dancing to the tune of "Lift Kara De," passing around the Festive Treats logo, and encouraging viewers to remix it. 
67 influencers from all across the nation, with a variety of backgrounds—celebrities, dancers, content creators, lifestyle, etc.—remixed this clip to illustrate the options for purchasing a limitless array of goods made possible by HDFC Bank Festive Treats' offerings. 
This influencer-led festive campaign was a big success, achieving 80+ million views and over four million engagements across Youtube and Instagram. 
Ferrero Rocher– #MomentsMakeDiwali 
#MomentsMakeDiwali is a campaign based on the concept that, even on special occasions, it is the small moments that bring so much joy and become permanently ingrained in our memories. 
The brand collaborated with influencers, showcasing unique moments of intimacy while decorating their homes, creating rangoli, and giving Ferrero Rocher Moments to loved ones.   
The festive influencer campaign was successful in reaching consumers and resulted in Ferro Rocher becoming one of the most gifted brands during Diwali 2021. 
Asian Paints– #PeopleAddColor
Asian Paints took a slightly unconventional approach, choosing to run a colour-focused campaign on Diwali instead of Holi, but it worked! Their wholesome  campaign emphasised the importance of appreciating and spending time with our loved ones during the festive season. 
Mega influencers Ayush Mehra, Kritika Khurana, Barka Singh, and Rannvijay Singha were asked to share their stories about individuals in their lives that make the festive season colourful and full of light.  
They also urged their audience to do the same, and thousands of encouraging and upbeat entries flooded in, spreading joy and festive cheer. 
Marks & Spencer– #RethinkWithMandS 
The campaign's key objective was to promote M&S' "Make every moment special" tagline and showcase gifting as a form of expression in our community in order to encourage more people to give back during Diwali. 
To execute this campaign, M&S partnered with fashion and lifestyle influencers Heli Ved, Neer Jaisingh, and Prabhat Chaudhary. The influencers gifted curated M&S beauty boxes to unexpected individuals who are a part of their lives.  
The campaign effectively achieved a total reach of more than 300K as well as 400K+ views. Thousands of people who came across the campaign were encouraged to give back on Diwali and express gratitude through gifting. 
Amazon– #BadeDilWale 
The campaign's message centres on how delighted we are to go a bit overboard in order to make loved ones happy during Diwali. Although Amazon mostly emphasizes their Great Big Indian Sale and huge discounts with this campaign, they wanted to directly connect with their audience.  
Along with their promotional film, Amazon enlisted the help of celebrities like Tanmay Bhat, Neha Dhupia, and Shobha De, who addressed numerous topics and urged their fans to be #BadeDilWale. 
Nilon's – #SwaadBharePathaake 
No matter what the festival, food is always a vital part. The aim of this Nilon's campaign was to encourage consumers to have a delicious Diwali without bursting crackers, hence the twist on the name. 
To achieve this, the company launched a contest with a #SwaadBharePathaake hamper filled with Nilon's treats, encouraging participants to relish the explosion of flavours with each bite they take.
Nilon collaborated with influencers and celebrities such as Vidya Balan, Gauhar Khan, Hina Khan, Sonal Chauhan, and Kavita Kaushik to boost engagement and participation. 
Overall, the campaign was a hit and generated 2 million impressions across all social platforms with an engagement rate of 20.52%​. 
Saregama Carvaan – #ShorYaSangeet
This Diwali campaign aimed to humanise the Saregama Carvaan and communicate a social message that noise pollution is harmful not only to the elderly but also to animals. 
In addition to a sentimental TVC, they also roped in a variety of influencers to promote their Carvaan as the perfect gift for the festive season. The successful campaign generated over 177K+ views and was able to effectively connect with the consumers. 
Pantaloons-#DostonWaleDiwali
With this campaign, Pantaloons intends to promote their festive collection and emphasise that Diwali ought to be celebrated with our loved ones and friends who are like family. 
The 360° campaign was promoted on radio, television, print, outdoor, and digital platforms. Pantaloons enlisted the help of a select group of fashion influencers to promote their collection by posting pictures of themselves wearing it and enjoying Diwali festivities. 
CitiBank India– #HappierDiwali 
Given that Diwali is a holiday linked to shopping and giving gifts, Citibank aimed to become the preferred credit card provider for consumers by offering the greatest offers available. 
CitiBank partnered with 10 leading tech bloggers to organise a special giveaway in order to generate relevant buzz and interact with the target audience. To increase the engagement and momentum of the campaign, each blogger employed distinctively designed banners and personalised status messages.  
Through this campaign, Citibank was able to reach a vast audience and achieve 28.7 million impressions on social media and 51,000 microsite moments. 
Kwality Walls– #tareekanaya 
There is no Diwali without desserts. Kwality Walls wanted to encourage consumers to give their festive ice cream hampers instead of traditional sweets. They collaborated with mega influencers Prajkata Kohli and Sameera Reddy, who both created playful and humorous skits that were well received by the audience. 
This campaign was a massive success, with just these two videos garnering over 4 million views. Other posts by food influencers and chefs also received a great deal of engagement. 
Bottom Line All of these brands used influencer marketing to increase the visibility and reach of their festive campaigns. Interested in developing your own Diwali influencer campaign? Reach out to the best influencer marketing firm today.