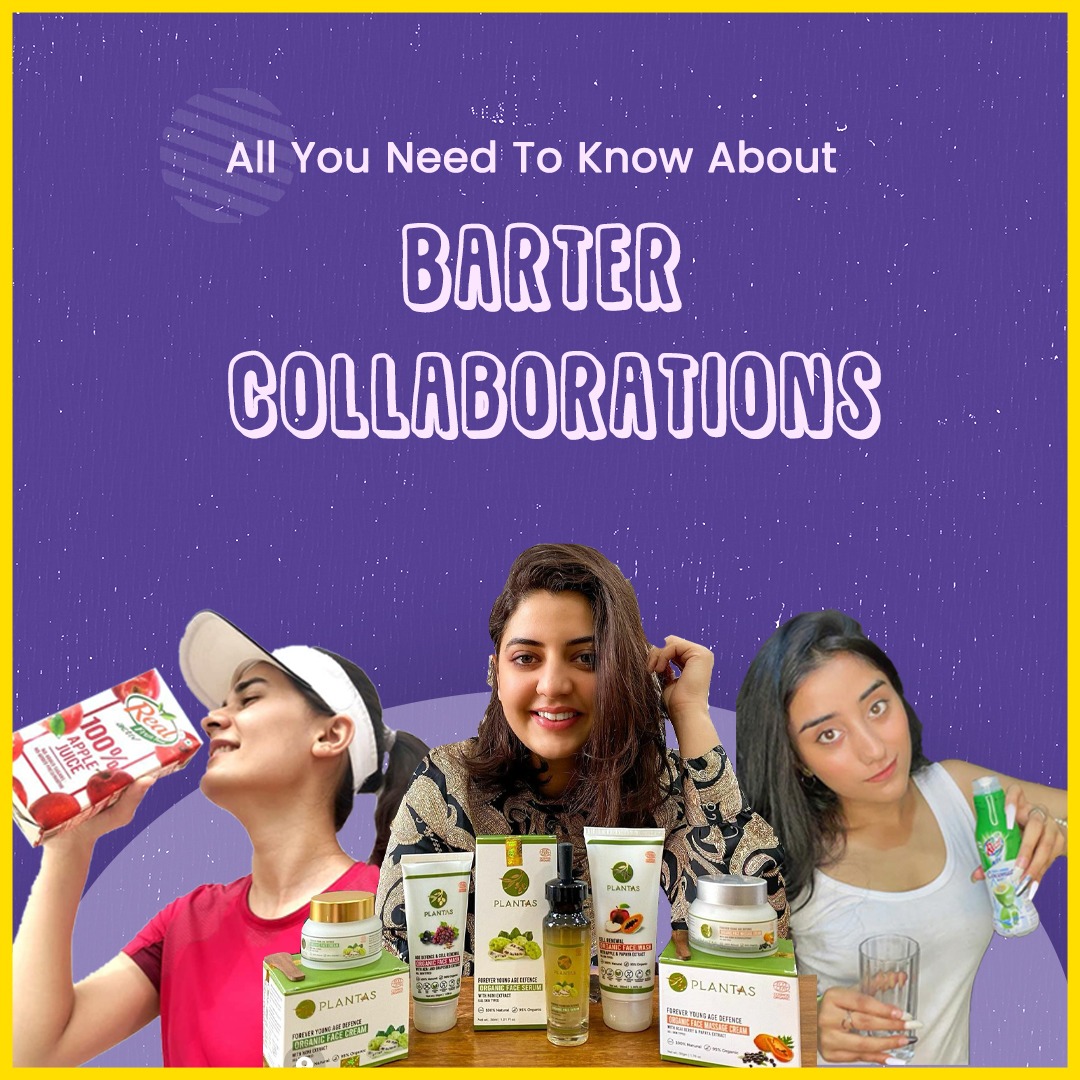 All You Need To Know About Barter Collaborations

Brands now expect top-notch quality from influencers even when they only pay them the bare minimal amount due to the rise in the number of influencers. Additionally, barter collaborations are now so common that businesses only work together on a barter basis.

Influencers, particularly Instagram fashion influencers, are increasingly a significant component of marketing. Whatever they do, it becomes hip and laid-back, and many people copy it. The quantity of followers on an influencer's social media channels is substantial. Sometimes, these admirers are so devoted to and enamoured with their idols that they follow them without thinking.

Collaboration with influencers through influencer barter can be incredibly effective and profitable for a marketing plan. But selecting the appropriate influencer for the company is essential to ensuring that the marketing campaign reaches the correct target demographic.
What are barter collaborations?
Barter collaboration often refers to a scenario in which marketers use influencers to promote their products and then offer the influencers free product samples to use. Collaboration through barter is a popular and effective method of engaging in influencer marketing. 
Collaboration for barter differs from collaboration for compensation. This entire process doesn't entail any money. Experience-based collaboration with consideration for the companies' standards. According to studies, 63% of brands work with influencers on a paid basis, while 35% work on a barter basis.
How does barter collaborations work?
Influencers either contact companies or brands approach influencers. The brand chooses what and how they want the influencer to communicate. YouTubers create videos about their products, whereas Instagram influencers publish photographs or videos on their profiles.
Influencers typically charge a small fee and have a set price for each post. In exchange for an honest (or occasionally dishonest) assessment from the influencer, brands have begun to develop barter collaborations. The product is given to the influencer free of charge, and the company is exposed to the influencer's audience.
Collaboration through barter is no longer a toy. There is a huge potential for creativity; as a content creator, you can improvise with the project assigned, which can open up numerous opportunities for you in the future. 
To captivate your audience, you can develop your own voice and substance. Don't try to duplicate someone from the same niche because people dislike cloned versions; instead, know how to play your cards wisely. In no time, many will be exposed to new concepts and content.
Influencer marketing is a tremendously effective tool, but if it's used improperly, it may waste time and money and hurt any company's promotion. That's why we have curated  8 Biggest Influencer Partnership Mistakes + How To Avoid Them read the article to get a gist about influencer marketing mistakes.
Why do brands go for collaborations, anyway?
Collaborations are a fantastic method for marketers to use influencers to connect with their audience. This indicates that consumers value and trust the advice of influencers, and they follow the advice of their favourite personalities when asked to purchase a product. The most popular and successful strategy for brand marketing is this one. In reality, brands may generate enormous amounts of sales with this single channel.
Are barter collaborations worth It?
Barter collaborations might be a big stepping stone to success if you're just starting out. In fact, by participating in such collaborations, you'd be creating new opportunities for other collaborations. 
After working with a few brands, your reputation in the field would grow, and naturally, compensated partnership offers would start to come in. However, other from a few things, a professional influencer with a sizable following wouldn't gain anything from this kind of partnership. Your audience would be exposed to the brand you are working with as a result.
What role do influencer marketing agencies play?
With its extensive influencer database and distinctive campaign strategy, an influencer marketing agency can assist you in meeting all of your marketing needs. According to your specific needs, they will choose the best influencers who can elevate your brand with their persuasive style.
As a top influencer marketing company in India, Vavo Digital has assisted numerous brands in forming effective influencer partnerships. We are also skilled at designing unbeatable campaigns to generate a significant amount of buzz about your business from your intended market. 
Because we are aware of the personalities and working styles of different influencers, we can offer tailored advice for more effective promotion.
Looking for more information on influencer marketing and how it may benefit your brand? Send us an email at hello@vavodigital.com and we'll get back to you as soon as possible!