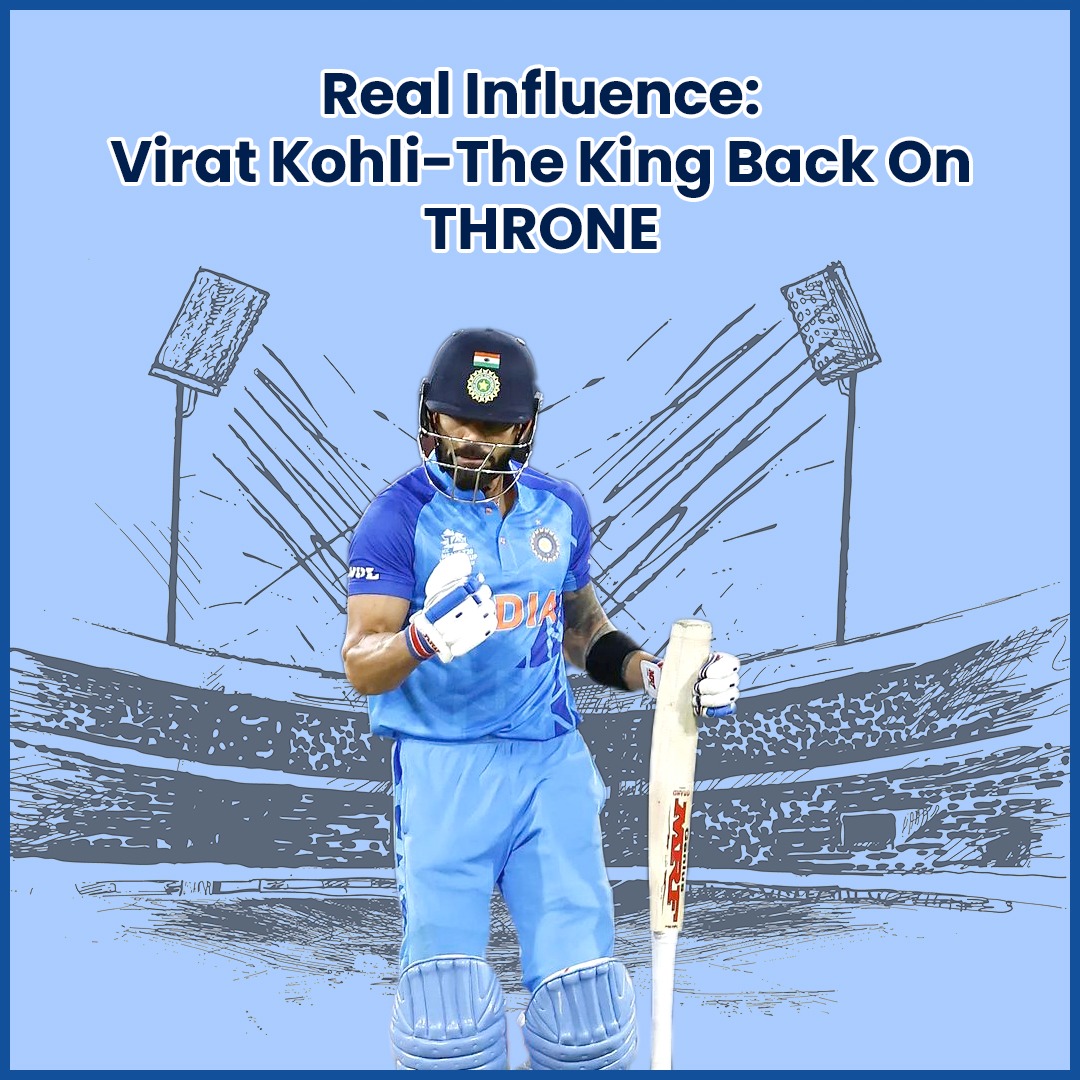 Real Influence: Virat Kohli-The King Back On Throne

In the first world cup game against Pakistan, Virat Kohli treated his fans with a game-winning performance. In order to win the game, Kohli Hardik Pandya teamed up at a vital moment and developed a strong partnership.
Virat Kohli gave Indians a Pre-Diwali celebration by giving a world class performance against Pakistan in the men's t20 world cup 2022.
  Source: ICC Twitter
Here is the proverbial advice: "Life is a game; play it." Additionally, cricket fans would want to add a few more phrases to the adage that "life is a game; play it like Virat Kohli" following India's thrilling triumph over Pakistan in the current T20 World Cup 2022.
Well, along from the fun, excitement, and cricketing prowess, there are a lot of life lessons to be learned through King Kohli's application of them in the game of his life (in fact match of the life for all the Team India fans).
Here are some takeaways from Kohli's stunning knock.
1) Undiminishing passion & Positive attitude
The word "passion" appears to be overused these days, but if you really want to know what it means, go no farther than Virat Kohli, one of the most passionate athletes alive today.
When India lost four wickets with 30 or so runs on the board, they were staring certain defeat in the face. However, Kohli was incredibly optimistic about India's chances in the game. His optimistic outlook really assisted him in maintaining his composure, which was the most crucial element.
2) Humility at its best
Virat showed the opposing bowlers the utmost respect. He did, however, have complete faith in his own and the team's talents. Virat seemed to have learned his lessons after rejoining the team after a slump. Now, his exterior has calmed down. His internal hostility, though, is unchanged. In reality, he is now properly directing his anger in the right direction.
3) Don't sit on your laurels
On any given day, one could be the best. But one faces fresh obstacles every day. Therefore, one cannot rest on one's laurels. According to the circumstances and the moment, Kohli demonstrated that one must start from scratch. It was a lesson in itself how Virat controlled and adjusted himself while the wickets were falling and then accelerated after settling in.
4) Willingness to fight a lone battle
To achieve those things we haven't achieved, we must first do those things that we haven't done. And as we make our way through these undiscovered regions, we can run into circumstances where we must engage in a solitary conflict. And how many times have we seen King Kohli maintain his composure amidst the tumbling balls, exactly like his predecessor Sachin Tendulkar did?
And This Isn't It!! Did You Know what else happened which was EXTRA-ORDINARY during the IND-PAK match?
Diwali UPI transactions were suspended for an hour during the India-Pakistan game due to Kohli's outstanding performance
Over 1.8 crore people watched the match live on Disney Hotstar, and countless others saw it on television. People were fixated on their screens as Virat Kohli increased India's score in the game, which led to a drop in UPI transactions.
The number of transactions on the BharatPe app increased significantly yesterday from 9 am to 1.30 pm because Diwali was only one day away. However, as soon as the game began at 1:30 pm, transactions began to steadily decrease, suggesting that many were preferring to watch the India vs. Pakistan match instead of shopping for the festive season.
The graph included in the Tweet illustrated how the Diwali shopping frenzy peaked between 9 am and 1:30 pm (when the India-Pakistan T20 match started), plateaued during the opening stages of the match, and then began to decline when India began to bat. The transactions experienced a sharp drop at around 5 o'clock. However, after the game was ended, shopping was resumed.
Messages of congratulations flooded in from every counter, including one from Prime Minister Narendra Modi, who praised Virat Kohli for his "amazing" innings and congratulated the Indian cricket team on its victory over Pakistan in the T-20 World Cup.
Indeed, Virat Kohli is a man of brilliance!
Virat Kohli's outstanding performance against Pakistan taught us a valuable lesson about influencer marketing
"NEVER GIVE UP" ATTITUDE-
"There is no failure except in no longer trying. You just can't beat the person who won't give up" We truly agree with the fact that persistence and never giving up attitude can help in achieving any goal.
Influencer marketing is a perfect example of how this adage—that success rarely happens overnight—truly applies.
Being an influencer in your industry is akin to content marketing as a practice in many respects. Having shared the best content they could for a long time with little to no noticeable benefits, many would-be influencers give up in dissatisfaction. Although having a never giving up attitude certainly helps in moving forward and working harder.
Instead of letting your suffering bring you down, turn to it for inspiration to accomplish your objectives. Even in your darkest moments, your resilience will let you keep moving forward. It takes time and effort to cultivate a never-give-up mentality, but keep in mind that you started this for a reason. So, hustle till you accomplish your goals.
For more such latest updates on trending events and influencer marketing, keep visiting Vavo Digital Till then, signing off to celebrate our INDIAN CRICKET TEAM's glorious victory a little more.