Top 10 Indian Business Influencers On LinkedIn 

What is it about LinkedIn that has made it such a hit among Indian people, with a staggering 93.8 million users as of August 2022? It's simple – LinkedIn offers a fantastic platform for professionals to connect, network, and expand their horizons among businesses.

LinkedIn's business influencers bring immense value to the table without sugarcoating the fact that life is not always a bed of roses. These influencers are not just another passing trend but a credible source of actionable advice and valuable insights for their followers. What sets them apart is their real-world experience, allowing them to offer guidance based on their own failures and triumphs and deliver genuine value.
To that end, we've compiled a list of the top 10 Indian business influencers you should follow on LinkedIn.
Ankur Warikoo, a master of multiple domains such as entrepreneurship, authorship, education, and online content creation, is an influential personality to reckon with. His extensive experience as the former CEO of Groupon and Nearbuy has established him as a prominent figure in the business world.
Apart from his remarkable career achievements, Warikoo's prowess as an influencer is equally noteworthy. He has been honored with prestigious accolades, including being named in Fortune Magazine's 40 under 40 for India and Forbes' Top 100 digital creators for 2022, cementing his position as an exceptional leader and thought influencer.
Harjeet is a Versatile modern-day genius, a master of many crafts. He's an expert in human resources, having worked for top multinational corporations in diverse industries, including automotive, telecom, healthcare, and retail. But his talent extends beyond the boardroom – he's also a published author, a TEDx speaker, and a regular contributor to acclaimed publications.
But that's not all – Harjeet is also a gifted poet and inventor with a creative spirit that knows no bounds. He's been featured in prestigious magazines and has even authored a best-selling book on Amazon. It's no surprise, then, that he's earned the moniker "RK Laxman of Business" and has become one of the top 10 Indian business influencers on LinkedIn.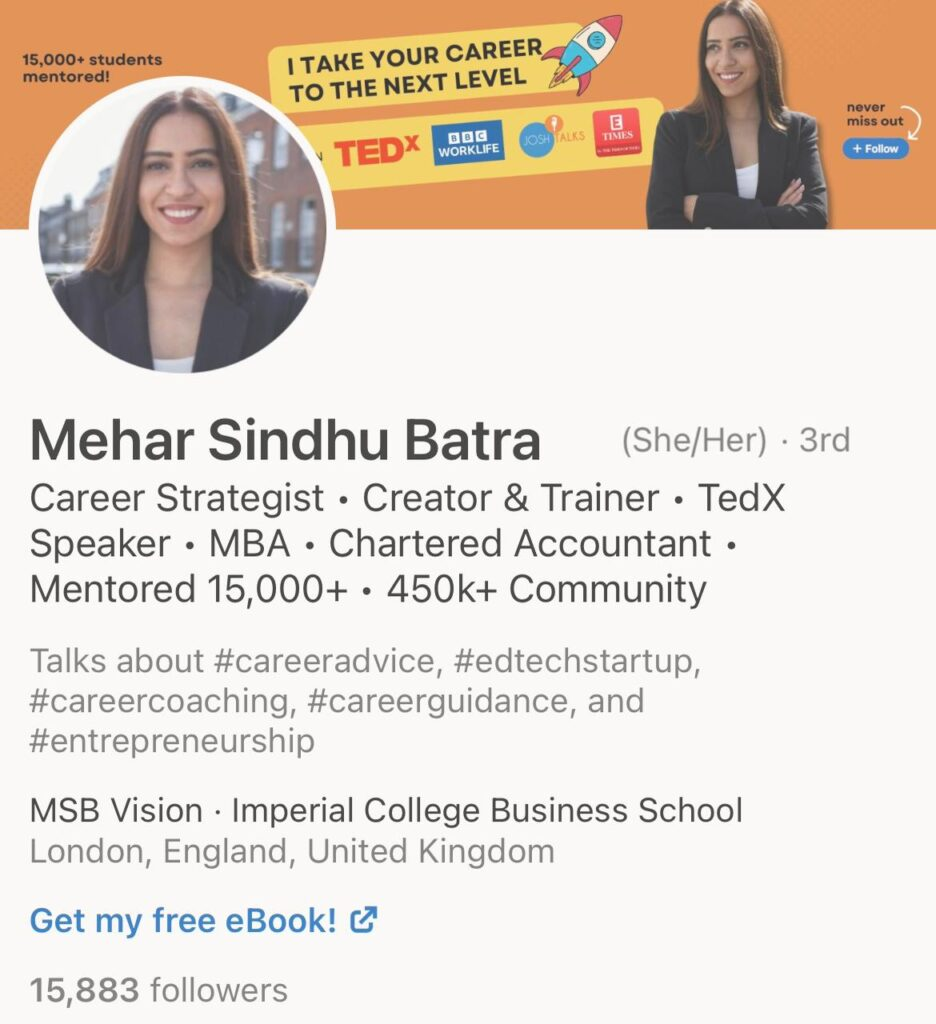 Mehar Sindhu Batra is a prominent business and career influencer in India with a remarkable background in management, consulting, and growth strategy. Her passion for social media led her to launch MSB Vision, a platform that has gained a significant following on Instagram and YouTube. These insights and expertise have made her a sought-after mentor in the industry.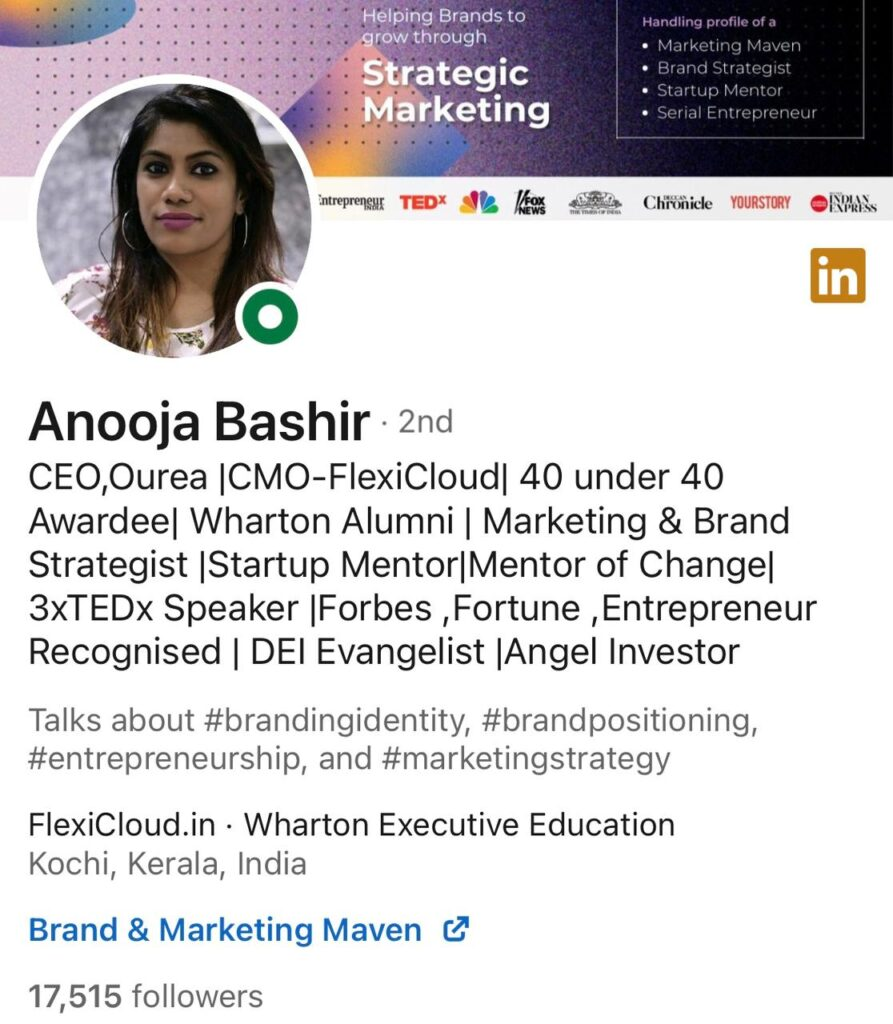 Anooja Bashir is a dynamic entrepreneur who wears multiple hats as a CEO, advocate of women's empowerment, and adept business leader. With over 20 years of corporate experience in India and GCC countries, Anooja has carved a niche for herself as a brand custodian, marketing strategist, business coach, and mentor for startups and SMEs.
With her rich experience, she has ventured into two successful startups, Ourea, Flexicloud, and PocketCFO, providing exceptional services to clients worldwide. An epitome of professional excellence, Anooja has garnered numerous accolades in her career journey.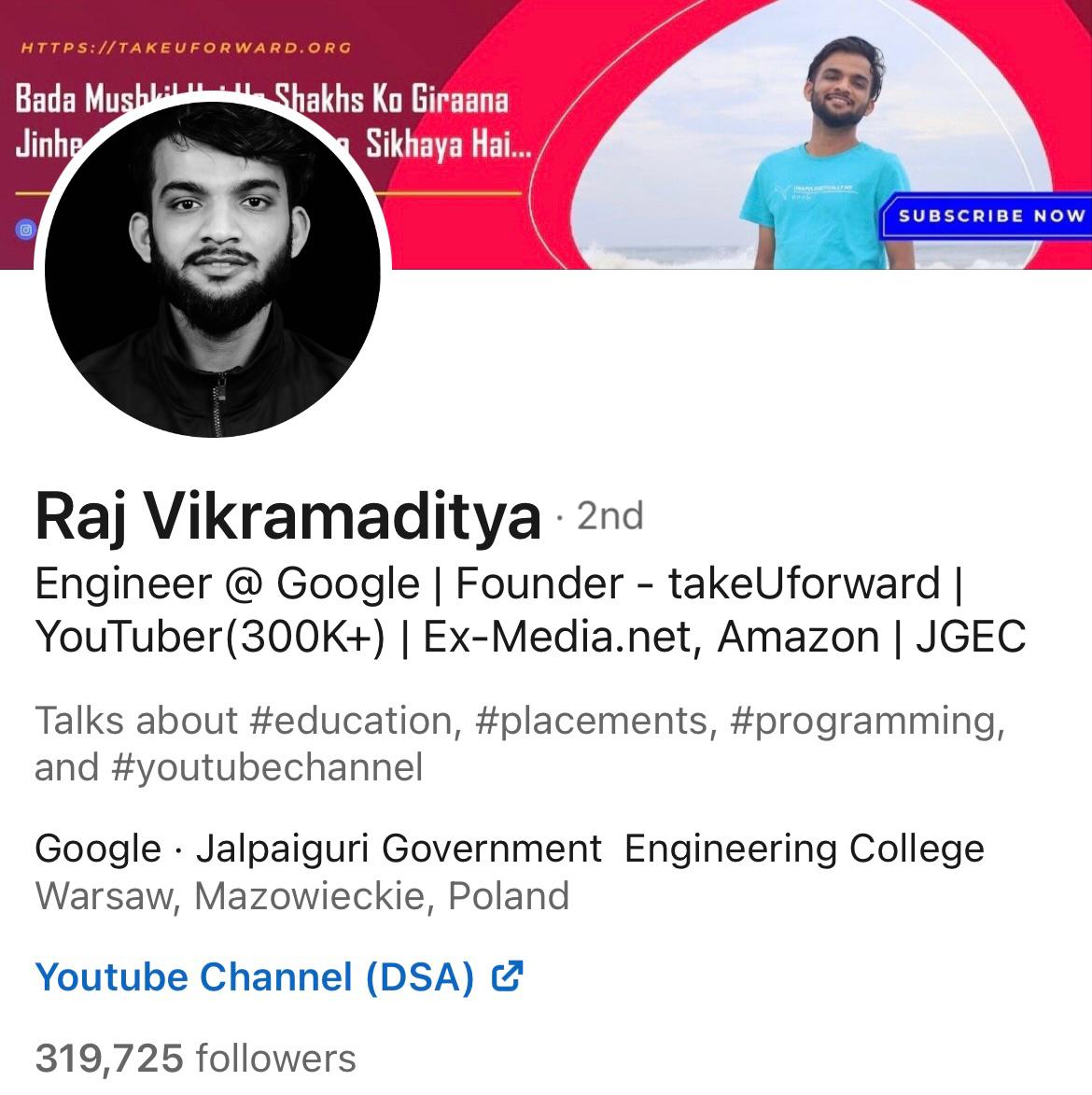 Raj Vikramaditya is a man on a mission to make coding education accessible for all. As an engineer at Google and the founder of takeUforward, his passion for technology has driven him to create an e-learning platform that offers free coding education to everyone.
With an impressive 319k followers on LinkedIn, Raj's reputation as a thought leader in the tech industry precedes him. He is dedicated to empowering individuals with the skills they need to succeed in the digital age, whether they are beginners or advanced learners.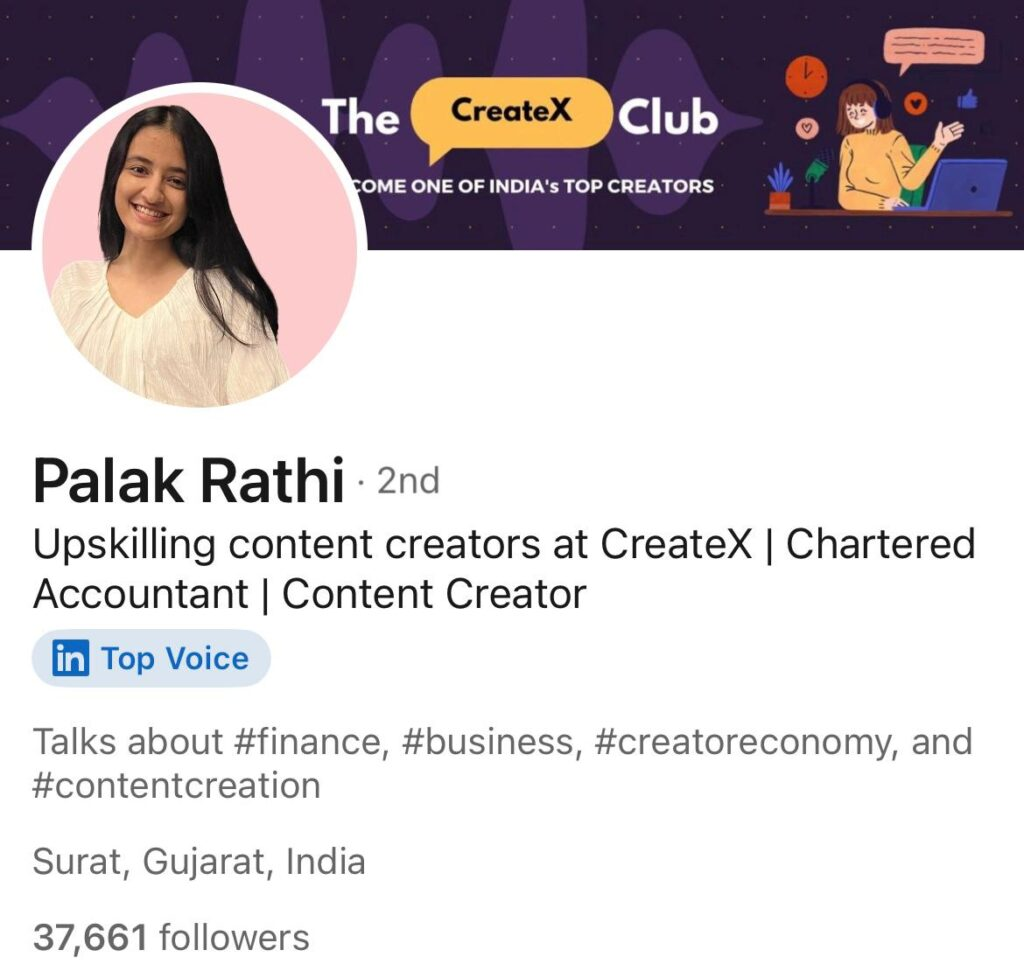 Palak Rathi is a chartered accountant with a passion for content creation. Her background in audit and taxation, combined with her fascination with the world of business and finance, has inspired her to become a digital creator.
She now leads CreateX, a platform that empowers aspiring content creators by providing education and helping them monetize their skills. Palak's content creation skills have earned her a prestigious spot as one of the top 200 creators in India selected by LinkedIn for their first LinkedIn Creators Accelerator Program.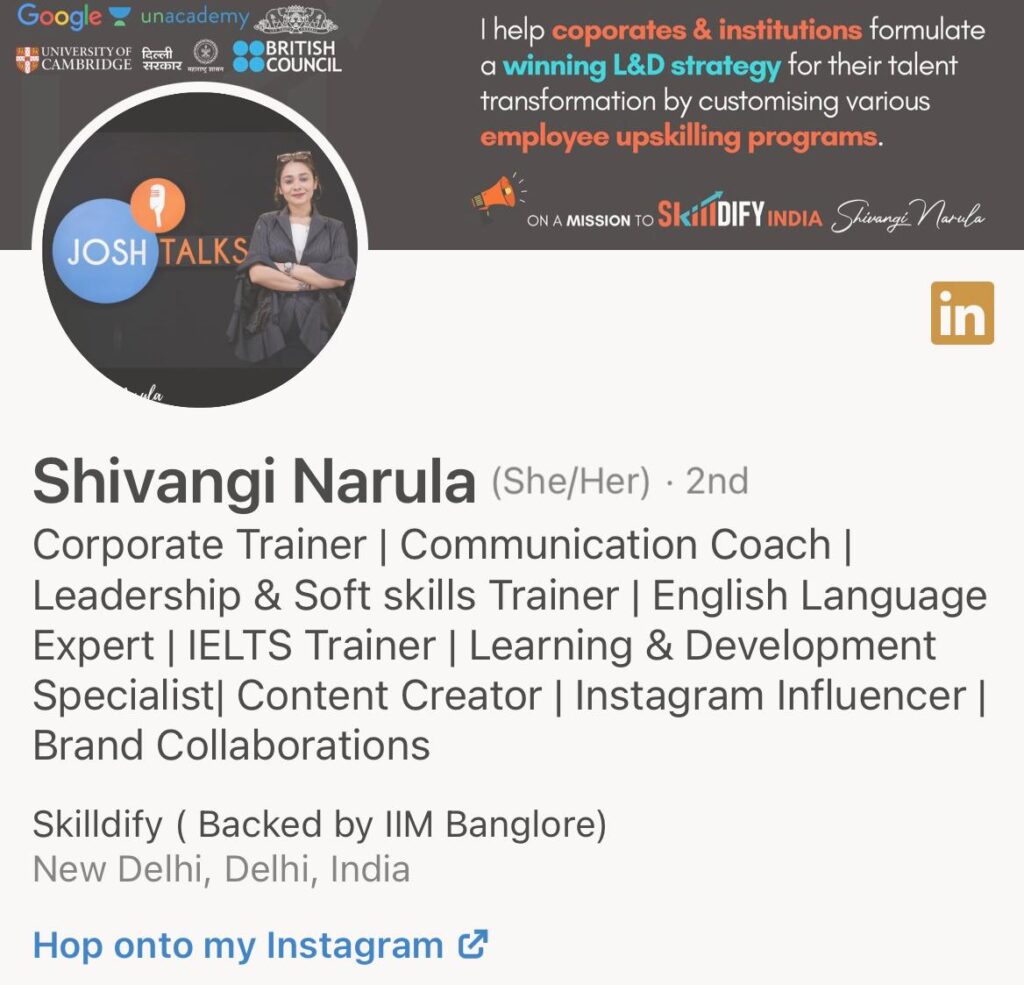 Shivangi Narula is a multi-talented individual who wears many hats with effortless charm. She has a wealth of experience in the corporate training world and is a seasoned communication coach, leadership guru, and soft skills trainer. With her mastery of the English language, she also serves as an IELTS trainer, helping individuals to achieve their dreams of studying or working abroad. Adding to her impressive list of credentials, she is also a content creator and Instagram influencer.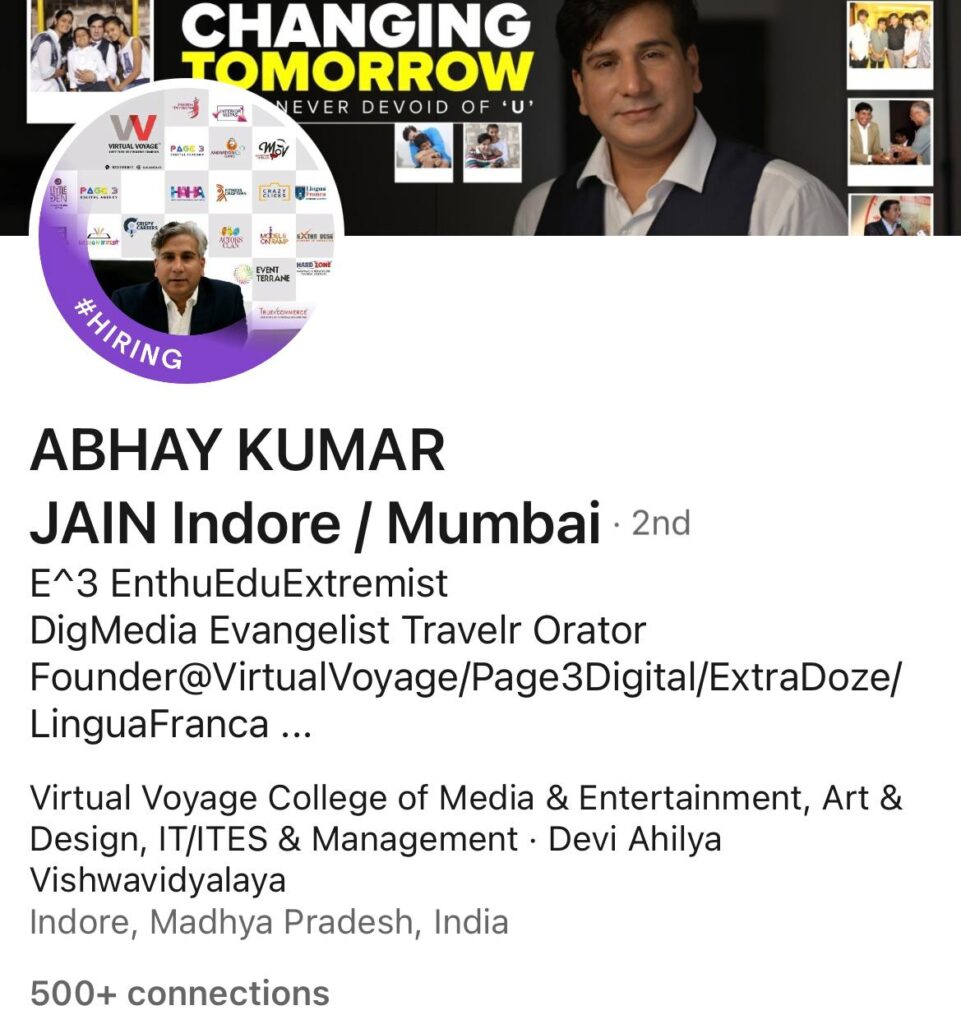 Abhay K. Jain, a visionary businessman and educator is a true game-changer in the field of education. As the dynamic chairman and managing director of Virtual Voyage, he's on a mission to revamp the traditional educational system and create an environment where innovative ideas and concepts can flourish. With his unwavering determination and bold approach to education, Abhay K. Jain is a true inspiration to us all.
Hansi Mehrotra is the go-to person for all things related to individual wealth in India. She founded Money Management India and currently serves as its editor. Her innovative approach to financial content has earned her a reputation as a leading authority in the field, and her contributions to the business industry are truly remarkable.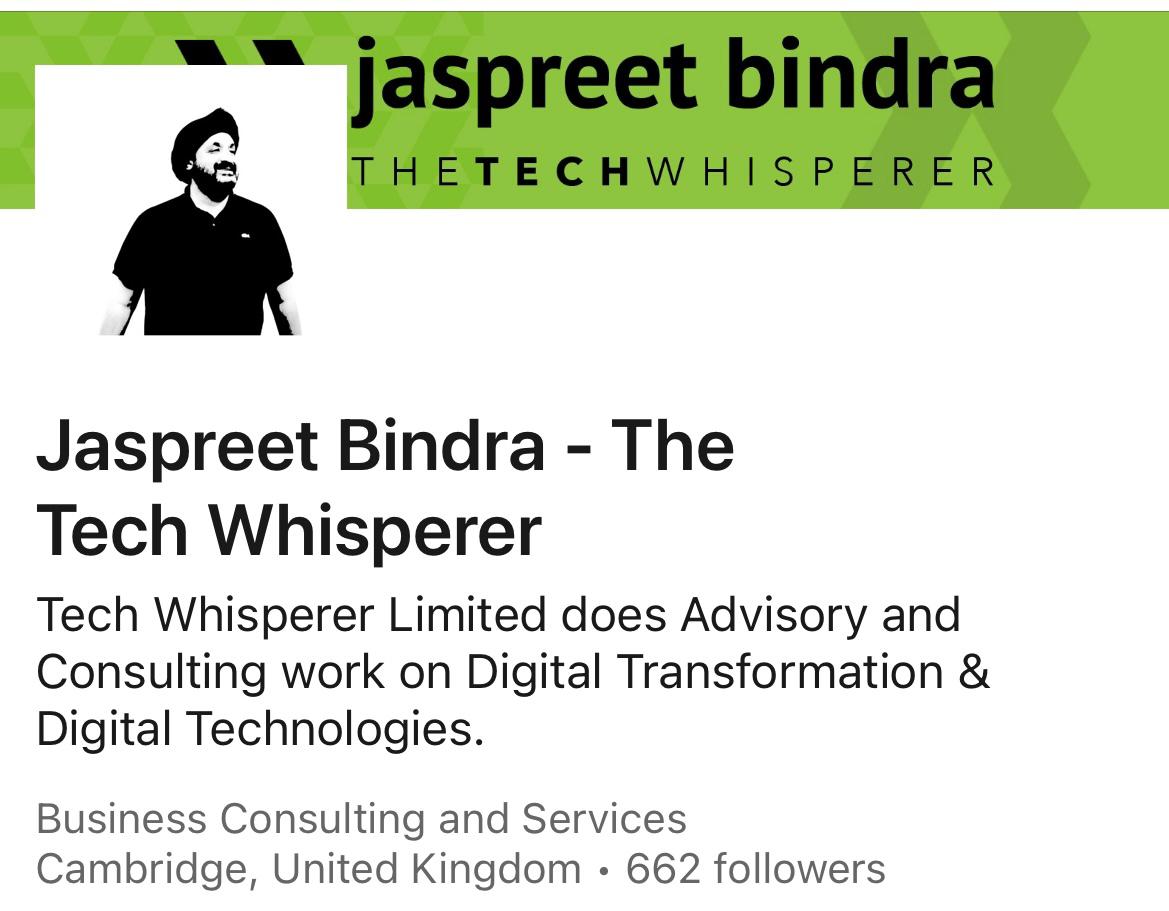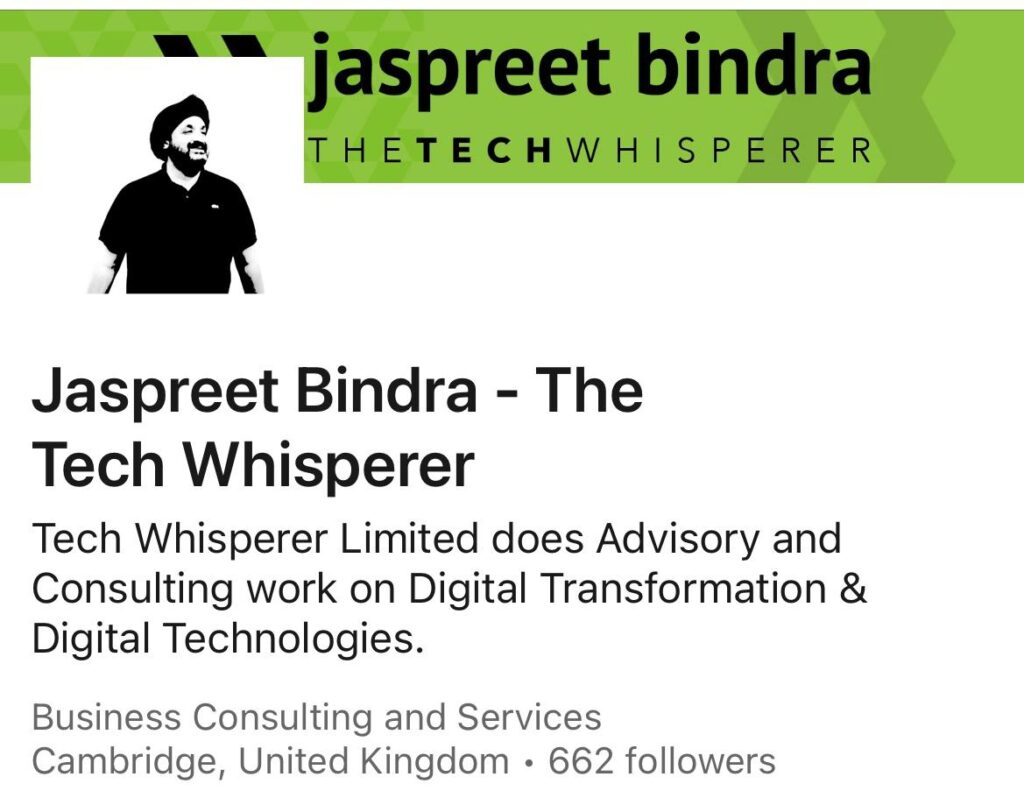 Jaspreet Bindra, the founder of Tech Whisperer Ltd, is a highly respected figure in the world of digital transformation for businesses. He has extensive knowledge and expertise in blockchain, web 3, and artificial intelligence.
As the author of the best-selling book "The Tech Whisperer," Jaspreet has established himself as a go-to source of information on this subject. His experience as an executive in digital transformation at Mahindra, Microsoft, and eBay India also provides valuable insights to businesses looking to navigate the digital landscape.
After selecting the right influencer on the right platform, you should also know the proven ways to leverage your efforts. For this, we recommend you to read the "5 Proven Ways To Grow Your Business With Performance-Based Influencer Marketing" to get the most out of your campaign.
Key Takeaways
Vavo Digital, a leading influencer marketing firm in India, acknowledges the importance of LinkedIn influencers in promoting your business. Interested in discovering how we can enhance your brand's reputation? Simply drop us a mail at hello@vavodigital.com, and we'll be sure to get in touch with you at our earliest convenience.