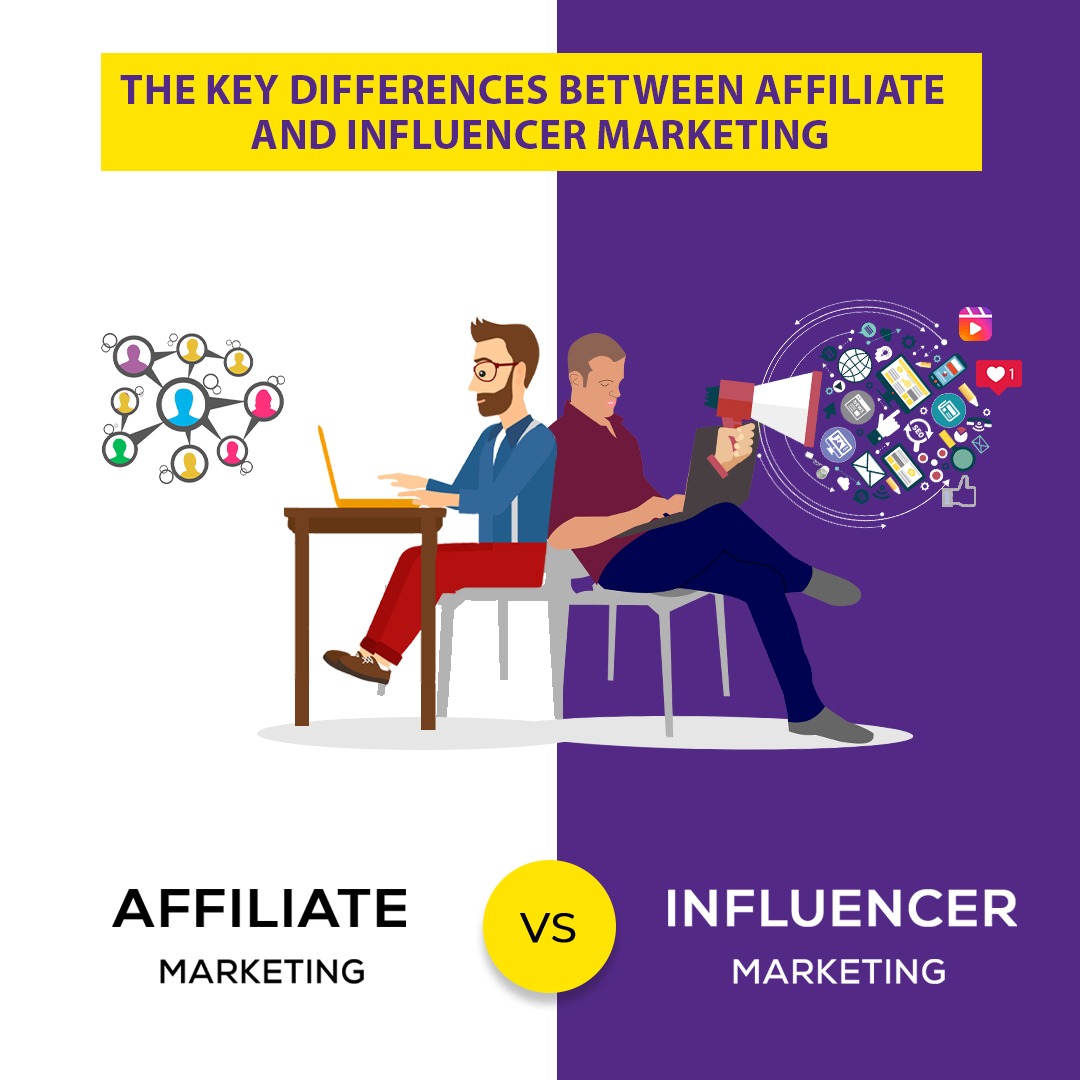 The Key Differences Between Influencer Marketing vs Affiliate Marketing

In the last decade, traditional forms of advertising like television and radio have been replaced by influencer and affiliate marketing. With these newer marketing channels, companies have been able to generate millions of dollars in revenue and increase the number of conversions too. 

Today's consumers need to hear from authentic individuals before purchasing, and social media creators are perfect for this. They are also the driving force behind influencer and affiliate marketing.

Between the two, which of these is the right approach for your brand? 

Let's comprehensively compare affiliate and influencer marketing to understand better the optimal approach to maximising ROI and boosting sales. 
Affiliate Marketing Explained 
With affiliate marketing, you can advertise your goods and services on websites that aren't your own. The affiliate, or the website where your material is displayed, receives a small cut of the sale when leads who have seen your content on these sites click on it and make a purchase. 
Affiliate marketing, as opposed to influencer marketing, depends on forming alliances with well-known blogs, businesses, and publishers. Affiliate marketing aims to increase sales by providing your audience with exclusive deals, sales, and discounts.
Metrics to track your success with affiliate marketing
Brands should monitor the following metrics to determine the effectiveness of their affiliate marketing campaigns:
Average Order Value: Evaluate whether leads make the bare minimum purchase or go above and beyond by purchasing multiple items. Additionally, examine if they are purchasing expensive goods.
Sales Volume: Monitor your sales figures to determine whether the products you're advertising through the affiliate program see an increase in sales.
Website Traffic: Are more people visiting and browsing your website's pages? Check to see whether there has been a rise in the  number of new lead signups and downloads of your free content.
Pros and Cons of Affiliate Marketing 
| | |
| --- | --- |
| Benefits | Drawbacks  |
| Not only is it simple to start but can also  expand number of affiliates and affiliate network  | Some affiliates employ dubious strategies, such as spamming and fraudulent advertising. |
| No up-front cost to launch the program and commission is only paid for successful sale  | Prone to fraud, including the use of bots or scripts, transactions made using stolen data, phoney email lists, etc. |
| Incredibly adaptable programs can be tailored to your company's requirements | Little to no control over content produced by affiliates.  |
Influencer Marketing Explained 
Influencer marketing involves collaborating with well-known figures in your niche and enlisting their support to promote your goods and services. This type of marketing is among the quickest, most effective strategies to quickly increase brand awareness. Since influencer marketing is inherently personal, when the influencers have sway over your desired target market, your chances of attracting their attention greatly increases.
Partnering with the right influencers is critical in ensuring your brand reaches the correct target audience. With that said, searching for the right influencer can feel like a daunting task. This is where Vavo Digital comes in, and we match businesses with the right influencers according to their niche, budget, and objectives.
Metrics to track your success with influencer marketing
Companies should monitor the following metrics to determine the effectiveness of their influencer marketing campaign in enhancing brand awareness: 
Number of new followers: Gaining new followers implies that your social media pages had more visitors due to the campaign. Analyse the data to discover if the rise was higher during the campaign than at other times.
Engagement on social media: Examine the number of comments, likes, shares, and views of your content to see whether there has been an increase. Social media networks track these indicators and offer analytics, which makes it easier for you to determine how successful the campaign was.
Generation of leads: Verify whether additional email signups occurred during the campaign if you have a lead magnet or signup form available.
Pros and Cons of Influencer Marketing 
| | |
| --- | --- |
| Benefits | Drawbacks  |
| Controlled approach that enables you to reach a large target audience with limitless returns if executed well.  | It takes time and effort to properly assess influencers that would be the right fit for a particular campaign.  |
| The content that is created during these influencer marketing campaigns  can be used in future as marketing material.  | Without the proper tools, tracking results is challenging so it can be difficult to assess what's working and what's not.  |
| Influencers can help brands build trust and credibility amongst their consumers.  | Your brand may suffer if you choose the "wrong" influencers who aren't aligned with your brand values and image.  |
What Marketing Strategy Should You Choose Depending on Your Requirements 
These three things should determine your marketing strategy: 
What are your objectives? 
Who is your target audience and where do they spend their time online? 
What is your budget? 
As your requirements and goals change and develop, you don't have to continue with one strategy; instead, you can alternate between influencer and affiliate marketing. As you examine each of these factors, keep the following in mind: 
Your objectives 
Leverage influencer marketing if you've a special deal going on, want to highlight certain products, or want to invigorate your audience for an upcoming launch or campaign. Utilising influencers that support your product and refrain from endorsing rival brands is the secret to effective influencer marketing. 
Conversely, employ affiliate marketing if you want people to spread the word about your goods or services, exclusive deals, discounts, and more through platforms other than social media. Provide publishers, businesses, and bloggers with content that supports or relates to your brand. 
Your target audience 
Your strategy will also depend on the demographics of your audience and the websites they frequent the most. Consider investing more in influencer marketing if your products are geared toward millennials and Gen Z. 
Employ affiliate marketing if you want to target a specific segment of your audience. Instead of marketing to everyone, it is essential to focus your marketing efforts on the subset of individuals that are most likely to use your product or service. 
Your budget 
Your budgetary constraints will also influence the strategy you adopt. With a bigger budget, you can collaborate with bigger influencers to maximise your exposure. Another alternative is to target micro-influencers in your field who have thousands of highly engaged followers rather than a large following. 
If you prefer to see results before paying or want the flexibility to discontinue your campaign depending on your budget, then opt for affiliate marketing. Depending on the size of your campaign, you can track your expenses in real time. 
What's It Going to Be? 
Influencer and affiliate marketing don't need to be put against each other. In the digital marketing world, there is room for both. Rather than focusing on the differences between the two, determine your campaign goals and select the most likely marketing approach to achieve those goals. If you want to run an influencer marketing campaign, schedule a consultation with us for the best results. 
Remember that you can alternate between these two as necessary or even run multiple campaigns simultaneously employing both marketing strategies.  The goal is to test several approaches to see what works best while adapting to your audience's preferences.