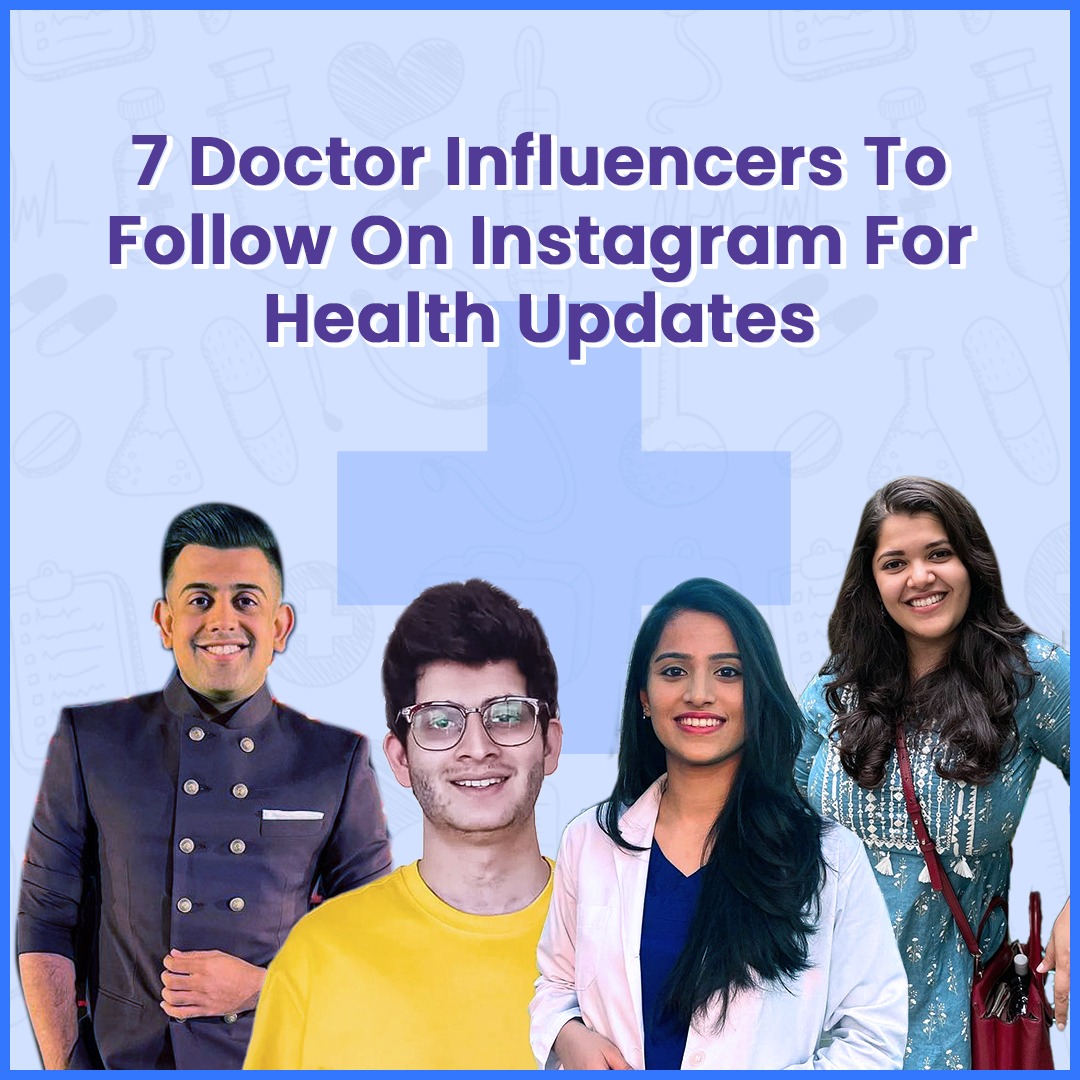 7 Doctor Influencers To Follow On Instagram For Health Updates

The healthcare sector has seen significant growth in the post-Covid period. The popularity of Doctor influencers on Instagram has increased as more users turn to their Instagram feeds for reliable health People are now more conscious of their physical and emotional health than before the devastating waves of the pandemic. To aid India in maintaining its health, numerous brands have emerged to offer food and fitness programs. The popularity of Instagram healthcare influencers has increased as more users turn to their Instagram feeds for reliable health advice and suggestions. As a result, influencer marketing for the healthcare industry has grown, and prominent Indian doctors who are influencers have been landing partnerships with companies that provide sincere healthcare-related goods and services.
Here's the list of the top 7 Indian doctor influencers doing their best to reach out to the common public and encourage them to choose a healthy lifestyle.
1. Dr Tanaya
 

 

View this post on Instagram

 
Dr Tanaya, commonly known on Instagram as Dr_cuterus, is a medical doctor with training in embryology and has practised abroad. She deconstructs complicated medical disorders and discusses taboo subjects like sex and masturbation. Dr Tanaya offers sound counsel in interesting ways, whether in the form of a humorous movie or an obvious explanation.
 

 

View this post on Instagram

 
She is a passionate dancer in addition to being a doctor, and her content is simply outstanding. She is an amazing woman, and this video of her dancing to "Garmi" became popular. How well she manages and juggles her professional, and personal skills is incredible.
 

 

View this post on Instagram

 
Dr Siddhant refers to his job as "dropping truth bombs" on Instagram. Correctly so. You may find various intriguing tips, scoops, fact checks, and more on his page. For example, he has a reel debunking the idea that "standing and drinking water" will help you lose weight.
4. Doctorvee
 

 

View this post on Instagram

 
Being healthy is essential, and Dr Vishakha thinks we can do it by changing the most crucial component of our days: what we eat. She publishes testimonial content, which lends credibility to what she says. She discusses a variety of subjects, including artificial sweeteners and how they affect your gut health, as well as probiotics' potential benefits.
If you're a brand who is looking to explore influencer marketing this festive season, we have curated some proven tips that can help you amplify your brand, read 5 Effective Tips To Use Influencer Marketing During The Festive Season
 

 

View this post on Instagram

 
It is easy to get lost in the tangle of skincare products that fill the market. Dr Rashmi Shettrya Shah's goal is to correct this, specifically. She is a dermatologist with around 207K Instagram followers who offers skincare advice and what one can do to maintain healthy skin.
 

 

View this post on Instagram

 
The King Edward Memorial Hospital in Mumbai is where Dr Agni Kumar Bose is dermatology, venereology, and leprology resident. In his videos, he emphasises a variety of everyday skincare routines, such as post-workout skincare, skin-loving foods, summer and winter skincare, sunscreen, tanning, fall, diets, burns, and various women's health issues. 
One video at a time, we watch this doctor influencer encouraging his audience to adopt a healthy lifestyle!
 

 

View this post on Instagram

 
Dr Manan often writes research-based articles on the health of the bones, joints, and muscles, as well as on exercise and fitness medicine. He creates videos to educate people. He serves as a model for the general public and physicians alike. 
On how to keep healthy and fit, he offers advice. He places a lot of emphasis on producing content that offers advice on how to keep active and healthy in our world of processed food and smog, persuading his followers that doing so would benefit everyone.
Final Words
These healthcare influencers' ability to discuss taboo health issues, dispel health myths and stereotypes, and motivate their audience to adopt more healthy behaviours is one of their greatest strengths.
These health authorities can inspire you to take better care of yourself, broaden your perspective on a subject, or both. They all work to educate, treat, and enhance other people's lives and well-being, and they are all highly successful.
Being one of the top influencer marketing agencies, Vavo Digital is aware of doctors' enormous influence over their audience for brands in the healthcare industry. We assist you in forming partnerships with these doctor influencers so that they may effectively communicate your brand's message. 
Looking for more information on influencer marketing and how it may benefit your brand? Send us an email at hello@vavodigital.com, and we'll get back to you as soon as possible!