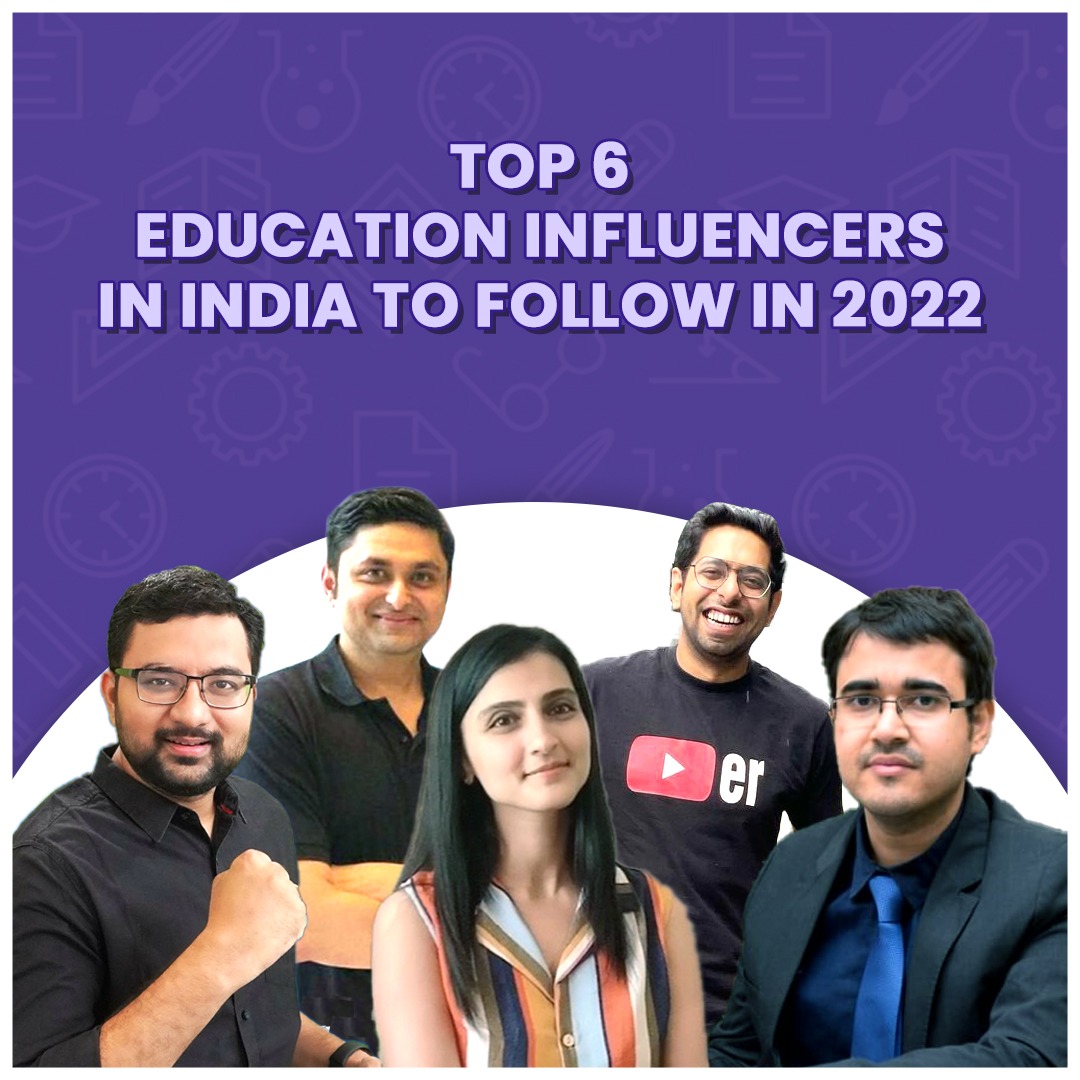 Top 6 Education Influencers In India To Follow In 2022

Is your company hoping to have an effect by influencing children's lives for the better? Collaborate with some of India's leading education influencers to make your efforts more apparent. These educational influencers are crucial to your awareness-raising initiatives because of their extensive knowledge bases, which make them the go-to source for all current trends.

We have compiled a list of India's leading educational influencers to facilitate your collaboration. Meet our diverse group of top education influencers on YouTube, Instagram, and other social media sites who post about educational trends, money-saving advice, and an in-depth understanding of topics that textbooks don't address.

These education influencers could be a fantastic benefit to your brand because they have a devoted fan base and your target market.

Before diving into the list of influencers, Let's first understand the basics!
What Is An Education Influencer?
An education influencer promotes instructional information on their social media channel. These people frequently post content on educational subjects, distribute resources, and offer guidance to parents and students.
Additionally, a lot of education influencers work with companies in the sector.
Now, let's explore each one of them.
 

 

View this post on Instagram

 
Himesh Madaan is one of the most significant figures in India's educational sector. He is most renowned for the self-help materials he wrote for Indian youth. This educator and businessman, based out of Noida, began his career as a life-skills coach for corporate clients.
Himesh knew that his target audience was gathered on YouTube because it was the most widely utilized platform for video content, so he used it to connect with the younger generation. His YouTube channel has approximately 6.4 million subscribers, while his Instagram account has 247K followers.
2. Roman Saini
 

 

View this post on Instagram

 
This Indian education influencer doesn't need an introduction; at age 30, he's already pretty well-known for his outstanding contribution to providing students with the AI-based education tool Unacademy.
He has seen firsthand during his career how the country's education system is broken and only open to the wealthy. After that, he realized he needed to devise a plan to make education affordable and accessible to students. He left the civil service and founded Unacademy, a college that offers a wide range of classes to students pursuing different certificates. His main goal was to locate cutting-edge knowledge to help students overcome whatever obstacles they could encounter.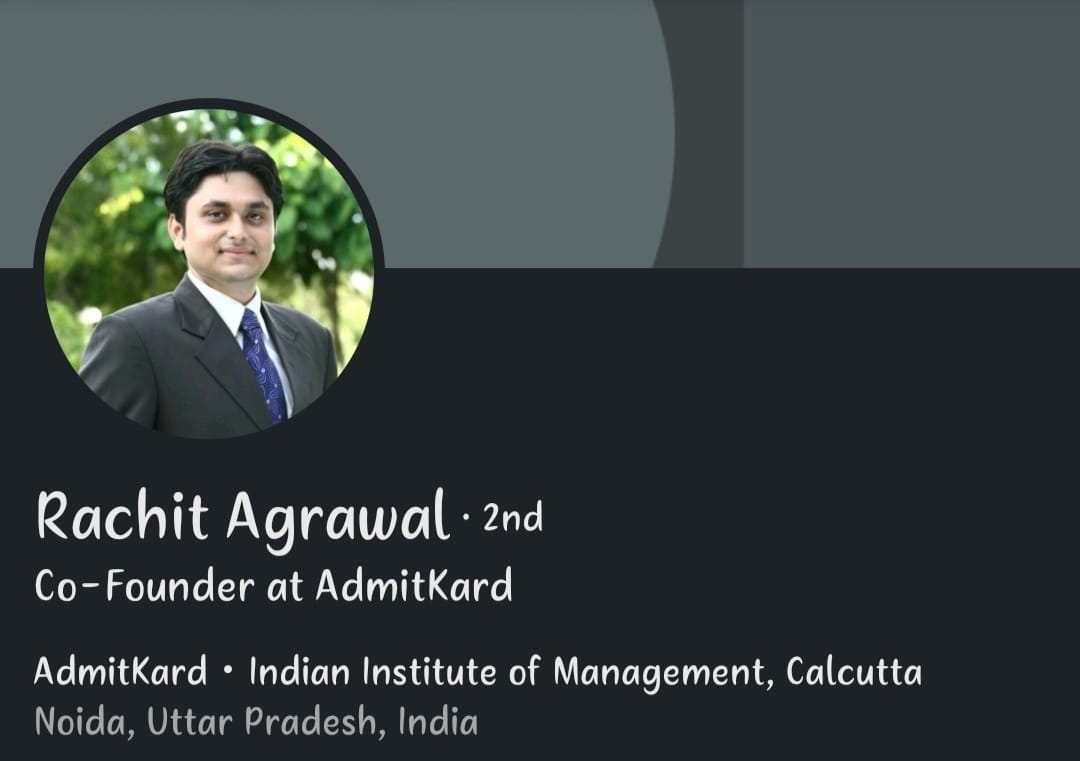 Thanks to the use of numerous cutting-edge learning modules and practices, students are given a learning experience that is simplified and stress-free. Teachers are adjusting to the digital revolution that the sector is through as well as students. 
Similar to these platforms is AdmitKard, which Rachit Agrawal co-founds. It is a service that helps students with the application process for programs or schools abroad.
A socio-tech portal called AdmitKard helps students at every stage of their academic careers, from admission to migration.
DID YOU KNOW? Influencer marketing allows you to expand your audience while also increasing brand awareness when someone recommends your products or services or mentions your brands. Read 8 Proven Influencer Marketing Strategies To Boost Sales 
4. Hiral Sejpal
 

 

View this post on Instagram

 
Hiral Sejpal is a motivated, energetic, and open-minded instructor from another country who plans to continue her studies throughout her life. Hiral is fervently committed to improving student services, teacher development, student involvement, and fostering intercultural communication.
You may get all the answers to your inquiries about what to do after school with Hiral. She covers the various career options available to students and walks them through the application process for their ideal university.
5. Arpit Chadha
The Education Group, regarded as one of India's most successful education firms, is led by Mr. Arpit Chadha, who also holds the position of vice-chairman. In his opinion, educational techniques must constantly change given the recent quick and intelligent innovation.
By focusing on offering high-quality education, this organization is establishing new norms in higher education, and Mr. Chadha is providing the leadership required to make this happen.
One of the organization's main goals is to help the less fortunate because education is one of the fundamental rights that needs a lot of attention. As a result of the numerous national and international conferences he has sponsored, Mr. Arpit is regarded as one of the most significant individuals in the Indian education sector.
6. Sagar Dodeja
 

 

View this post on Instagram

 
Sagar Dodeja is a name that is regularly thrown around in the same sentence as other influential figures in the world of education. Mr. Dodeja is highly recognized for his entrepreneurial success and ability to ace some of India's most challenging tests.
He decided to work as a teacher full-time between postings since he was passionate about teaching. He chose to leave his job with Engineering Services and continue teaching online after seeing the tremendous growth in the teaching vocation he had been pursuing. 
Sagar publishes educational and instructive videos on his "Civil Beings" YouTube channel, which has a good effect on the careers of millions of students around the world.
Final Words
Due to the rapid development of social media and word-of-mouth marketing, influencer marketing has become more and more popular with businesses. Suppose you are entirely aware of influencer marketing, its benefits, and its advantages. In that case, you will be able to understand one of the most popular marketing methods for the foreseeable future. 
Better outcomes will emerge from applying influencer marketing to subsequent initiatives once you've seen how quickly it can help you accomplish your goals. Influencer marketing frequently pays for itself more rapidly than it costs you, provided you can see its potential and collaborate with the right influencers in a successful digital marketing strategy.
Vavo Digital, one of the leading influencer marketing agencies in India, recognizes the immense impact that these educational influencers can have on their audience and wants to help our clients form alliances with them on social media.
We can assist you in getting your company in front of the relevant audience through the right set of influencers since we have built a global network of well-known influencers. Are you interested in finding out more about influencer marketing and how it may help your brand? We can be reached at hello@vavodigital.com, and we'll get back to you immediately!