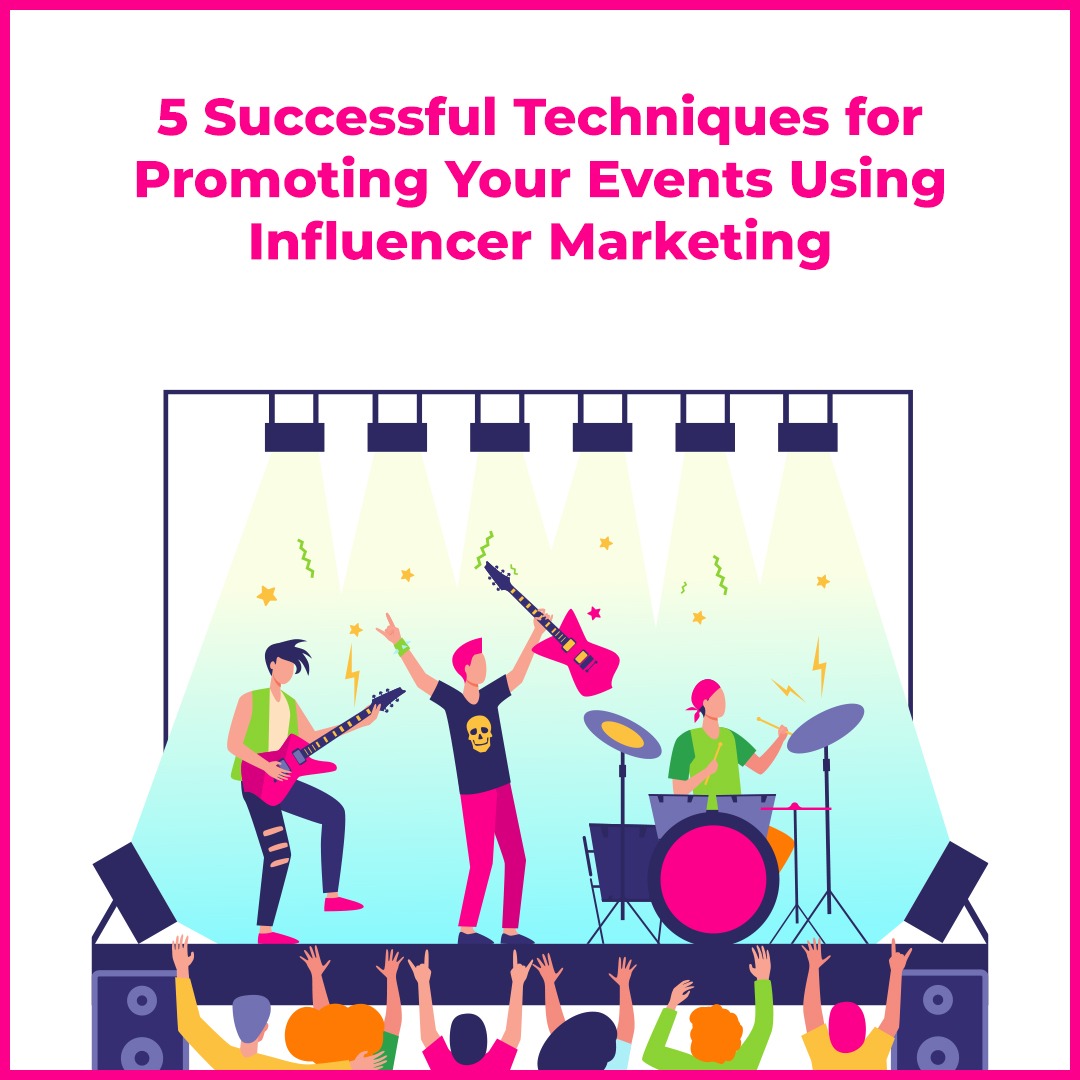 5 Successful Techniques For Promoting Your Events Using Influencer Marketing

In today's globally linked world, influencer marketing has emerged as a paradigm-shifting technique for event promotion. An influencer is a person who commands considerable respect in your industry or among your target audience.

They might be anyone, from famous people with a large following to regular people with a modest following but a big impact on your sector.

By collaborating with people who have a sizable social media presence and following, event planners may use influential people's influence to reach a wider audience, boost attendance, and create enthusiasm about their events.

Influencer marketing is a multi-billion-dollar industry nowadays. At present, 4.57 billion people , worldwide utilize digital gadgets.

Ad fatigue has set in as every company fights for attention online, more people are using ad-blocking software, and people's ingrained suspicion of internet marketing are just a few of the factors.

It seems to sense that most marketers would view influencer marketing as the best replacement for other traditional digital marketing approaches. You may reach a larger audience and increase the legitimacy of your event by using influencers in your event marketing initiatives. Influencers are the basic need when you want to promote an event widely to an audience approach.

You can also read 5 Proven Ways To Grow Your Business With Performance-Based Influencer Marketing.

As a result, there will be a lot of pre-event buzz and more interested individuals will learn about your event. 28.1% of businesses chose to deal with influencers primarily for events, based on a Launchmetrics research. And for product launches, influencer collaboration was favored by 41.6%. According to this report, events are the second-leading setting in which marketers choose to use influencer marketing strategies.
Word-of-mouth advertising has a lot of power, especially when it is supported by influencers (someone your audience trusts). Word of mouth advertising helps to connect with people and recall your brand easily. This strategy is often used when you want to establish your brand's recognition quickly.
Sehaye helps you to collaborate with influencers easily and communicate easily.
The following blog post will examine five effective strategies for using influencer marketing to effectively promote your events.
Work with Relevant Influencers: Finding and collaborating with relevant influencers is one of the essential elements of a successful influencer marketing campaign for events. The target audience and theme of your event should be represented by these influencers. Look for influencers that genuinely care about the subject of your business or event since their followers are more likely to feel the same way. By collaborating with relevant influencers, you can make sure that the proper people hear your message, which will enhance engagement and event attendance. Consider that you are planning a music event for young adults. Working with well-known musicians such as Neha Kakkar who are influential in the music industry and have a large following on websites like YouTube or Instagram can help your event gain more attention and sell more tickets.
Co-create Compelling material: After choosing the right influencers, the next step is to collaborate on creating material that appeals to their audience and supports the goals of your event. Work together with influencers to create compelling and genuine material that highlights the benefits and distinctive selling features of your event. Influencers' experiences and excitement about the event are shared in these blog entries, videos, social media posts, and live streams. You may pique followers' attention and curiosity and encourage them to learn more and join by fusing the influencer's artistry with the content of your event.
Set up Influencer-led Giveaways and Contests: Contests and giveaways are effective strategies to raise awareness of your event and boost participation. Work with influencers to plan special freebies or competitions for your event. Offer event tickets, VIP passes, merchandise, or other unique experiences as rewards to entice their fans to participate. This tactic not only grabs the influencer's audience's attention, but also motivates them to actively tell their friends about your event. The appeal of winning spectacular rewards heightens the sense of urgency and excitement, piques curiosity, and raises the likelihood that people will attend the event.Suppose you are organizing a Giveaway with a huge makeup brand, so you would like to choose an influencer such as Kriti Ds who is followed by a lot of people and people genuinely participates in the giveaways she posts.
Encourage them to spread pre-event buzz: Influencer takeovers may be a powerful method to add a personal touch to your event and foster a sense of exclusivity. Permit influencers to control the social media accounts for your event for a predetermined amount of time before it happens. Influencers can conduct live interviews with speakers, give behind-the-scenes looks, and share sneak peeks and exclusive information throughout the takeover. Their followers have a unique viewpoint from this immersive experience, which also increases the excitement for the occasion. Additionally, it gives influencers a chance to interact with their audience face-to-face and respond to inquiries, which increases interest and attendance even more.
After the event, ask them to publish material: When the event day comes, make the most of influencers' participation to increase visibility. Give influencers access to special materials, backstage credentials, or chances to engage with attendees and keynote speakers. Encourage them to use event-specific hashtags to post real-time updates, stories, photographs, and videos on their social media sites. Their followers experience FOMO (fear of missing out) as a result of this real-time coverage, which increases enthusiasm and interest in your event. Let's say, you organized a new launch of a beauty product, so for attracting a huge audience and to get great sales you would ask makeup artists or beauty influencers to publish their reviews about the product.
On a number of social media platforms, such as Instagram, Twitter, Facebook, and YouTube, influencers can document their actions and interactions throughout the event.
They can share their thoughts, draw attention to noteworthy occurrences, and draw attention to the atmosphere and spirit of the event.
By demonstrating the significance and impact of your event to their followers, this type of material acts as social proof.
Conclusion
Influencer marketing has completely changed how events are advertised and has integrated itself into event marketing methods. Event planners may broaden their reach, improve engagement, and generate a lot of discussion about their events by utilizing the impact of influencers. The secret is to find the right influencers, work together to create interesting content, plan freebies and competitions, hold influencer takeovers, and increase event coverage.
Remember that developing solid connections with influencers, communicating expectations and goals in a clear manner, and tracking and analyzing the outcomes are all necessary for effective influencer marketing initiatives. You may substantially increase the awareness, attendance, and general success of your events by implementing influencer marketing methods properly.
VavoDigital helps to build your influencer marketing campaigns effectively. Thinking to start your influencer marketing journey, then do follow such blogs. Further if you have any query you can contact at hello@vavodigital.com.