The Role Of Influencer Marketing In Building Brand Loyalty

Don't you dream of growing a loyal customer base for your brand? Oh, yes you do? Well, we know where it hurts and so does influencer marketing. Brands like yours need to win the hearts of customers so that they can serve them longer without tainting the new-fangled trust developed among them.

Influencer marketing offers great help with brand loyalty. Think of it as influencer marketing reduces half of your stress and gets you closer to your success at the same time.

As per the reports of Google trends, every month, brands are showing interest in influencer marketing by up to 5000% and the numbers keep adding. Now, this is where influencer marketing intrigues to give it a shot.

If you have not made this move yet, we know that you are going to love the role of influencer marketing in building brand loyalty. So let's see how influencer marketing plays its part in fighting major hurdles in your way of getting loyal customers!!!
How do you define Brand Loyalty?
Brand loyalty means how much your customers like your brand's services and products. You can also include the frequency by which they buy from your brand often. Now for this, your brand need to be of quality should be accessible, and must come under the budget of your customers.
These factors are not just enough since your brand needs to stand out from its rivals by consistently meeting the needs of its customers. So if you can do all this better than your customers, congratulations, you have just tapped into forming brand loyalty with your customers.
It is time to leave brand loyalty 101 right here and hop onto the actual discussion!
1. Influencers say hello to broader audience
After all, this is an influencer's job anyway! Seasoned influencers have great potential to address a broader audience. Your brand can take advantage of that as well. By collaborating with such an influencer, you will be able to make your brand known to a diversified audience. What else do you need when a person can use their Instagram to promote your products and services like a smooth sail? Yes, sounds appealing but get them a viable budget for that firsthand.
2. A brand without credibility is a weak claim
This is so true. Even huge brands without credibility fail to attract a decent audience. The end result? Poor conversions, dismantled trust, and tarnished reputation in the market.
Brand loyalty cannot stand without credibility and you should know this. So how does influencer marketing save you from this? Hear us out, the influencer's audience trusts them and finds them credible.
Now, if they will promote your brand, their people will trust them on that as well. See how smoothly you just pulled off fortifying your brand's credibility through influencer marketing?
3. Try influencers for brand awareness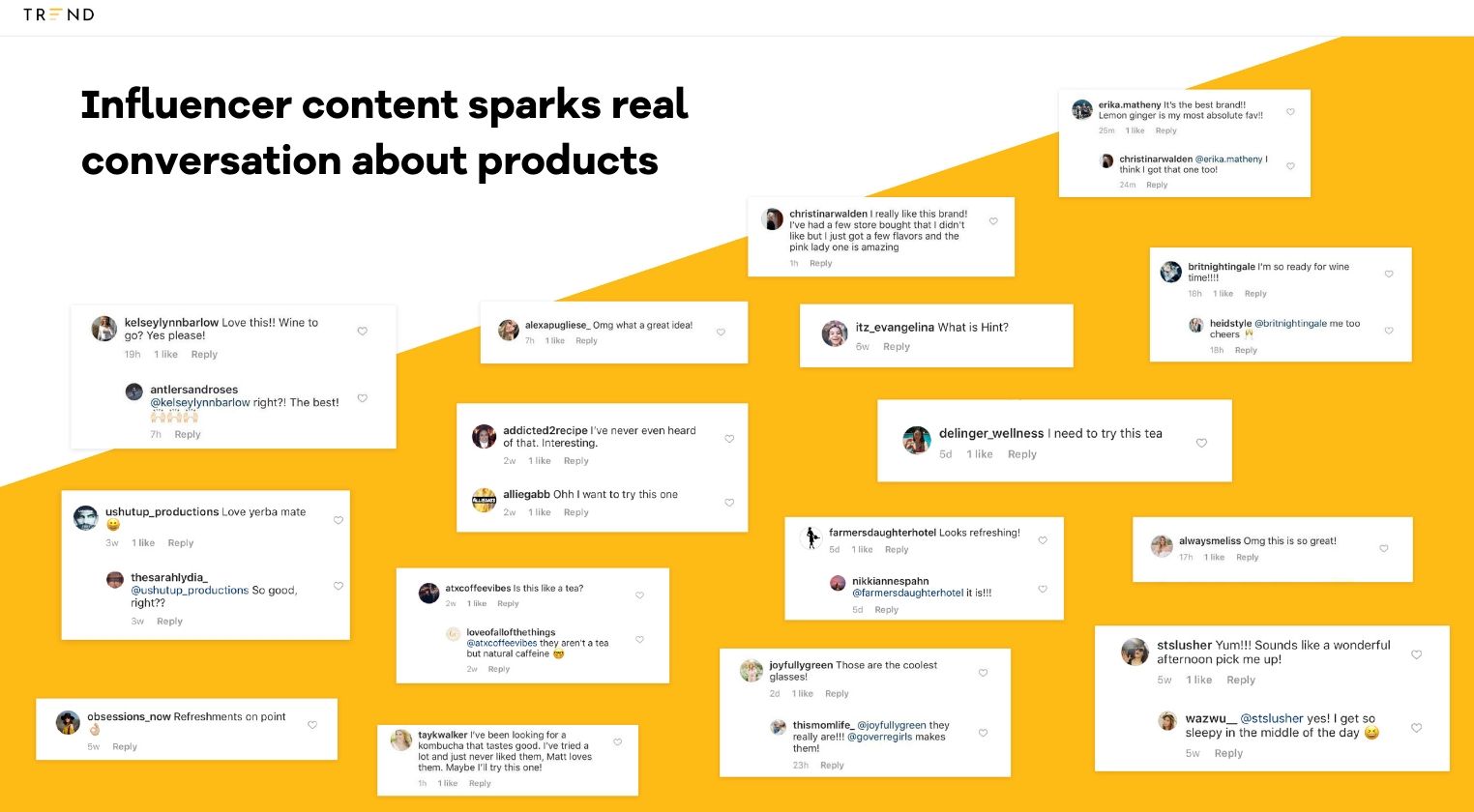 Credits: Trend.Io
In this era, you have nothing more effective than influencer marketing for brand awareness. People love their influencers and they know they will never hurt their trust.
It means when these influencers will promote your brand, they will boost brand awareness as well – making more people familiar with your brand that might be in need of your services.
Speed up your influencer quest with our Sehaye app. Just by downloading the app, you will have access to find, analyze and collaborate with the right influencers for your brand. So don't wait anymore and start using Sehaye right now!
4. Influencers know their target audience
Influencers know what they are doing. Meaning, they won't do this job blindly without even setting a direction for themselves. They know about the demographics as well. They know what group of people loves their work and how they respond to them.
It means, yes, they know the art of dealing with the target audience. Now this is again another leverage that you cannot miss out on for your brand loyalty. If your influencer successfully wins the trust of their target audience for your brand, it will create a positive impact on your brand loyalty later.
5. The best storytellers? Influencers!
You know what? The majority of the job of an influencer is to be relatable to each and every person who is following them on Instagram, TikTok, and Facebook. Or else there is no point in influencing people at all.
It means when an influencer forms a deeper human connection with their audience, it can benefit your brand as well. Try influencers for taking your brand's story to the people and inspire them. You just never go wrong with an influencer's storytelling for brands!
The Final Say
At the end of the day, the influencer you are collaborating with must be worthy enough of your investment. Some influencers fail to understand what your brand needs at the moment, making it even harder to breathe among the competitors. So make sure whatever you do, you are confident of the influencer who is going to be the face of your products and services.
Shaking hands with the right influencer is a huge hustle. We get it and want to save you time for this as well. Vavo Digital opens the doorway for finding the perfect influencers of your choice for you. We are experts in developing high-performing influencer marketing strategies for brands that generated mammoth leads and conversions. So don't be left behind and tag along with us! Consult us at hello@vavodigital.com today!