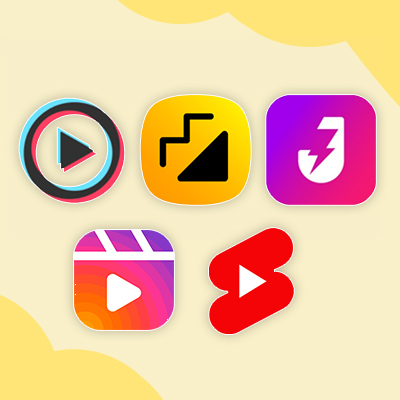 How are Short Video Platforms Taking Over Influencer Marketing?

Short videos and Influencer marketing? Umm., you won't find a better love story than this! The audiences' attention span has decreased with time. Thus, our creators have been devoting their efforts to increasing audience engagement through short video content. Oh well, these videos have proven to have a better retention rate and capturing attention.

Do you want to drive higher engagement? Nothing better than short-form videos! Studies have shown that 5% of viewers stop watching videos after one minute. So you know why we said it's the best!

But, a creator's journey isn't as appealing as it looks. With the increased consumption of short video content, there has simply been a rise in short-form video platforms.

It's not only Instagram and YouTube anymore. Many consumers have been switching to these platforms for similar reasons.

In March 2021, a report concluded the Top 3 platforms for influencer marketing – Instagram, YouTube, and Mx Takatak. While Instagram topped the list, the report said that Mx Takatak is most likely to be opted by 52% of the crowd.
That's not it. It even said, "45% of marketers even think that the Indian short video platform Mx Takatak will effectively drive influencer marketing in Tier 1 and Tier 2 cities." While some predictions are not always convincing, this somehow turned out to be true. Mx Takatak is a leading short video platform in metro and tier 1 cities.
However, many other short video apps have seen a rise in users too. Although apps like Roposo, Trell, and Mitron TV already existed, it was after the ban of the famous Chinese app Tiktok that Indian short video platforms got recognition.
Several new apps joined in the competition after grabbing this opportunity. Moj, Josh, and Mx Takatak made a successful entry into the industry. After the Tiktok ban, it initially seemed difficult for Indian short video platforms to attract a large user base. Because from individuals to creators to brands, everyone had their presence on the app. And boy, to gain a similar following and engagement is not a piece of cake!
However, the results were exceptionally opposite of what marketers thought. It was not too late that all these platforms began to take over the social media landscape and influencer marketing.
Honestly, this wasn't the only reason. Platforms like Moj, Roposo, Josh, etc., even provide content in multiple languages. This makes it easy for users to consume the content in the language they want.
A sudden ban on Tiktok might have created a void in the short-form video ecosystem. But as mentioned, these Indian short video platforms pulled their way out through it and are now ruling hearts.
A report by RedSeer Consulting said, "Indian short-from apps have successfully retained 67% of the Tiktok users and onboarded around 30-35% of new users."
Moreover, platforms like Roposso, Moj, Josh, MX Takatak, etc., gave rise to a new wave of creators.
But there is one thing that has startled us and might blow your mind too. These short video platforms are aiming to retain old users and acquire new ones. However, they have expanded their focus on leveraging influencer marketing as well.
It might seem that they are taking over influencer marketing but everyone is well aware that influencer marketing has become an important pillar for overall growth and campaign strategy. One of the reasons why Tiktok had such a large user base was because of the influencers.
Thus, the presence of influencers on short video platforms has been very crucial to attract a larger crowd. About 50 million Indians are using these platforms to browse short videos. Hence, an investment in influencer marketing has only been working in their favour. Because today, the audience wants to be present where their favorite influencers are creating amazing content.
All these platforms have been doing reasonably well. And we are sure that they are going to break records and gain immense popularity.