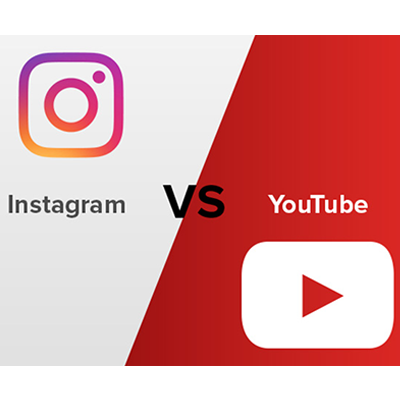 Instagram vs Youtube- Which platform is better for marketing

Both Instagram and Youtube are great social media platforms and the competition on these platforms is increasing every day. If you are looking for delivering long and descriptive videos then Youtube is the perfect platform to go to, but if you are looking for short and to the point delivery of content then Instagram reels are the correct way to do so. 

Still, a lot of people and brands are unaware of where to market their products and which platform is better for marketing- Instagram or Youtube? 

Instagram earned $20 billion in ad revenues in 2019 – much higher than YouTube's $15.1 billion. In terms of influencer marketing, it seems that the two giants to contend with are YouTube and Instagram. YouTube boasts 1.8 billion active monthly users and Instagram has over 500 million users who spend at least five minutes each day on the site. 

Yet again, not all social media platforms are alike.

Also, not to forget it is very easy for everyone to buy fake followers on Instagram or for that matter even artificial views on Youtube. 

And that is why it is important to consider these few things before finalizing a social media platform to market your product or service. 

Here are the 3 R's that you should keep in mind when finalizing a social media platform for your Brand:- 
Relevancy- First understand the type of audience you want to target and on which platform your content will work more effectively. The whole motive behind advertising is to target the right audience by choosing an appropriate platform for the same. 
Relatable- Look for an audience that will relate to your content on a large scale based on what type of content you are publishing and the age group you are targeting. If the product talks about something that attracts teens, Instagram would be the correct way to do it. And if your target audience is the millennials then Youtube is where you can advertise your brand. 
Reach – Engagement is one of the most important aspects of Influencer Marketing, checking the reach and engagement of the person from whom you are planning to advertise your product will help you understand the number of people you are planning to reach. 
Why choose youtube?
Youtube is the second most popular platform over social media with around 1.9 million users. One of the best ways to incorporate your brand's information in detail can be done with the help of youtube. 
Today youtube marketing helps you bring in more traffic to your website and increases brand awareness. 
Why Instagram? 
Instagram is currently one of the most popular platforms to market your brand. With everything going digital most people spend their time on phones and go through various ads and get to know about a wide range of products. 
Instagram helps you build brand awareness which in turn leads to an increase in sales. 
If you are a marketer and are confused about which platform to use for promoting your product and build awareness. Keep these pointers in mind and before selecting a platform.