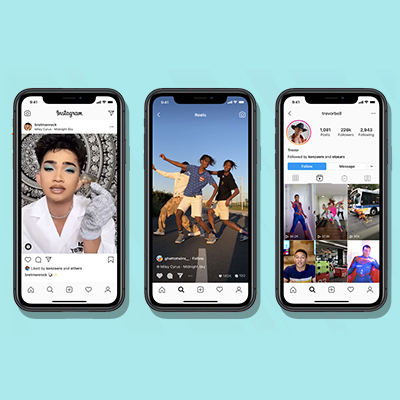 An overview of how the Reels Algorithm works!

Do you feel that Reels are the new way to grow your engagement rate on Instagram?

Since the time Instagram has come up with the Reels feature, a lot of people feel that this is one of the best ways to improve your reach on Instagram is with the help of Reels!

Each part of the app i.e the feed, explore page, reels have a different algorithm to follow and are tailored to how people use it.

Knowing how to hack the Instagram reel Algorithm is a huge advantage for people and brands who are looking to grow on Instagram.

Instagrams Reel Algorithm has been a bit of a mystery, especially when it comes to the explore tab.

The main reason behind coming up with the Reel section on Instagram was by looking at the growth of short video platforms and how people are always looking for funny, attractive, and suspenseful videos all the time.

Reels are one of the best ways to advertise your business on Instagram, in the past 1 year since Instagram launched reels, there are various updates that have come under this feature.

For Eg- Instagram came up with this latest update of 60 seconds reels, now it is easier for brands to advertise their products along with detailed information about its various features.

Instagram keeps helping businesses to grow if they follow the correct and necessary directions given by Instagram, understanding the Reel algorithm is very difficult but here are a few steps you can follow to improve your Instagram reach.

According to Instagram, brands and creators should post reels that are:-
Fun and Entertainment based (that grabs the attention of the people, make them laugh, or has some plot twist in it)
Using music from the Instagram library will help you get a better reach on your Reels.
Using the Instagram filters and camera effects will make it look attractive and people will love engaging with you!
Now that we are trying to understand the Instagram algorithm, let us also look at things that hamper the reach of our Reels and should not be used!
Do not post reels that are not recorded properly and are a blur.
Do not post reels with a border, they do not look aesthetically pleasing.
Make sure that you don't fill your reels with a lot of text, this will make the audience lose interest in your content.
There are more common algorithm elements- every user will see more content based on the topics they interact with and on the basis of the engagement history. In other words, Instagram helps you engage with the type of content you are interested in and similar to the videos you have watched.
Since reels are now available for 60 seconds brands and creators can display the product and the features of the product in a better way which will, in turn, boost their information and at the same time provide a piece of detailed information about the product to the target audience.
Instagram has finally disclosed a few tricks and hacks that will help you understand the Instagram Algorithm. By following these steps, Instagram will automatically boost your account and help your page grow on Instagram.