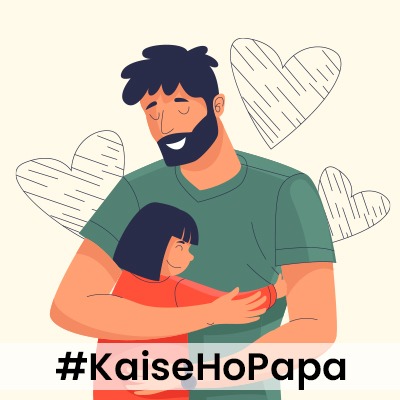 #KaiseHoPapa Campaign by VavoDigital

The feeling of fatherhood? It is probably the best feeling in life. Seeing yourself transforming into a whole new person is a life changing and beautiful experience altogether!

Fathers pour in all the love and affection for their children. Even when the world is drifting apart and diving into a pool of grief, they make sure to keep the hope of happiness and joy alive. Their influence on society is something that is honoured all over the world. In other words, that influence is just impeccable!

However, we often forget that they deserve the same love and affection from their children as well as society. Amid the global crisis, we saw many brands evoking happy emotions through their groundbreaking Father's Day campaigns.

For sure, their efforts didn't go in vain. Because the audience has started engaging with brands that are more emotional and sensitive towards every occasion.
To keep the spirit of cheerfulness and elation high, team VavoDigital took a heartwarming initiative, #KaiseHoPapa to celebrate Father's Day and Yoga Day with the blessing of the elderly members of Karuneshwar Old Age Home, Waje. Our team celebrated the occasion on 21st June 2021.
It's just difficult to express in words because the feeling of celebrating this occasion with the elderly was nothing but delightful. Our goal behind this initiative was pretty simple. To promote health & awareness, spread love, and bring smiles on their faces. We only aimed to let these beautiful souls know that they deserve all the love and happiness. And that every single person looks up to them.
Don't they really deserve the tiny moments of joy? After all, they have spent their whole lives showering love and care for others. A token of appreciation and love might not be enough. But let us tell you one thing. Little things matter and can leave a sparkling smile on their face.
Well, showing a bit of joy and contentment never hurt anyone!
Also, the team of VavoDigital followed all the Covid protocols and took all the necessary precautions. It was a completely in-house event at Karuneshwar Old Age Home. We know safety has become a priority. Thus we made sure to keep that in mind before organizing the event.
You might be wondering about what all we did through this warming and touching initiative. Let us tell you about the same now!
Initially, we shared some personalized video messages from VavoDigital's team. Believe it or not, but personalizing messages always leave a mark of happiness and satisfaction on an individual. And both these feelings did sparkle on the faces of these lovely souls!
Followed by it, we played various games with the elderly members of the Old Age Home. Why? To bring in more excitement, joy, and warmth amongst them. Moreover, through these activities, we wanted to spend some quality time with them and create a personal bond with them. New bonds that the VavoDigital team wanted to cherish for a lifetime.
Speaking on the idea behind this initiative, Neha Puri, CEO & Founder, VavoDigital said, "As a team, we constantly work with a huge pool of audience and influencers. Throughout this journey, we have placed our efforts on communicating about making positive influences. Hence, we took a stand to bring a change that will reflect on the lives of those who are away from their loved ones. I think all elderly people who teach us so much through the walks of life, are nothing less than our fathers. And it is time we check on them. This may help them open up to us and share their love and sorrows."
Now, we didn't stop at personalized messages and fun activities because we wanted to do something more. We even organized a yoga session especially for them. A yoga influencer or fitness trainer, as we all say, taught some beneficial Yoga Asanas to the elderly. The Yoga Asanas taught to them are seen to be helpful in the long run.
Practicing yoga every day can help in controlling an individual's mind, soul, and body. It even manages to relax our minds from stress and anxiety. So that we could achieve inner peace.
Through Yoga Asanas, we aimed at nothing but encouraging them to practice these Asanas regularly for a healthy lifestyle.
Speaking on how this even turned out to be beneficial for those living at the Old Age Home, Mr. Eshwar Dhore, Owner, Karuneshwar Old Age Home, said, "People at Karuneshwar Old Age Home have been in isolation for a long time due to Covid-19. So it was heartwarming to have the team of VavoDigital with us. Father's Day brings in a lot of emotions for many people. Thus, having these young and energetic souls amidst us surely lead to a positive impact on the lives of the residents of our Old Age Home. I believe that this one-day meeting will go on a long way."
Small events like these always lead to beautiful connections, positivity, and an influx of high energies. Currently, times are tough. But all we can do is at least spare some time from our lives and do something beautiful for others. In the end, that's the one goal we all should achieve – "Make a huge difference."