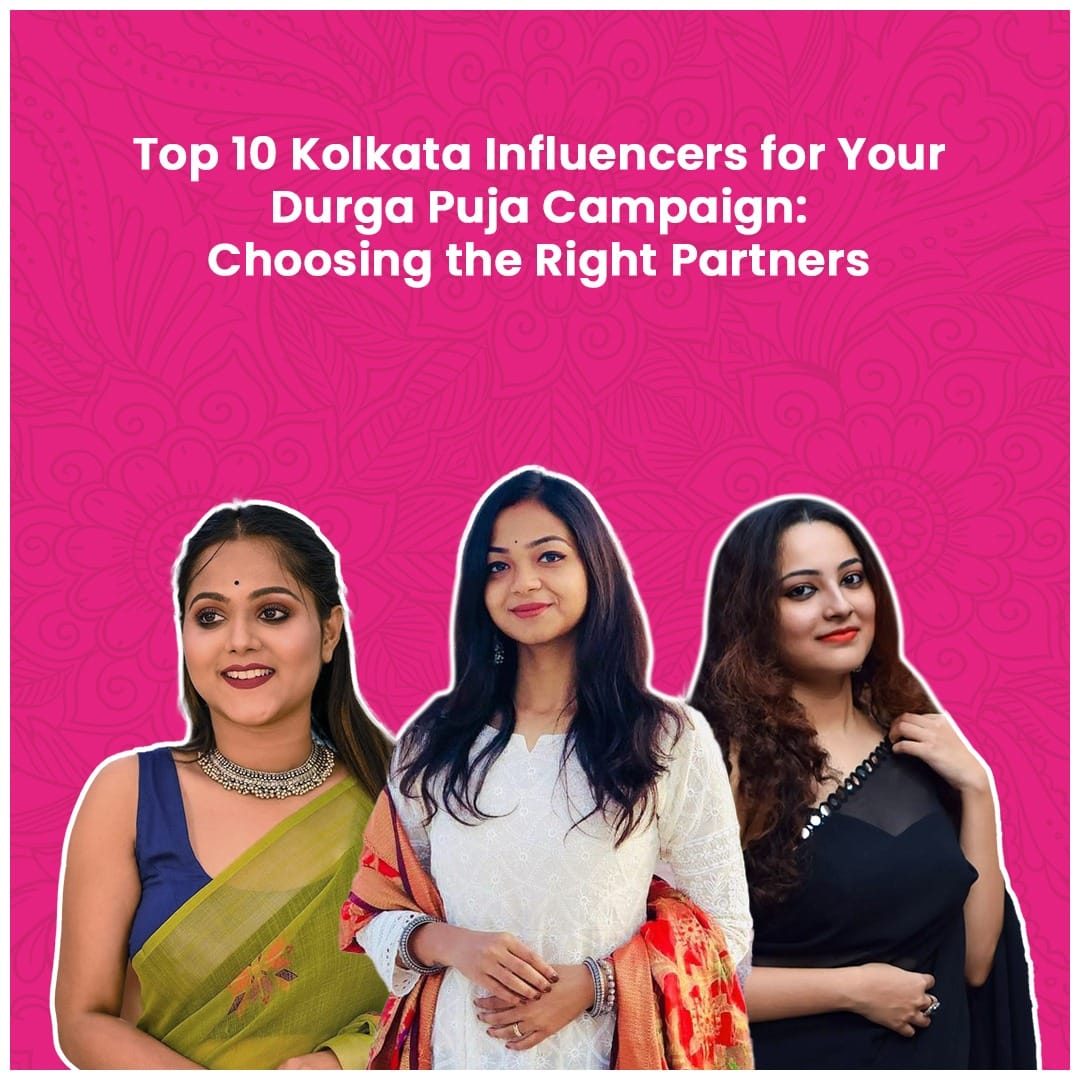 Top 10 Kolkata Influencers For Your Durga Puja Campaign: Choosing The Right Partners

Can you feel the colors of love and devotion of Ma Durga like us these days?

Well, the good times are near and Durga Puja festivity is going to take place quite soon.

Amidst all this excitement, your calling to collaborate with the top 10 Kolkata influencers for your Durga Puja campaign is here.

If you are seeking the right partner for this collaboration, then you are on the platform.
Vavo Digital brings you top 10 Kolkata Influencers that you can consider for your next brand campaign:
Saha Priyanka (@bong._irish) 36.1K Followers
To unpack this discussion, we have Saha Priyanka who is a renowned influencer in Kolkata.
Her efforts through content creation in influencing and modeling have her followers in awe all the time.
Her portfolio speaks for herself and you are welcome to ping her for your upcoming campaigns.
Sonali Sarkar (@sonali_sarkar98) 23.9K Followers
Next, we have Sonali who is a travel enthusiast from Kolkata. She loves exploring new places and updating her Instagram diary for her followers.
With Sonali, fun is guaranteed. You can put her versatility to the test and see how transformational she proves to be for campaign purposes.
Suchandra Saha (@itzsuchandra) 36.7K Followers
Suchandra is a flawless content creator and adds to the culture of Kolkata through her creations.
She loves portraying her roots and every year, she celebrates Durga Puja with her friends and family with a next-level spirit.
Shramana Das (@get.shramana) 22.9K Followers
She is another Kolkata beauty and takes her influence quite seriously. Shramana makes sure that her followers are consuming the best content from her and can explore the culture of West Bengal deeply.
So wait no more and reach out to Shramana Das to make Durga Puja another special memory for your brand and your customers as well!
Bipasha Debnath (@bipasha7074) 65.3K Followers
You will find a better beauty influencer than Bipasha for your Durga Puja campaigns.
She is your best option if you are a beauty brand and want to endorse your products through influencer marketing.
Bipasha loves to update herself on recent beauty products and leverages them to create professional makeup looks with them.
Poushali Roy (@poushaliroy-official) 33.8K Followers
Her followers love her girl-next-door aura and keep wanting more.
Poushali is unique in her content creation and gives an edge to highlight her Bengali roots through it.
She loves to don new outfits and has already collaborated with different national brands.
Poushali is a complete package and you can use her skills to add to the essence of Durga Puja campaigns this year like no one else!
Aditi Paul (@aditi-paul-official) 146K Followers
Aditi loves to share glimpses and sometimes reels of her lifestyle with her followers.
Her content is completely about how she navigates her life. From her random boring days to electrifying festivals like Durga Puja, she outdoes herself every time.
If you are looking for someone who can not only convey the narrative of your brand with her influencing acumen but also align with the depiction of Durga Puja campaigns, then Aditi Paul is your biggest asset!
Srijoni Chatterjee (@srijonichatterjee) 147K Followers
We now have Srijoni who knows how to handle it all for her fans. From Youtube to Instagram, Srijoni is our content queen from Kolkata.
Since she understands her culture well, and also portrays it on social media on and off, she is an excellent contender for Durga Puja campaigns.
Rani Deepa (@_.ranideepa._) 126K Followers
You need to hurry because you might miss the chance to work with her.
Rani Deepa is a brand-favorite Kolkata influencer and they are eagerly waiting to invite her to the campaigns.
She delivers her best and stuns the rest! Since Durga Puja is around the corner, you can slide into her DMs and see how she works her magic and turns your brand campaigns from drab to fab in seconds.
10. Tanurima Hazra (@tanurimahazra) 100K Followers
We love Tanurima for her Bangla roots and the way she navigates through her culture and showcases it on social media. Her Instagram followers acknowledge her efforts and take her as inspiration for Durga Pujo. She also has been featured in the "Telegraph" which makes her Kolkata fans proud of her on all counts.
Baseline Concept
Vavo Digital knows how excited you are for Durga Puja and adds to your devotion through campaigns.
Nothing can beat influencer marketing for this and this is why now you have your options for Kolkata influencers for collaborations open.
We would love to hear your campaign ideas. Hit us up at hello@vavodigital.com!