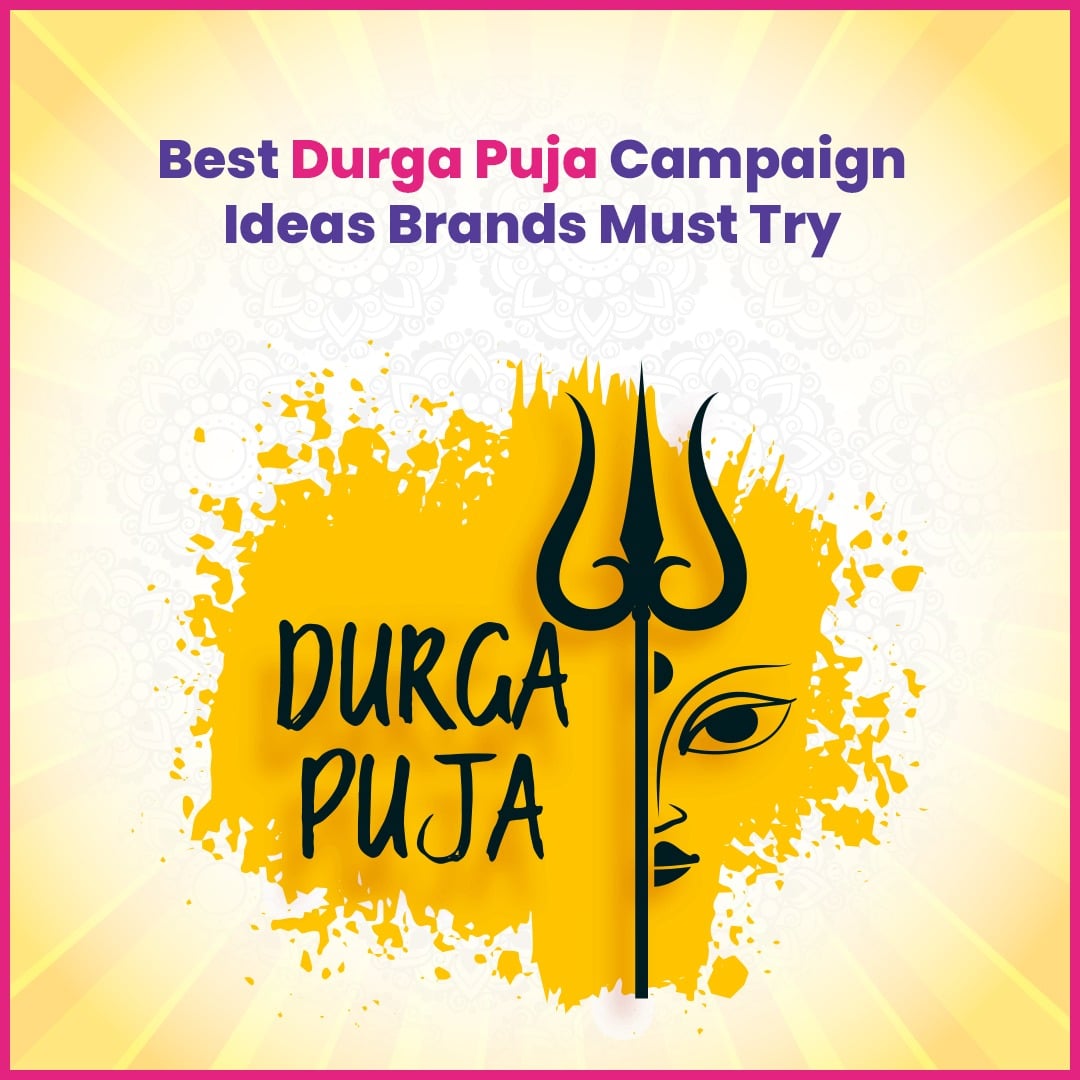 Best Durga Puja Campaign Ideas Brands Must Try

Be it Durga Puja or Durga Pujo, the festivity never ends when we celebrate Ma Durga every year. All the colors of art, worship, devotion, and culture come together to be the spark of every devotee during Durga Puja days.

It is hard to deny that the entire West Bengal drenches itself with reverence for Ma Durga. The devotees welcome this auspicious festival with spiritual melodies. Meanwhile, Durga Puja is a great opportunity for marketers to fully leverage moment marketing and run exclusive Durga Puja campaign to reel conversions.
So let's dive deep into the best Durga Puja campaign ideas brands must try this year!
1. Ever Thought Of Durga Puja OOTDs
Festive outfits are the best way to express reverence on the occasion of Durga Puja. Traditional Durga Puja outfits are an ultimate asset when it comes to marketing campaigns. Clothing brands and retailers can leverage this idea through influencer marketing and start using this magnet to attract more people to buy from them.
The best part about this idea is that these clothing brands can reel in people of all age groups. From wives to children and gentlemen, everyone loves to don beautiful traditional outfits for this festival and charm others around them. So use this to your advantage and see the magic happen through your campaigns without wasting an instant!
2. Celebrating Love With Durga Puja
Another brilliant idea for the Durga Puja campaign is to infuse a sense of love among the people. A love between a husband and a wife has existed through the ages. Brands can use this idea to highlight their product and convey the message of how it enhances this love at this festival.
For instance, if it is a food product, one execution can be in the kitchen where the husband enters the kitchen while all decked up and helps his wife with cooking. It is a highly relatable concept for all the couples out there and would touch their hearts on all counts.
3. Puja Streets Immersed With Reverence
Brands can also try endorsing their products with this Puja streets concept. You can highlight your product's narrative through a culture of Durga Puja. For instance, a Kol can be filmed using your product.
If you are selling cosmetics, then the Kol can use your products for their preparation. The same concept applies to the clothing brands. Also, a confectionary brand can leverage this concept and highlight the significance of culture during the celebration of this festival. You can be as creative as you want with the concept and tweak it for your products and services.
4. Signifying Durga Puja Elements
Durga Puja is an event with a lot of happenings. From streets to people and their hearts, nothing is left behind of bowing down to the magnificence of Ma Durga on this occasion. Brands can easily highlight the Durga Puja elements.
An event management company can showcase its services while setting up Durga Puja pindals. A food catering service can highlight their expertise on Durga Puja. There is more to it when it comes to using Durga Puja elements for marketing campaigns.
This does not only add to the devotion but also grabs the attention of potential customers countrywide.
5. The calling of the inner-goddess
Brand: Kalyan Jewellers
This could be your next awe-inspiring concept of leveraging the festivity of Durga Puja for your marketing campaigns. Hinduism teaches that every female is born with an inner goddess through Hindu scriptures and Hindu female deities.
Therefore, brands can collaborate with female influencers and develop a strong narrative of celebrating the "Goddess Within" by highlighting a social stigma or a stereotype that mostly surrounds our women.
Therefore, in this way, you will not only be able to justify women's empowerment but it will prove to be a compelling idea for your Durga Puja campaigns. Through this concept, your brand will voice out these women and let the world know that every female is Durga in herself!
Baseline Idea
Durga Puja is around the corner and we are just as excited as you are! Since Vavo Digital is a 360-degree influencer marketing agency, you know that we cannot miss out on any chance to share splendid marketing ideas with our brands.
Now you can use these ideas to make your Durga Puja and others a nostalgic event packed with devotion and veneration of Ma Durga! Wait, are you thinking about how we can help you with your future influencer campaigns? Come a step forward and let us be your light of guidance. Lock your sit-in with us today!