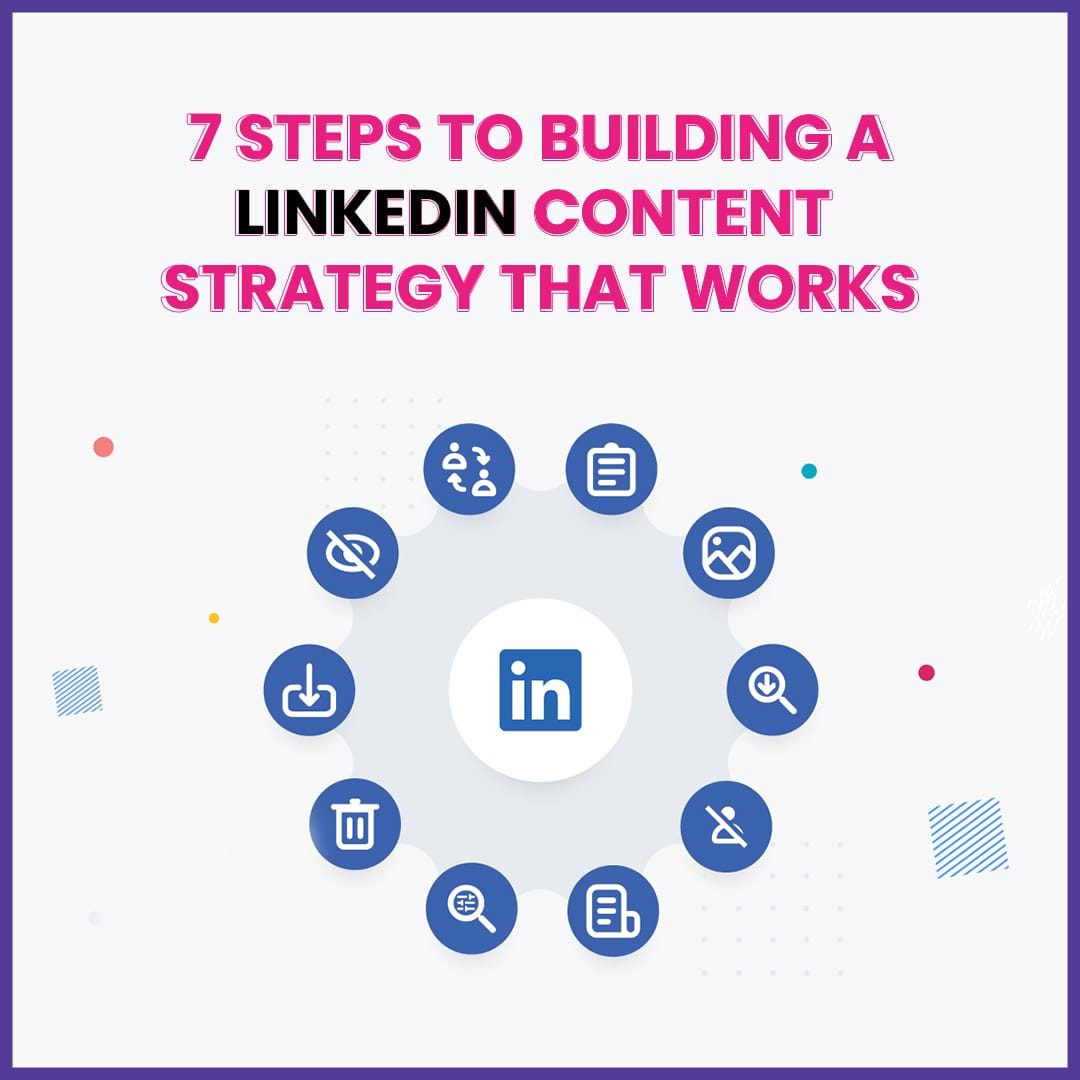 7 Steps to Building a LinkedIn Content Strategy That Works

Developing compelling content planning on LinkedIn can greatly increase brand visibility, engage with potential customers, and build meaningful relationships with influential people in your industry. LinkedIn marketing has the potential to be a highly effective tool for businesses; however, it can take time to develop a successful LinkedIn content strategy. 

To ensure your content strategy is successful, it is essential to focus on creating content that resonates with the right audience and is tailored to their needs. You can also read the top 10 powerful LinkedIn marketing hacks to understand the probability of winning by tricks. 

Building content planning that works on LinkedIn requires a systematic approach that involves the following steps:
Steps to Building a LinkedIn Content Strategy
1. Identify Current Marketing Objectives
The first step in building successful LinkedIn content planning is to identify your current marketing objectives and the audience you are trying to reach with your content. To do this, you should create a detailed buyer's persona that outlines the demographic and psychographic characteristics of your target audience and use this information to create content that speaks to their needs and interests. Once you have a clear understanding of your target audience and marketing objectives, you can create content planning that is tailored to their needs.
2. Learn More About Your LinkedIn Audience
The next step in developing a successful LinkedIn content strategy is to gain an understanding of your audience's needs and interests by researching their profiles and analyzing what kind of content they respond to and engage with on a regular basis. To do this, you can use LinkedIn's Advanced Search feature to target members based on their industry, job title, location, and other criteria.
3. Creating Long-Form Content to Build Authority
Once you have a better understanding of your target audience, you can begin to craft longer-form content to build authority and provide more in-depth insights than what's typically found on LinkedIn. This is an important step in developing your content strategy, as this type of content will engage and inform readers, setting you apart from other professionals on the platform and helping you to become an industry thought leader. Additionally, this type of content can be shared across multiple channels to help build a larger following and create brand awareness.
4. LinkedIn Newsletters
Articles are generally a decent option if you want to produce long-form LinkedIn content sparingly. However, you might think about making them into a newsletter if you plan to release them frequently, like weekly or monthly.
Users who sign up for your LinkedIn newsletter are informed whenever you publish. After then, they can respond to or comment on your article. So, while building a subscriber base, you may use newsletters to boost visibility and engagement.
5. Create Handpicked Content for Owned Content
Content creators should consider creating handpicked content specifically for LinkedIn, such as exclusive video interviews, behind-the-scenes stories, or Q&A sessions with employees. These types of content can help establish a more meaningful connection with the audience and give them a unique experience. LinkedIn marketing can be enhanced when businesses leverage their own unique content to stand out from the competition as opposed to just reposting content that's already been shared on other platforms.
6. Boost Organic Reach Through LinkedIn Ads
LinkedIn Ads provides businesses with a unique platform to reach their target audience and grow organic reach on the platform due to its ability to create highly targeted campaigns and leverage data to optimize campaigns for maximum engagement. With LinkedIn Ads, businesses can use different ad formats, like single-image ads, video ads, lead generation forms, and carousel ads, to maximize their reach and engagement on the platform. 
7. LinkedIn Analytics to Improve Your Content
LinkedIn analytics provide businesses with insights into their content performance and enable them to track user engagement, post reach, and top-performing content. Leveraging this data can help businesses identify what type of content resonates best with their target audience and create more effective campaigns in the future. Additionally, businesses can also use analytics to track changes in engagement over time and understand how their target audience is reacting to different types of content. LinkedIn post analytics offer insights that can be used to create more impactful content, helping businesses reach their goals and maximize the effectiveness of their campaigns.​
Conclusion
Content strategy is a powerful tool for businesses to gain insight into their customers and identify what works best for them over time. LinkedIn marketing can be a great way for businesses to strengthen their online presence, boost brand recognition, and enhance content planning for maximum success. All in all, LinkedIn is an important platform for businesses to leverage to gain a competitive edge, connecting with customers and improving their content strategy. Therefore, it is essential that businesses understand how to utilize this powerful platform effectively in order to maximize their potential and gain the most benefit.
Vavo Digital, one of India's leading influencer marketing agencies, recognizes the value of LinkedIn Content strategy in meeting marketing demands.if you want to leverage the benefits of influencer marketing across many social media channels. You can reach us at hello@vavodigital.com, and we'll get back to you as soon as possible.