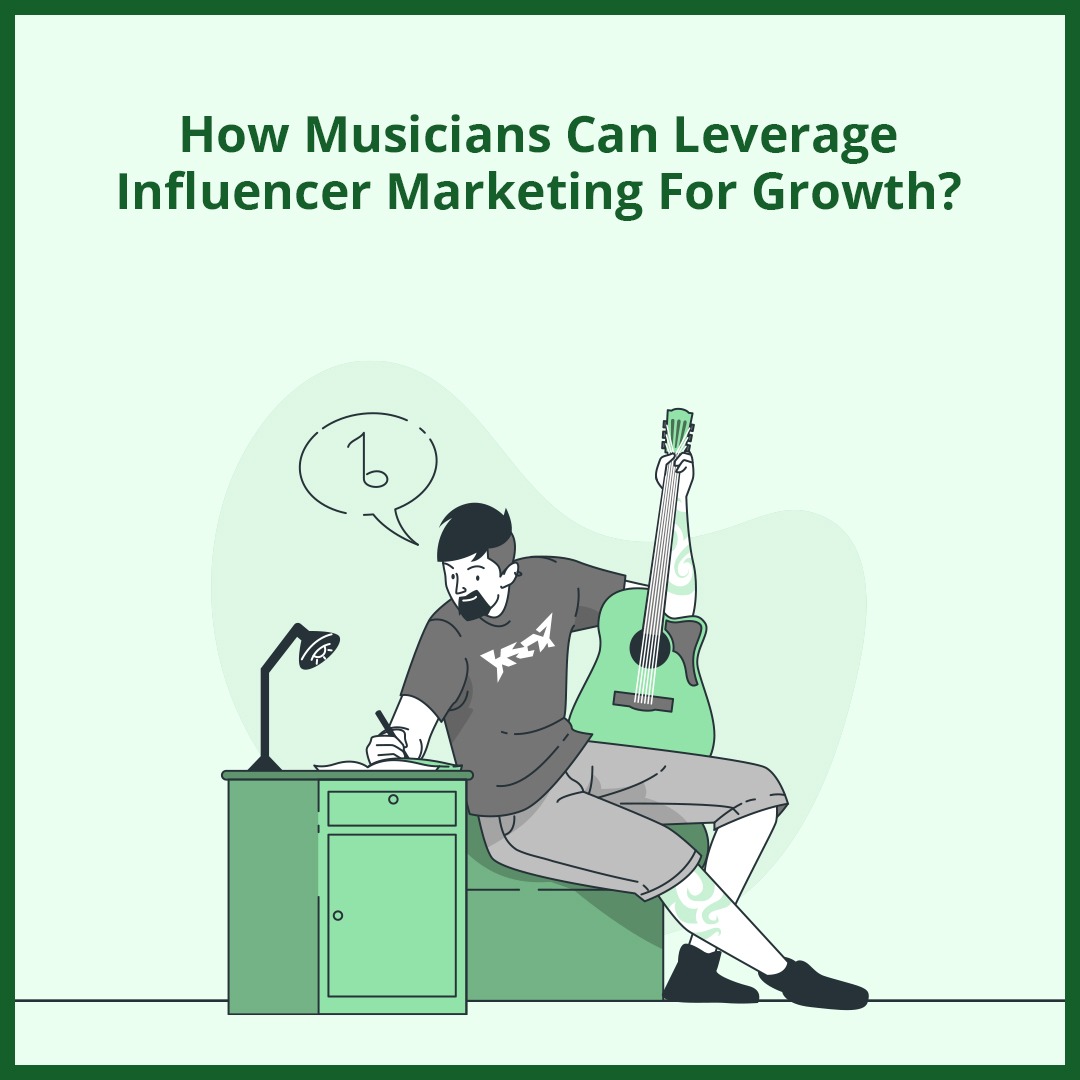 How Musicians Can Leverage Influencer Marketing For Growth? 

Do you love experimenting with tunes and melodies? Does music run in your veins? If yes, then you can be the next generation sensational musician for the youth.

Nowadays social media music made with a lot of bass and new additions is gaining a lot of population. You just need one hit and you will be landing up at everyone's fingertips.

But many deserving musicians couldn't achieve that much popularity just by making music. This is where influencer marketing comes to play a big role. Musicians can make music but it is the job of influencers to help the music reach the corners of the world.

The competition is high and each one is a pro in their game. To master your genre, you need to be unique and quick enough to crack the right tune at the right time.

To get a good result from the influencer marketing campaigns you can also check out 6 Solid Tips To Get Results From Your Influencer Marketing Campaigns.

Here we will be discussing how music artists can leverage their growth on social media platforms because, with fame, money should also come. Passion without food to eat cannot sustain for long. Let's get started:
1. Picking an appropriate Influencer
Don't run after the number of followers one has. The higher the numbers, the harder it gets to maintain contact with them throughout the process.
As a startup, you can hire micro-influencers who have better deals and maintain good fan-star communication. They can target a particular audience and bring you, organic followers.
These followers can in turn become your promoters through their personally created reels and videos. It's good if you are a part of the promotional videos. Urge the viewers to create more such content with your music and you can provide giveaways.
2. Keep clear terms with your influencer
Continuing with our previous tip, if you select someone who doesn't relate to your context, then what's the advantage of hiring them? They will not be able to justify your needs and hence results.
For instance, hire a content creator who has prior knowledge of rating musicians or music from different lands. If fashion isn't your genre then just leave them.
3. Guide and Make Things Understandable
Don't be a hard boss ever. Respect the profession for which you are paying. Prepare a brief for your influencer that will be a complete summary of what you do, and how you do it.
Tell the item what are your expectations from your influencer growth and what they suggest for you. Be clear and genuine with your influencer so that you don't end up making absurd content that doesn't match your vibes.
4. Don't limit the Creativity of an Influencer
Source: Mashable
Remember you can write good lyrics but good jokes, let it be the influencers part. Fake scripting never goes right with the audience.
The influencer is well versed in the conversation that their audience likes to hear and even gets good views and comments on their page.
You can be selective while choosing an influencer but once they have liked your song and want to show you their talent, be patient enough to hear it out. Promotional music videos should never feel fake and inorganic. It breaks the feel of the video and trolling.
5. Don't Micromanage Your Influencer
Influencers are well-versed with what are the expectations of their fans.
So if you are someone new in the social media world and trying to limit their creativity under your musical composition, then it's high time that you avoid such acts.
Let the creativity flow. You can surely review the work before it gets posted and make modifications anytime.
6. Maintain Good Relations
Source: Shopify
Maintaining healthy relationships with fellow artists is the prime characteristic of a good artist. You may end up with a deal by paying money but trust never goes to waste.
It accumulates and then helps later in life. The next time you won't be required to start from trash whole hiring influences. You must keep good terms with creators with whom you have done good work.
It will be more likely that your influencer clients will prioritize you for good collaborations.
7. Bring Diversity
Influencers who are active on multiple platforms make it easier for you to go viral in all corners. It is a better deal to choose one who has links connected to each of their pages than an influencer who is just acting on one platform and has a high number of followers.
Note: Sehaye is an important tool where you can easily collaborate with different brands and execute barter collaboration without adding any effort. This is an easy way to Collaborate and communicate.
Conclusion
Influencers go through a lot of hard work and turmoil to prepare the best post for their customers. This is how it should be done. In return, the musicians must play fair and give a sufficient return on investment.
If you are someone who is in search of healthy candidates to take care of their
influencer marketing trade then Vavo Digital can be your ultimate saviour. From the beginning of communication to the end of the deal, we are there for you.
Still, have queries in mind? Feel free to reach out with us on hello@vavodigital.com
We usually answer in a few minutes.