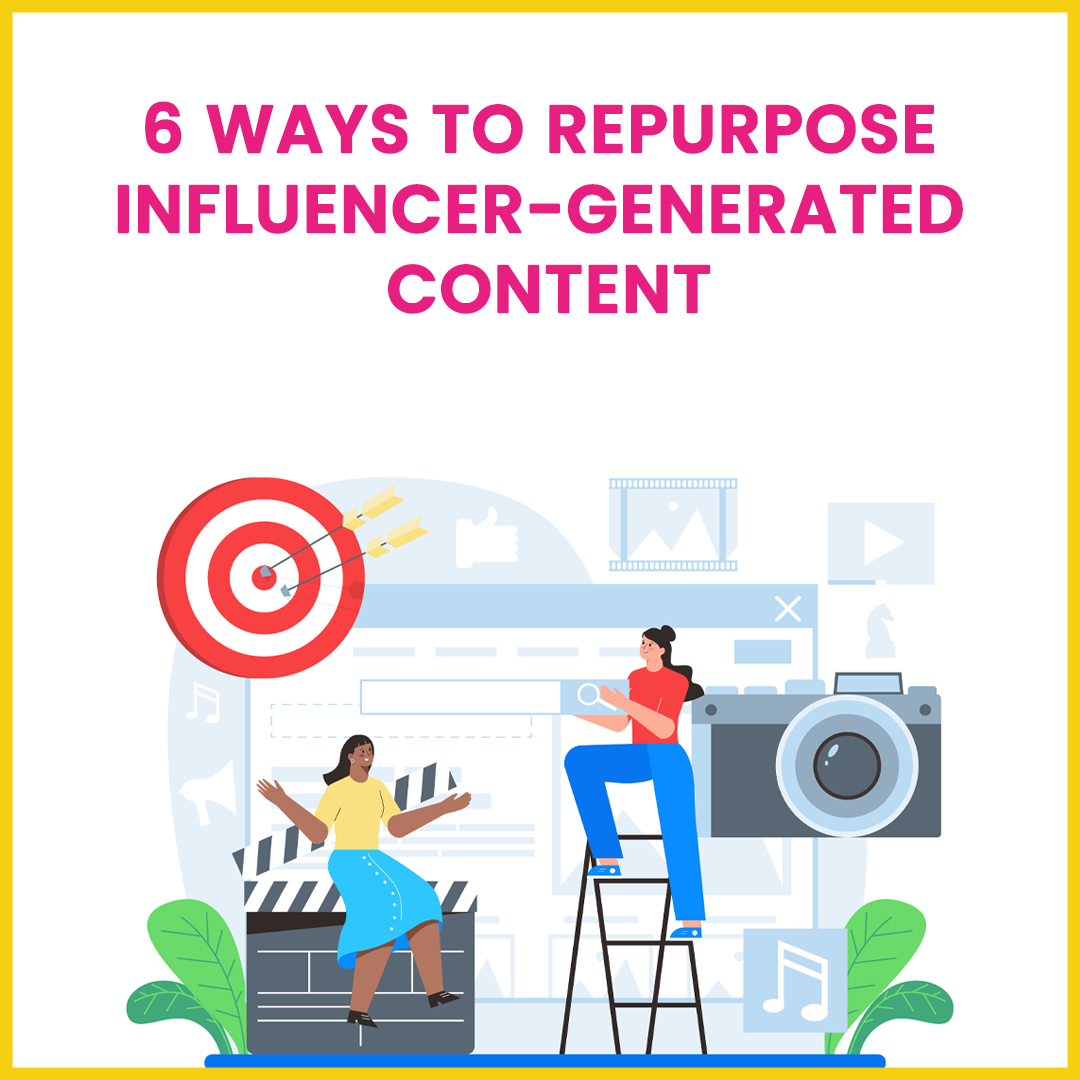 6 ways to repurpose influencer-generated content 

Repurpose influencer-generated content still remains a tricky area to traverse as businesses go further into the influencer pool and collaborate with them to reach and engage their audience.

Knowing how to leverage the content to boost sales or raise brand recognition is crucial when a business collaborates with influencers to create a video or other content.

Marketers frequently have concerns about repurposing content created by influencers for use on other platforms. Audiences like to watch influencer content, and when they do, they engage with it for a more extended period. They are more powerfully moved by the message. Working with influencers on a large scale is a very effective technique for developing brands.

As a result, this article will go through 6 strategies to reuse influencer-generated content:
1. Repurpose influencer-generated content on social media
Let's start with one of the most basic methods of reusing influencer content: the repost. The advantages of reposting influencer material on your company's social media platforms extend beyond raising brand recognition and driving traffic to your website. While just 38% of consumers believe in promoted social media content, 62% prefer influencer recommendations over celebrity recommendations. Allowing potential clients to hear about your products or services from a third party increases the credibility of your brand's voice.
2. Put up on the company's blog or website
In most cases, content produced by influencers is of a high standard and genuineness. It would be a crime to have it made for one-time usage and not utilize it again. The company's blog or website should showcase the influencer's work or a link. In the same vein as studio-produced material, Influencers may create professional-quality videos for far less money. Don't be afraid to get creative with how you put these resources to work.
3. Take up for storefront displays and billboards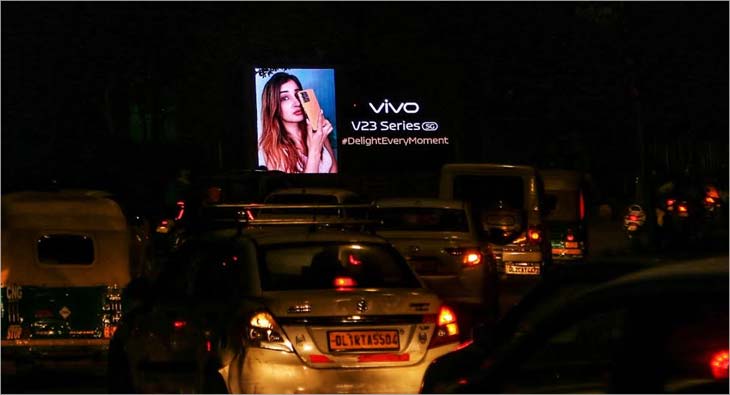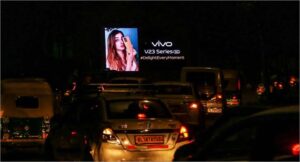 Vivo using IGC on their billboards
Keep those flawless influencer candids from ending up in the marketing cemetery. Think about using them again for print media, outdoor billboards, social walls, in-store displays, etc. All it takes to amp up and shine through reused material is a little imagination when it comes to maximizing your influencer-generated content. 
In addition to these suggestions, think about employing influencer-generated content to produce targeted advertisements, bite-sized social media clips, downloadable slide shows, and media kits to entice potential influencers and brand partnerships.
Envision a customer shopping for your product in a store. And they come across their favorite influencer's quoted endorsement on a countertop display or their tutorial on a nearby video. Incredible, huh? Imagine how good they felt!
4. Using IGC For paid advertisement 
Companies that prefer to remain in the shadows of paid advertisement often find success with influencer-created content. Because they don't show up in your primary social feeds like organic or boosted posts. Focused advertisements are great for split-testing campaigns without appearing pushy or spammy.
Repurposing influencer-generated content in hyper-targeted advertisements to collect emails, provide discount coupons, and generate leads only if the terms of your contract with the influencer permit such reuse.
Influencer marketing is tremendously effective, but if misused, it may save time and money and help any company's promotion. We've compiled 8 Biggest Influencer Partnership Mistakes + How To Avoid Them, read the article to get a gist about influencer marketing mistakes.
5. Utilizing IGC for reviews
Getting the stamp of approval of someone an audience relates to, respects, or admires is the most powerful way to build trust for your brand.
You can repurpose content (images+videos) your influencers create for their social feed, a caption they used, or something cheerful they've said about your brand. This makes designing your content a breeze. Also, it ensures that your customers see the best of what you've got. 
6. Use Influencer-Generated Content in Newsletters and Customer Emails
Email marketing is undervalued, or marketers aware of its value need help to get recipients to click through on their email campaigns. Fortunately, employing influencer-generated content is a tried-and-true method to develop an appealing email campaign for those looking to take advantage of email marketing chances.
Simply by using the genuine names, faces, stories, and testimonies of influencers in newsletters and client emails, you may include influencer-generated content. In contrast to conventional emails, your email's content will be more persuasive and captivating in this manner.
Key Takeaways
To be effective, a social media marketing strategy must incorporate influencer content. IGC has the potential to lessen production costs, improve brand image, and zero in on a specific demographic of customers. Now excited to include IGC content in your marketing strategy but have yet to get around to it? 
Vavo Digital, one of the leading influencer marketing agencies, understands the significance of influencers in promoting products and services across all industries. To help spread your brand's message, we'll help you build relationships with influential people who are already producing high-quality content. 
Looking for more information on influencer marketing and how it may benefit your brand? Send us an email at hello@vavodigital.com, and we'll get back to you as soon as possible!
Note: All images used are for descriptive purposes only; all rights belong to the owner