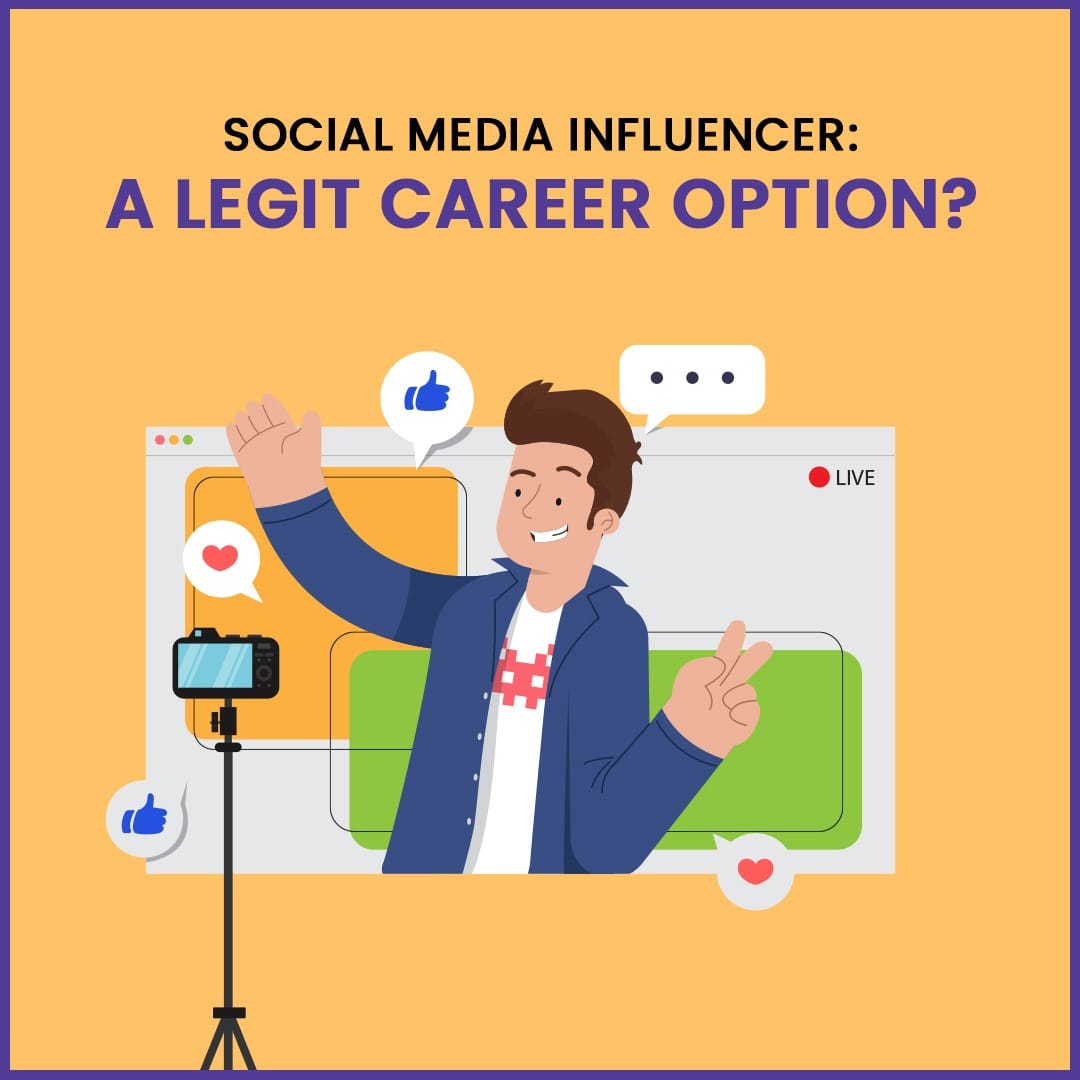 Social Media Influencer: A Legit Career Option?

Influencer marketing has grown significantly due to the surge in social media usage during the epidemic. Influencers on social media are being sought after by brands as a direct line of communication with customers.

However, the practicality of this career has been called into question countless times, and consumers continue to be concerned about its veracity.

Context 

Any person with solid expertise in a particular field which uses that expertise to influence their audience is categorized as a social media influencer. Using social media as their main mode of communication, they want to persuade their followers to accept the views they are spreading.
Source: Forbes
According to a recent survey conducted by IZEA Worldwide, an online marketplace that connects brands and publishers with influential content creators, many social media consumers see the benefits of influencers, with 56% of respondents saying they made a purchase based on a sponsored/paid social media post from an influencer.
Influencer as a career was also shown to be of high interest in other recent surveys:
The ability to express yourself, follow your passions, and advance causes were determined to be among the other motivators to influence others in Adobe's "Future of Creativity" survey.
According to a survey conducted on behalf of YouTube Shorts, 41% of respondents had thought about starting their own content business, and 49% think they can make a "good life" doing so.
Although an influencer's life may appear glamorous online, the work is much more laborious in reality. Social networking is a very cutthroat industry. Building an audience takes consistency, excellent content, and knowledge of a specific market. Influencers shouldn't consider earning money from their work until a solid foundation has been built.
If you've recently launched a YouTube channel and are trying to acquire your first 1000 subscribers, don't worry; we've got you covered. Read 10 Solid Ways To Get Your First 1,000 YouTube Subscribers
VIEW: Influencer Marketing is a Lucrative Career
If done right, social media influencers can be paid very handsomely. Consider the 24-year-old Vaishnavi Nalbalwar, who, after earning her M. Tech. in Chemical Engineering, turned down a position at Tata Motors to pursue a career as an Instagram fashion influencer. With the help of the platform's "Reels" video format, her fame skyrocketed. She started her clothing line after her profile received millions of views.
Through collaborations, celebrities like Virat Kohli earn upwards of 5 crores every Instagram post. YouTube influencers have a tremendous opportunity to make money from advertising. Meta (previously Facebook) announced a 35% increase in year-over-year growth in monetizing creators and video publishers in India as of September 2021.
Being a celebrity is not a need for success as an influencer. Anyone with a camera and internet access may showcase their skills on various platforms and become well-known. This frequently results in a lavish life akin to a celebrity. Social media users find it simpler to communicate with online celebrities, which boosts their trustworthiness. Customers are consequently more likely to believe their suggestions, driving up sales for participating brands.
COUNTERVIEW: Not as easy as it looks
Although it could seem like the dream job, maintaining a career as a social media influencer is far from simple. To begin with, there is no set formula for becoming an influencer; learning as you go is the only surefire path to success in the industry. The obstacles to becoming an influencer are similar to those of any other occupation.
Consumers frequently perceive sponsored content poorly because they believe it to be dishonest, despite it being the primary source of money for influencers. Influencers must, therefore, carefully balance paid content and other forms of engagement. Many businesses also decline to compensate influencers for their efforts.
Influencers are never guaranteed a stable footing in the market because of how quickly things change in the digital world. Aspiring influencers face yet another difficult task because of this profession's precarious nature, especially if they plan to devote their entire time to it.
It can be challenging to forecast an influencer's job stability because influencer marketing is a relatively young field. Their income varies according to the companies, offers, products, and services they advertise. Influencers are also forced to consider various aspects due to the intense competition in the sector, including the number of followers, new content, brand collaborations, and consistent posting. The fittest will survive.
What's Your Take On This?
1) Becoming a social media influencer is a viable career option.
2) Becoming a social media influencer is not a viable career option.
Tell us in the comments below. We're Waiting!!!
If you're an influencer looking for some amazing brand collaborations, visit leading influencer marketing agency-Vavo Digital for more information.
Note: Image used is for description purposes only, all rights belong to the owner