TOP 6 LGBTQ+ MOVIES/SHOWS THAT SERVES THE RIGHT MESSAGE

Every year in June, the LGBTQ+ community is honored with Pride Month. The month is observed to raise awareness, teach acceptance, discuss the history of pride, and, most importantly, to express love and compassion for the LGBTQ+ community. When it comes to depicting the community, Indian cinema has frequently been stereotypical, crude, and caricaturish. However, some filmmakers have deviated from this model in order to explore sexuality in informed and sensitive ways. We have chosen some really important Indian web series and movies that dealt with same-sex relationships with sensitivity and maturity. Scroll down to learn about more films that attempted to take a stand on the issue…
KAPOOR AND SONS
Late Rishi Kapoor, Alia Bhatt, Sidharth Malhotra Starrer Kapoor & Sons was a movie that revolved around a dysfunctional family who are always out to slit each other's throats but also love each other more than anything in the world. Rahul Kapoor (Fawad Khan) and Arjun Kapoor (Sidharth Malhotra) are two siblings who aren't very fond of each other. They are constantly arguing over the pettiest of issues. Things in the family grow even worse; Rahul's mother Sunita Kapoor (Rathna Pathak Shah) is horrified to discover intimate photos of her son and his boyfriend. Rahul's sexuality was just one layer of family drama that made it a must-watch.
2. EK LADKI KO DEKHA TOH AISA LAGA
Fashion diva Sonam Kapoor Ahuja, The boy next door Rajkumar Rao, and The ever young Anil Kapoor starrer Ek Ladki Ko Dekha Toh Aisa Laga is another LGBTQ+ mainstream movie that revolved around a same-sex love story. Sweety Chaudhary, an innocent bubbly girl born and raised in a fun-loving and traditional Punjabi family, was the protagonist of the film. Sweety has always wanted to be a bride since she was a child, but as she grows older, she realizes she doesn't want a groom on the other side. The film depicts Sweety's family and society's strong opposition to her homosexuality. Sweety is reunited with her love Kuhu at the end of the film.
3. CHANDIGARH KARE AASHIQUI
Ayushmann Khurrana and Vaani Kapoor played pivotal roles in Chandigarh Kare Aashiqui. Ayushmann falls in love with the transwoman Vaani in the film, but when he discovers the truth, the earth crumbles beneath his feet. The story revolves around Ayushmann's and his family's reaction to discovering the truth.
4.. SHUBH MANGAL ZYADA SAAVDHAN
Multi-talented  Ayushmann Khurrana and Jitendra Kumar starrer Shubh Mangal Zyada Saavdhan is the most recent same-sex relationship story to be released in India. The story is told through the eyes of two gay men, Aman and Kartik. The film depicts Kartik and Aman's struggles as a same-sex couple in an orthodox Indian society. In the film, Aman's family tries everything to keep them apart; however, Kartik does not back down and fights against all odds to marry Aman.
5. FOUR MORE SHOTS PLEASE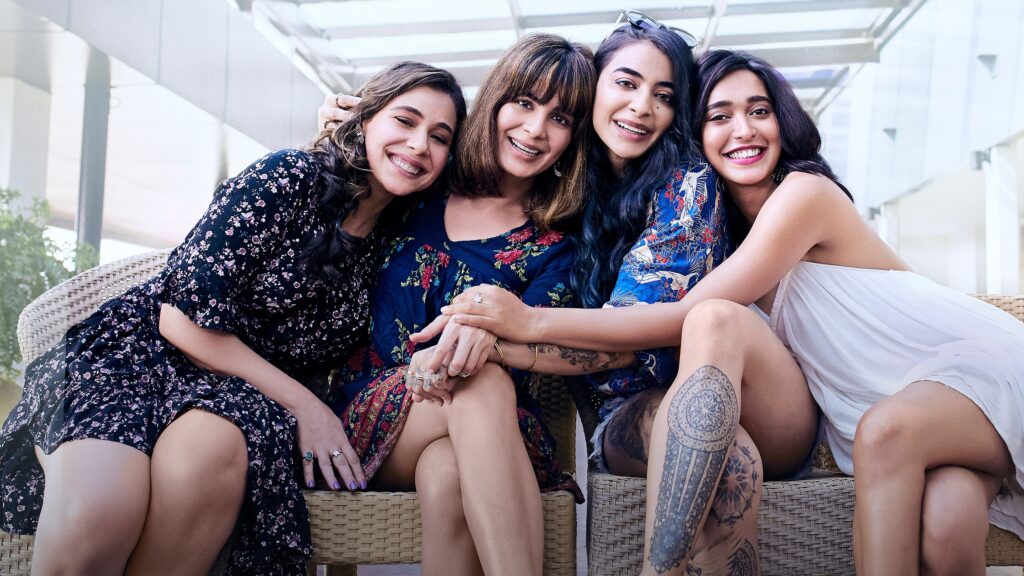 Four More Shots, Please! is based on the friendship of four women and explores real-life issues such as homosexuality, body shaming, and raising a child alone. The series, which stars a bisexual lead character, depicts the difficulties and stigmas associated with lesbian relationships. The series emphasizes the journey to self-acceptance, even if it means defying societal norms. The series will provide audiences with a unique story centered on female friendships.
6. MADE IN HEAVEN
 Made in Heaven, one of Amazon Prime's originals, debuted in 2019. Despite being created in the early days of the digital boom, Made in Heaven dealt with same-sex relationships, traumas, and struggles in the most refined manner. Arjun Mathur played a gay man in the show as Karan Mehra, and we get to experience the struggle, prejudices, and homophobia that gay men face in our country through his character. However, by the end of the day, when he meets his childhood love, Nawab, played by Vikrant Massey in a guest appearance, even homophobes will find themselves smiling. Sobhita Dhulipala, Arjun Mathur, Kalki Koechlin, Jim Sarbh, Shashank Arora, and others appear in the series.
We hope you enjoyed reading this article. We are curious to know about your favorite LGBTQ+ movie/show. Tell us in the comments!
Also Read: Top 5 Indian LGBTQ+ Influencers To Watch Out For In 2022: Pride Month
Note: All images used are for descriptive purposes only, All rights belong to the owner.