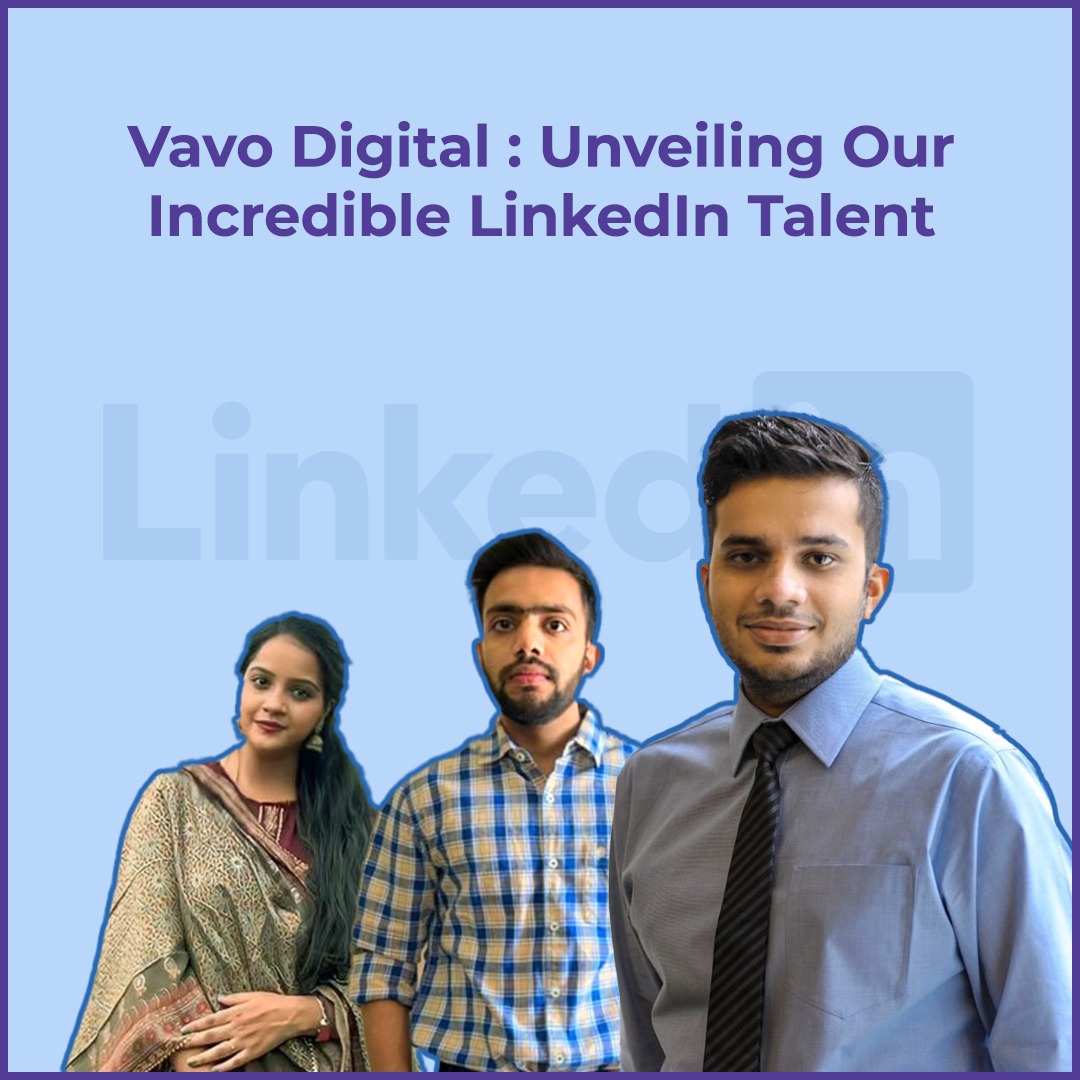 Vavo Digital : Unveiling Our Incredible LinkedIn Talent

Influencer marketing is undoubtedly a promising method to strengthen a brand's position in the market. The best part about influencer marketing is the ease of social media usage and digital campaigns.

Therefore every brand can rely on influence marketing regardless of their multitude if they opt for perfect influencer marketing strategies. Speaking of which, there was not much sense prevailing for the dependence on LinkedIn for influencer marketing campaigns.

LinkedIn is now highlighting budding marketers and their brands among the global audience with seamless influencer marketing strategies. Therefore, Vavo Digital is now emphasizing LinkedIn influencers and highlighting their talent to inspire others through their success stories!

So we are here with this week's Vavo Exclusive Talent Updates for you! Let's see who we are going to discuss today!
Vavo Digital's LinkedIn Influencer Expertise
Vavo Digital's professionals keep an eye on emerging LinkedIn influencers. So that you can see timely help from them and get the right inspiration in different walks of life that you need! Vavo Digital is your source to look up to when it comes to learning from professionals and getting to know them better through jaw-dropping collaborative campaigns.
Vavo Digital sheds light on these LinkedIn influencers to showcase their talent to the audience. This way, these influencers can maximize their outreach and amplify their voice in a much better way with our help.
You can rely on Vavo Digital's LinkedIn influencer expertise to get one step closer to your favorite LinkedIn influencers and know better about them. Who knows this might help you with learning from their experience and following their footsteps toward a successful LinkedIn-influencing career in the future!
Exclusive Talents
Enough with the suspense! Let's not keep you waiting for unleashing the names of some of the top LinkedIn Inlfluencing talents, that we have picked for you! We are going to discuss Vavo Digital x INDMoney which was a successful campaign due to our amazing LinkedIn influencers scattered into different finance and marketing fields for several years.  We know these talents will make you intrigued for exploring them on a much deeper level and finding out how they can pull off their LinkedIn game like nobody else!
Looking for some storytelling and educating inspiration? Check out Gupta Shlok and get to know his skills right now! You will be amazed to see how he shares quick tips and how-tos on polishing your storytelling skills.
Siddhant can be your ultimate asset for learning about finance in depth. Why not click on his LinkedIn profile and learn more about him? From the latest finance news to the emergence of new tools for it, Siddhant keeps his eyes on all the new developments in his favorite field.
Shivangi is rocking her LinkedIn game by infusing soft skills among her students. These much exceptional coaching and training skills call for a quick exploration! So Shivangi deeply knows how soft skills can play their part in personality development and personal growth.
She is among the most established HRs on LinkedIn and you can learn more about this field by pinging Tejaswee. She also takes an interest in finance! What else do you need? You will get to know the role of Hrs for a company in a much better way with Tejaswee's help.
She is flexing her entrepreneurial skills for quite a while now! Want to check how she deals with major entrepreneurial challenges? Click on the link below! Nansi Mishra showcases her struggle stories so that budding entrepreneurs can get inspired to face the hurdles in this way easily.
Geeta knows how to give an edge to brands through impeccable marketing strategies! So if you need to boost your ROI then head over to Geeta for this purpose. She has been successful in helping hundreds of brands with their marketing problems.
You dont want to miss out on Mishka's marketing expertise while tapping into this domain! She can give your brand an edge in terms of solid marketing tips and strategies. Mishka Rana is a renowned marketing expert and brands dont hesitate to seek help from her at all.
Anant is leveraging LinkedIn's potential for educating his audience on finance and getting familiar with this domain in a fun and engaging way! So Anant believes that anyone who has a little interest in finance can easily become a pro in this field.
You can easily change the perspective of your branding with the help of Priya's flawless personal branding strategies. Every brand cannot sustain the pressure of the competition without remarkable branding.
She can be your biggest help in maximizing your brand's growth and leveraging her marketing skills for better results at the same time. If your brand is already performing on a 10 then Ayushi can take it to 100.
Case Study For LinkedIn
Vavo Digital x INDMoney
If you are in the VavoDigital family, you would have a vivid idea about our expertise in leveraging LinkedIn influencer marketing for brands. Due to this reason, we stand among a few agencies who deeply know the nitty-gritty of influencer marketing on all counts. VavoDigital is on a mission to inspire budding brands like you to experience the full potential of LinkedIn no matter what! If you have not tried it yet, you will able to do it now by learning about the VavoDigital x INDMoney collaboration through veteran LinkedIn influencers.
About the Brand: INDMoney is a special stock investing tool that helps different financers, marketers, and educators with seamless chores. It provides feasibility to financers and marketers so that they can handle multiple tasks by using a single tool. INDMoney has been able to support users with a feasible interface to meet their daily financial goals. From organizing tasks to navigating them, INDMoney users are able to enhance their efficiency up to a hundred folds with the help of this tool. INDMoney also proves to be a highly valuable asset for financers when it comes to coping with the challenges in finance and marketing.
Objective: INDMoney needed to boost its LinkedIn presence and amplify its outreach for better brand awareness. So that they can get more people to familiarize themselves with their product and increase their conversion rate at the same time. Their objective deeply aligned with Vavo Digital's interests which sparked this amazing collaboration. We at Vavo Digital knew that our influencer marketing expertise can greatly help the brand to meet its objectives and goals.
Solution: Vavo Digital helped INDMoney with effective influencer marketing strategies. With our finance, and marketing influencers proactively working on LinkedIn, we were able to fortify the brand's position in the market. They received an impressive amount of engagement and better returns than before through this collaboration. We were successful in changing the landscape for INDMoney in terms of its awareness among the people who are actually in need of such a handy finance tool on the whole. Our influencers highlighted INDMoney's features and performance through consistent content creation. In this way, they were able to accelerate brand awareness among their audience. So that people who are into finance and marketing can get familiar with the tool on a much deeper level. 
Deliverables: 1 LinkedIn Post
No. of Influencers: 10
Wrapping It Up
Vavo Digital is delighted to share this collaboration with you. Also, we thank our abovementioned influencers for taking part in this collaboration and highlighting INDMoney in the fields of finance and marketing. With our influencer, you will be able to meet your campaign goals impressively as well. VavoDigital x INDMoney is a fine example of how we help other brands leverage our expertise and influencer marketing strategies to soar higher above the competition. Due to this reason, if you are looking for a reliable partner for effective collaboration then Vavo Digital can prove to be your best choice! So if you are looking for more such collaborations with us, we are just one email away! Reach us at hello@vavodigital.com!