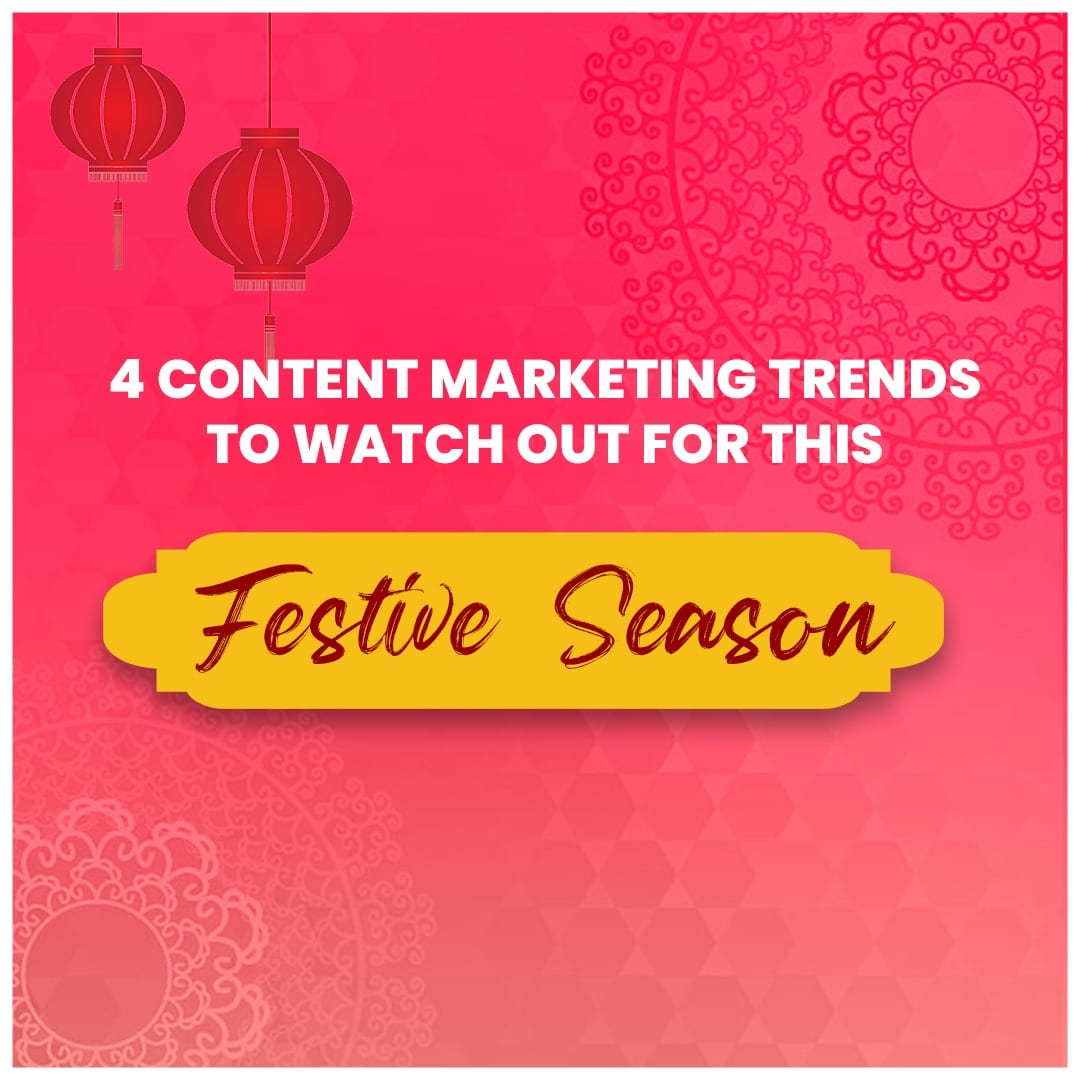 4 Content Marketing Trends To Watch Out For This Festive Season

For Indian brands, the months of September through December 2023 will make, or wipe out them. With Christmas, Diwali, and Dussehra coming up, they will be motivated to make up for previous setbacks and ideally end the year on a good note.

Festivals give marketers a unique opportunity to engage with both existing and potential customers. An effective festival marketing strategy that targets demographics enhances the brand's reputation, forges an emotional bond with the consumer, and increases sales. A festival content marketing plan should evoke a joyous atmosphere. To know more about how you can promote your brand with a limited budget then checkout 7 Proven Tips To Get Influencers To Promote Your Brand On A Budget.

A brand must demonstrate how it embodies the festive spirit, whether it be via music, the changing of the seasons, or other factors. You can use Sehaye to collaborate with brands and influencers easily and in an effective manner.

A digital marketer must concentrate on exploiting the medium to its maximum potential while developing a digital strategy for their company during festivals since there are countless opportunities in the fields of digital marketing, content marketing, and influencer marketing.

Let's look at the trends in content marketing for this year:
4 Content Marketing Trends to follow for this festive season
Increasing brand awareness by interactive content:
Video content is a great way to engage your audience by giving them teasers about what to expect throughout the holiday season and motivating them to share with their friends.
It is worthwhile to create a teaser video that may be used in a variety of ways to promote your event. Events and festivals need to employ content marketing to connect with the appropriate people and build credibility.
Engage your audience with interactive content like polls, quizzes, and interactive videos. This can enhance user participation and make your brand more memorable.
According to recent studies, organic app downloads for the food and beverage and commerce sectors typically decline significantly following holidays like Diwali.
A week or so later, nevertheless, demand increases once again due to substantial non-organic volume growth. Here, engaging install ads with lovely holiday images encourage engagement and conversion.
Utilizing influence on its fullest:
The influencer marketing market is expected to increase and reach $13.8 billion in the upcoming years.
Influencer marketing, which focuses on employing a notable leader or personality to magnify the brand to the market, is more like word-of-mouth advertising.
Influencers can include well-known celebrities, YouTubers, and Instagrammers with large followings who can assist promote a brand or company on social media. Short videos continue to be popular. Create snappy, attention-grabbing videos for social media platforms like Instagram Reels, and YouTube Shorts.
The fast-fashion company "Fashionnova" is one of the greatest cases of influencer marketing. It is one of the most well-known firms that uses influencer marketing to advertise its goods.
To broaden its audience on Instagram and other social media sites, it has started hiring influencers. Influencer marketing is considered a successful marketing strategy by 90% of study respondents.
Audience participation:
People like taking part in activities, particularly those that involve their favorite goods or services.
User-Generated Content, or UGC, capitalizes on the enthusiasm of the consumer and encourages them to produce original content. They get to engage with the subject product and broadcast it to the world.
UGC campaigns rely on imaginative submissions from clients of a good or service in response to a challenge or prompt put forward by the business. This tactic is so successful that UGC postings have a click-through rate that is four times greater than that of regular promotional efforts.
UGC is an excellent tactic for a few reasons. First, UGC campaigns compile a collection of premium marketing assets that are entirely donated by the client at no expense to the business.
Second, UGC has 28% greater engagement rates than a typical post because unpaid customers are far more likely to be trusted than paid customers.
Leverage social media platforms for direct sales. Many platforms now offer features that allow users to buy products without leaving the app, making it easier for them to make purchases.
A Game Changer for the Holiday Season – Virtual Events:
Launches, interactive sessions, concerts, and even product-specific events are all examples of virtual events. This creates a window of opportunity for everyone to participate in and enjoy together over the holiday season.
Take Diwali as an instance. Undoubtedly, it is among the year's largest celebrations—and not just in India. Many companies have decided to introduce new items at this time. Many other companies join the "sale brigade" and offer discounts on their best-selling goods to draw in new clients.
For 2023, virtual events could be the way to go. The holiday season is a terrific time to connect viewers online, whether it be through a Zoom launch with a celebrity or a Facebook Live film debut.
Conclusion
Like any prior year, the current year will undoubtedly be dynamic and constantly evolving in terms of content marketing. Trends are emerging more quickly than ever before.
Influencer marketing has changed to keep up with the new habits and needs of both businesses and customers in a year of unimaginable change.
Production of visual material is sped up by Vavo Digital in terms of quantity and quality. Our line of tested products helps you achieve your most important marketing objectives while providing you with a campaign schedule and expense consistency. To learn more stay in touch with us. If you have any inquiries then contact us at hello@vavodigital.com.