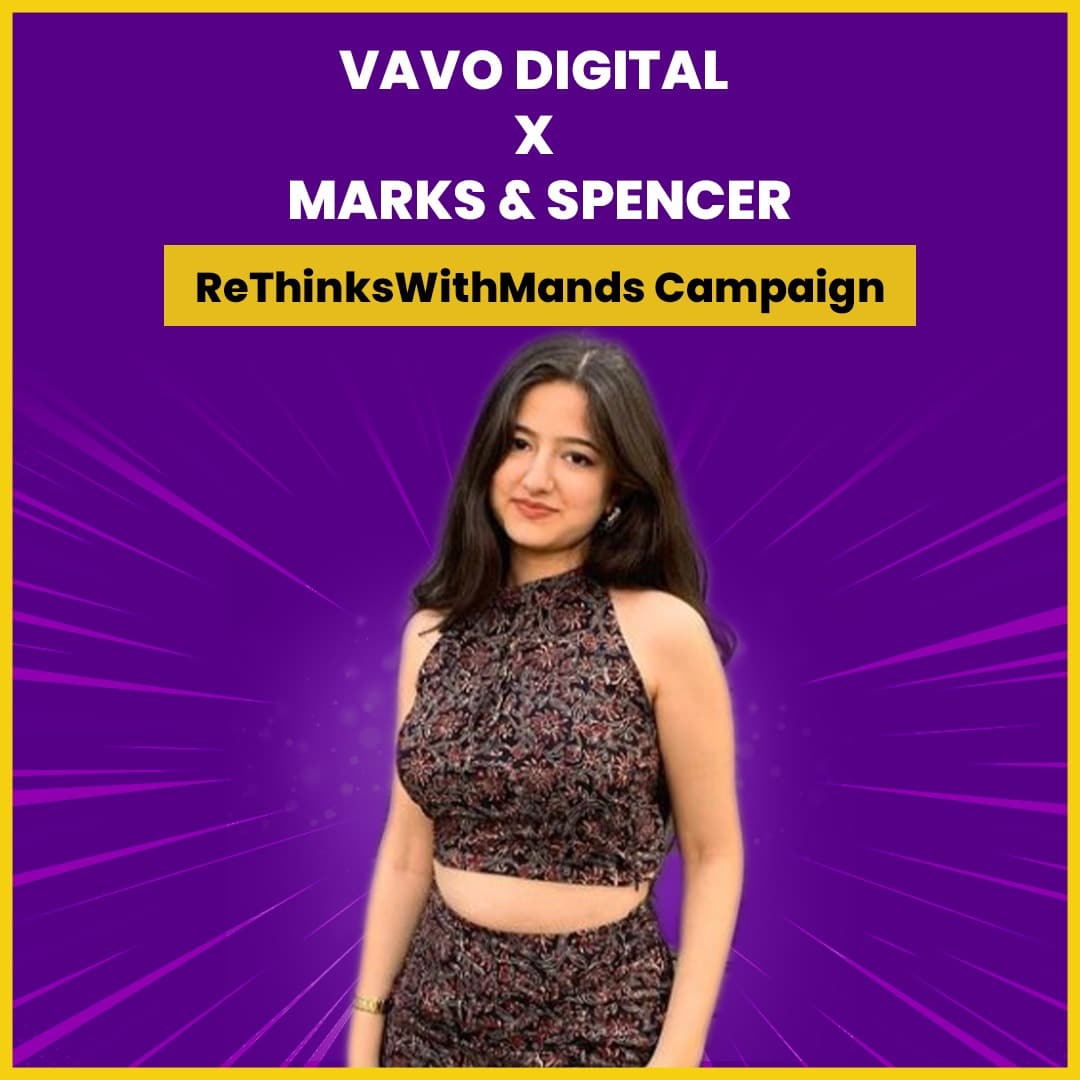 Vavo Digital X Marks & Spencer : ReThinkWithMands Campaign

The marketing landscape is undergoing great changes. Today, marketers are inducing more towards influencer collaborations under influencer marketing. It is obvious because who would not like to attract the attention of the audience in so much competition? Owing to this fact, marketers are understanding the need of spicing up things for their audience. For this purpose, there is nothing better than influencer collaborations. There is no doubt that today, several brands are completely relying on these collaborations for ensuring great brand success. From effective campaigns, these brands are revolutionizing the entrepreneurial world and we all are witness to it. In all this, we at Vavo Digital leverage our collaborative expertise and influencer marketing secrets to introduce you to budding and established brands. As you know Vavo Digital loves to keep up with the pace of the latest market trends, so we could not stay behind in collaborating with the ultimate Marks & Spencer!!!
Vavo Digital X Marks & Spencer
Campaign Objective
Marks & Spencer is one of the renowned British retail brands that specialize in clothing, food products, beauty products, and home products for its customers. Recently Vavo Digital spotted their "Rethink" campaign that focuses on clothing styles. Therefore, we wanted to empower our influencers to stun their audience by becoming a part of Marks & Spencer's latest campaign. With the help of this campaign, influencers got a chance to update their social media platforms in an irresistible way. We have to admit that Vavo Digital has witnessed our influencers serving great results from the success of this brand as well. It is not wrong to say that without the influencer skills, these people would not have been able to help us achieve this campaign's objectives at all. So what's more? Our influencers were kind enough to slay in different outfits and showed different ways to style them as well!
About The Brand – Marks & Spencer
Marks & Spencer is a British retail brand having multiple franchises around the globe. It is a one-stop solution to cater to the multiple needs of its customers. From beauty products to home items and clothing for men, women, and children, Marks & Spencer is all about finding what you need under one roof!
Campaign Overview
We at Vavo Digital pride ourselves on this campaign since it performed exceptionally well for our influencers and of course for the brand as well. Our influencers were able to pull off breathtaking outfits from Marks & Spencer and inspired their audience to check out the brand through their content creation.
Campaign Influencers
Below you will be able to find out our influencers who showed up for Marks & Spencer Rethink campaign. You can learn more about them by clicking on the links below and see how mesmerizingly they used the brand's products for this collaboration. Be it Jhanvi, Niki, or Megha, our influencers simply know how to rock any collaboration quite impressively!
Jhanvi Bhatiaa
Niki Mehra
Megha Seehra
Campaign Highlights
The Instagram reels of our influencers got 8M+ views in total.
Our influencers were able to maximize their reach up to 8.7M+ people.
The content created by our influencers for this campaign got 370K+ likes.
The success of this collaboration yielded 1M+ impressions for our influencers.
Campaign Summary
We were happy to introduce you to our latest campaign Vavo Digital x Marks & Spencer. Through effective client communication and influencer marketing strategies, we were able to make a difference for our influencers through this phenomenal collaboration. We at Vavo Digital are hopeful to maintain the streak of success and inspire budding influencers for such massive collaborations in the future. Are you someone who is just tapping into influencing the world? Then dropping us a line at hello@vavodigital.com can be your first step towards your ultimate influencing career!