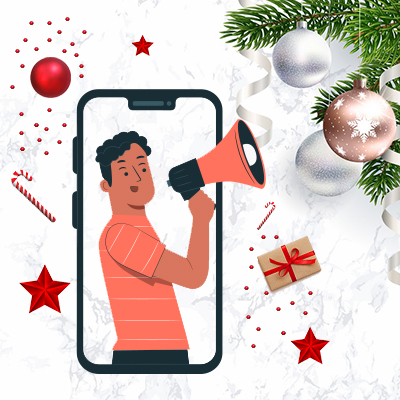 What Can Brands Do For Their Christmas Campaigns?

Ho! Ho! Ho! Is it Merry Christmas yet? Ah, no! But you definitely need to start planning your Merry campaigns right away. Have you planned your Christmas campaigns yet? If not, we are here to help you shine out in this season. If yes, maybe, these twinkling ideas might be add-ons to your planned strategies.

Holiday seasons campaigns are not easy to crack. People already pre-plan their travel destinations & shopping list. Well, it's right to say, considering this, every brand tries to level up their marketing game. But the campaigns are either make or break!

However, we are here so that your Christmas campaign can have a 'make' and not 'break' moment.

It's one of the best times of the year to engage with your audience, so why not do it the right way? Here's what your brand can do for its Christmas campaigns!

1) Go All Creative With Your Newsletters!

Instead of bombarding your audience with simple visuals about offers on Christmas, why not make them sign up for your newsletter.

Bring out all your creative juices & design a sign-up form template that gives all the Christmas & New Year feels. An eye-catchy Christmas pop will help in attracting potential leads. Also, if you are planning to come with multiple offers & deals, tell them to sign up for your newsletter to stay updated with upcoming offers.

2) Improve the digital shopping experience!

Thanks to the pandemic, we saw a complete shift in consumer behavior regarding shopping. It's true that people still visit offline stores, but many consumers prefer online shopping because of the variety of options they get to explore. There's more to this.

Shopping has become more immersive with people looking for in-store experiences at home. They find it a bit convenient.

Online shopping provides a much better user experience through how-to videos, augmented reality try-ons, personalized recommendations, and live fashion shows.

Thus, for your Christmas campaigns, you can give them all the Christmas & New Year's feel by customizing your strategy in a way that shapes their online shopping experience.

3) Conduct Contests & Giveaways!

Contests & giveaways have always been one of the great ways to drive engagement on your campaigns. Giveaways can help in expanding your brand's reach & awareness.

For your Christmas campaign giveaways, you can give your audience a complete Christmasy feel by offering them some gifts. But ensure that these gifts or products you are offering in the giveaway are related to your brand.

Moreover, always clarify the rules for contests & giveaways to avoid last-minute chaos.

4) Leverage Influencer Marketing

Influencer marketing is the trending buzzword in the industry. If you are not thinking of leveraging influencer marketing, then you will definitely miss out on a lot.

At a time where all the brands will put in more effort, you will want to stand out from the crowd. This could happen through influencer marketing. Utilizing influencers in your Christmas campaigns creates a sense of trust and authenticity which helps in making effective influencer marketing campaigns.

Furthermore, influencers add a human touch to your marketing campaigns and make them more relatable for your audience. And who said you only need mega & celebrity influencers? Nah! Collaborate with nano & micro-influencers, who are more relatable to your niche. These influencers are comparatively cost-efficient and appear more natural & authentic to consumers.

So, are you all set to capitalize on influencer marketing this Christmas?

5) Get Emotional With Your Christmas Campaigns!

It's 2021, and people no longer care about your products or services solely! You need to build an emotional connection with them & show them that you care.

Don't just highlight your products & services, but tell a compelling story with them. Try to position them in a way that your audience finds them relatable.

Believe us, stories are the best way to evoke different emotions & set your campaign at par!

A well-thought strategy will always make your campaigns stand out. Well, we have already showered you with some effective & executable tips. It's your turn to make the most of Christmas & let your campaigns shine their way out! Remember, Christmas is near & you need to be ready with your campaigns as soon as possible!