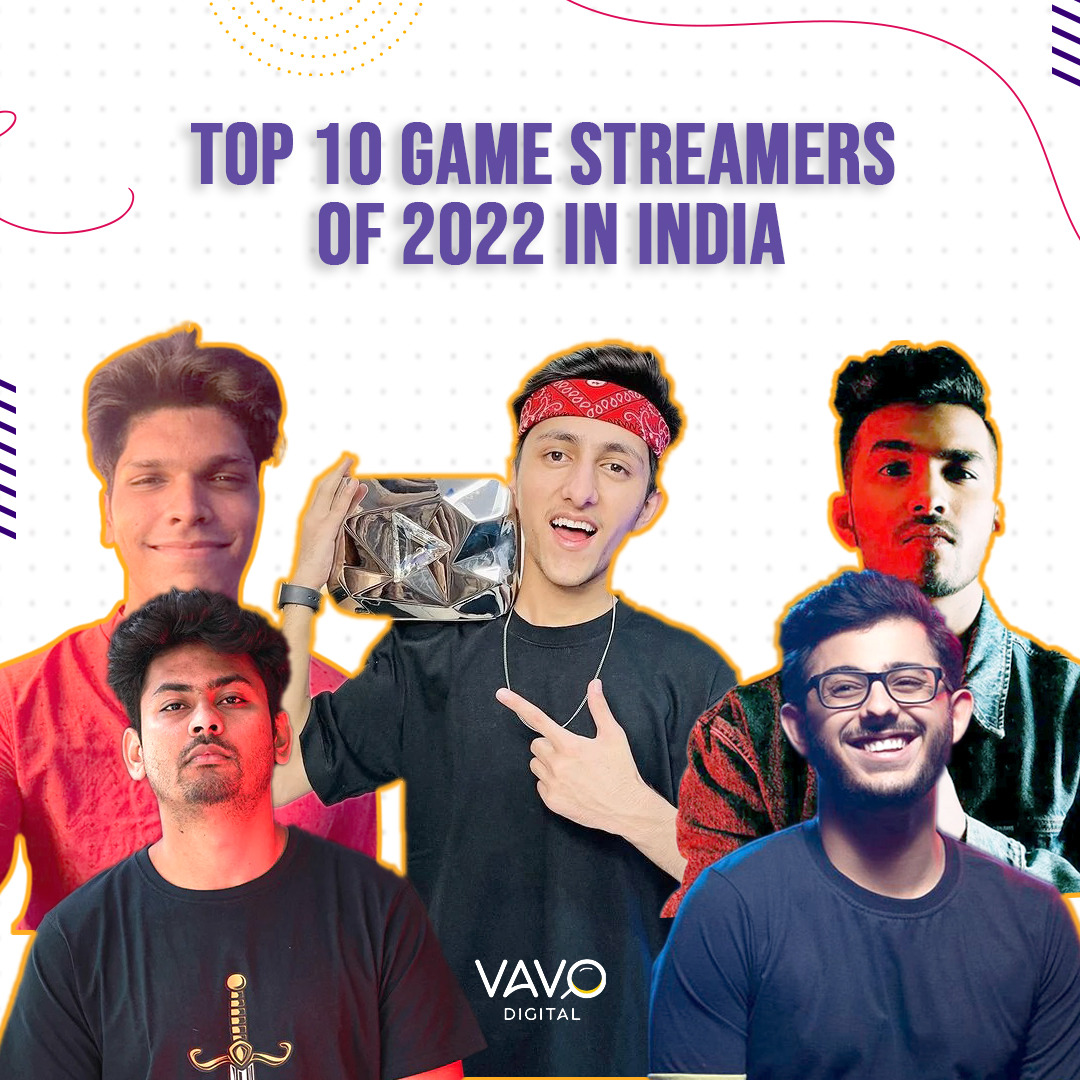 10 GAMING YOUTUBERS IN INDIA YOU NEED TO WATCH OUT FOR IN 2022

The expansion of the international gaming sector shows no signs of stopping. Global revenue is predicted to reach $175.8 billion in 2022 and exceed $200 billion by 2023, according to the most recent Global Games Market Report. With over 2 billion users and over a billion hours of videos watched daily, YouTube is presently the world's second-largest search engine behind Google. Since the launch of YouTube Gaming in India, the Indian game-streamer industry has skyrocketed, producing some of the most skilled and fascinating game streamers not just in the country but worldwide.

WHAT ARE GAMING YOUTUBERS?

Gaming YouTubers are social media personalities who film videos of themselves playing video games in real life to demonstrate how to play that game. Gamers are selectively chosen for the promotion of newly released games; which further adds to the revenue.

Curious enough to know more about gaming YouTubers? Here is a list showcasing the top 10 gaming influencers on youtube India!

1. TotalGaming

With over 33 million subscribers, Ajay or more popularly known as Ajju Bhai is India's top-most subscribed gaming channel! Born in Ahmedabad, Ajay started his journey on youtube back in 2018, playing Free fire and Garena. It didn't take much time for the audience to be completely mesmerized by his charisma.
Ujjawal Chaurasia, known famously for his GTA gameplay, has garnered the love of over 27.6 million subscribers around India. By mainly posting tutorial videos, Ujjawal's channel has grown substantially since 2017. Adding to his list of accomplishments, he was recently regarded as the 3rd Indian Gaming influencer to cross 1 billion views on youtube.
Sahil Rana, also known as AS Gaming, is a YouTuber, video creator, and free-for-all gamer from India. Sahil started his YouTube account in October 2016, however, it took him three years to upload his first video, "5 secret sites in Bermuda map." However, for the Indian YouTuber, 2020 was a watershed moment as his channel's popularity grew. AS gaming has attracted almost 17.7 million subscribers.
4. Lokesh Gamer

Lokesh Raj, popularly known as Lokesh Gamer is from Telangana. The Indian YouTuber has achieved a great deal of success at such a young age. "LOKESH GAMER," his main channel, has 15 million subscribers. In 2017, Lokesh launched his YouTube account. His first video, however, was posted on April 7, 2019. He is currently one of the most prominent Indian gaming YouTubers, with 939 videos with millions of views.
5. Gyan Gaming
Ankit Sujan, also known as Gyan Gaming, is an Indian YouTube gamer and free-for-all player. Ankit is the owner of the YouTube gaming channel "Gyan Gaming," which has 14.2 million subscribers and he posts videos about Garena free fire. Gyan Sujan is Ankit's in-game alias. In 2017, Sujan launched his YouTube channel, which has now amassed over 2200 videos.
6.  Desi Gamers

Indian YouTuber Amit Sharma, often known as Amitbhai, hails from West Bengal and founded the channels "Desi Gamers" and "Desi Army." His second YouTube channel has 13 million subscribers, compared to 12.5 million for his first. At the beginning of his career, he released animated videos, and one of them received over 2 million views. But his work in the Garena Free Fire is what made him famous.
7. Mythpat
After mastering the mainstream youtube content, Mithilesh Patankar also found his audience greatly indulged in his gaming videos. With total subscribers spanning over 12.2 million, his play-along videos are considered to be his greatest strength, often leading them to the trending page. 
8. CarryisLive  
The next top Indian gaming YouTuber is carryminati, aka Ajey Nagar, a well-known roster and player from Faridabad, India with 11.2 million subscribers. Ajey was motivated by the "Leafyishere" YouTube channel, which posted gameplay roast videos and used a similar aesthetic in his film. Indian YouTuber CarryDeol renamed his channel and added roast videos. He renamed his channel CarryMinati when his video became very famous.
Two Side Gamers, the first pair gaming channel in India, was founded by two cousins, Ritik Jain and Jash Dhoka. Additionally, it is the first Indian channel to live-stream Garena's free-for-all gameplay. The channel has 10.8 million subscribers. The two side players from India competed in the eSports free fire Champions cup event in Jakarta, Indonesia, which was organised by Garena free fire Asia. The next year, they repeated the procedure in Thailand.
10. Dynamo Gaming
The creator of "Dynamo Gaming," a YouTuber, commentator, and leader of the Hydra Clan is Aditya Sawant. The channel has 10 million subscribers. He mostly publishes videos about unboxing, reviews, and information about gaming events. Even after five years, his channel had less than 100 subscribers. He saw a total 180-degree turn in his life once PUBG was published in India. Up until he started streaming PUBG mobile gaming, his channel boomed and attracted a tonne of 
GAMING INDUSTRY AND INFLUENCER MARKETING
Influencers in gaming are as well-known and influential as influencers in fashion, fitness, and/or beauty. On websites like YouTube, Mixer, Twitch, and others, gamers stream themselves playing the games that their viewers like most. There are other ways for gaming influencers to generate money aside from the long hours' spent live-streaming games. Gamers may also get money by writing game reviews, testing games, and working with businesses on sponsored projects.
One of the most successful methods for brand marketing has been influencer marketing. Constantly employed influencer marketing tactics may help your business succeed more. Studies reveal that 71% of companies prefer influencer marketing's customer quality and traffic over that from other sources.
CONCLUSION
Youtube has come a long way. From giving people a platform to represent their opinions to allowing people from across the globe to share their ethnicity. What's the similarity between talent and Youtube? They both have no limit! BROADCAST YOURSELF!! 
Our team at Vavo helps such talented influencers find their tribe! If you're still curious to know more about the way influencer marketing works, contact us at hello@vavodigital.com
Also read: LinkedIn Influencers: 5 effortless steps to build your LinkedIn profile
Note: All images used are for descriptive purposes only, all rights belong to the owner