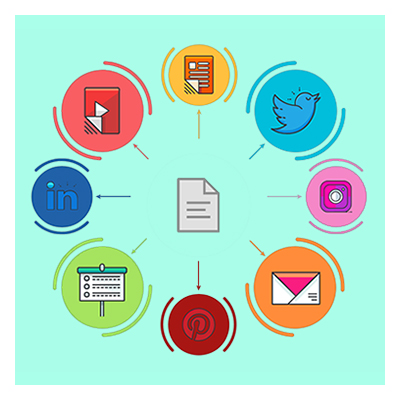 An Ultimate Guide to Repurposing Content

Have you ever felt making an old content piece viral again? Have you ever felt like targeting a newer audience and sharing the evergreen & relevant content with them? If yes, then it's time you start repurposing your content!

Repurposing content simply means tweaking the content piece, changing its format, and even the target audience.

For example, you can change a blog post into an infographic. Now you can not only make the infographic eye-catchy but even add pointers that are valuable and important.

But, why is it important?

When you repurpose a content piece, you don't have to start from scratch but tweak it a little according to the new content format. Furthermore, it is even easier to scale.

But hey, that's not it!

Repurposing content can even increase the visibility of your brand, helping you to tap a newer audience and widen your reach. Let's dive a little deeper into why one should repurpose a content piece!
Evergreen content 
Some content pieces are timeless & evergreen. No matter what, such content wouldn't lose its value with time. It's important for you to provide the same value in a different way because when you first posted it, many people might have missed it.
Hence, you can take full advantage of this opportunity, tap into a new audience base, and educate them with your repurposed content piece.
Saves Time 
As we mentioned before, one of the best things about repurposed content is that you already have a content piece in hand. All you have to do is to tweak it a little and Voila!
Preserves Value 
We are sure many of you might have a content piece that has performed extremely well. So why not start Repurposing it and make it available to a large audience base?
If any of your old content pieces has driven more traffic, shape it in a better way and ensure that it stays relevant.
We hope you are on the same page as us. 😀
Now just because you understand its importance, doesn't mean there aren't things that you need to consider, duh! You know where we are heading, right?
So, before you strategize on repurposing your content, keep a few things in mind.
Purpose 
All our lives, we have been doing things because of a purpose. So, obviously, you need to have a purpose for this as well.
For example, do you want to gain more reach or tap into a new target audience?
Identify your purpose, set your goals, and then create your plan accordingly.
Content Development
Apart from finding the purpose, identify the content format that you want to use. However, remember that repurposing content doesn't mean you have to replace the words.
Editing is much more than that. Rephrase your content piece in a way that goes well with the format.
For example, if you are planning to turn a blog post into an infographic, pick out the most important pointers and place them into the infographic.
Marketing 
After you have developed your content piece, make sure you are leveraging the right platform. Let's say, on Instagram, features like Reels, Carousels, and IG stories work the best. So ensure that you create your content accordingly.
Audience Feedback
Repurposing content doesn't only mean taking old content and updating it. Don't limit yourself!
Instead, analyze the content in-depth. Go through everything that your audience has felt about a particular content piece. For example, if they want you to provide more detailed information, or if there is something that they didn't like. Take it into consideration and reshape the content as per their feedback.
There are higher chances that they would engage more.
Now guess what? Repurposing content comes with a greater advantage because there are several ways through which you can do the same. The trick is to choose the right content piece, the right platform, and finally, repurpose it.
Let's say, you hosted a webinar on health & fitness. The webinar was a success. However, there is a very high chance that many people would not be able to keep up with the information and forget it after a while. So how do you tackle this? Here's a solution!
Create video tutorials for the same. In these tutorials, talk about the things that you missed in the webinar. Give your audience a reason to come back and see these videos again and again. Provide a solution & let your content stay evergreen!
This was just one way that we explained to you. Apart from this, you can turn case studies into social media posts or carousels, ebooks into a podcast, blog posts into Twitter posts, or even weekly/ monthly newsletters. The ways are countless.
If you are still in a dilemma about whether you should repurpose your content or not, read this out.
In 2015, Buffer wanted to push their content repurposing strategies to their limits. They came up with the "No New Content" challenge. The challenge was to repurpose 2 to 3 pieces of content each week for one full month.
Their argument was that old posts were still relevant & beneficial to the audience.
So what was the outcome? It turns out that it was in favor of them! During this challenge, their organic search traffic increased by more than 4%. Adding on, their repurposed SlideShare presentations generated more than 1,00,000 views and one of their Medium posts reached the top 20 posts on the platform.
Do we need to say more?
So, it's you start strategizing, take a fresh approach and start repurposing your content!