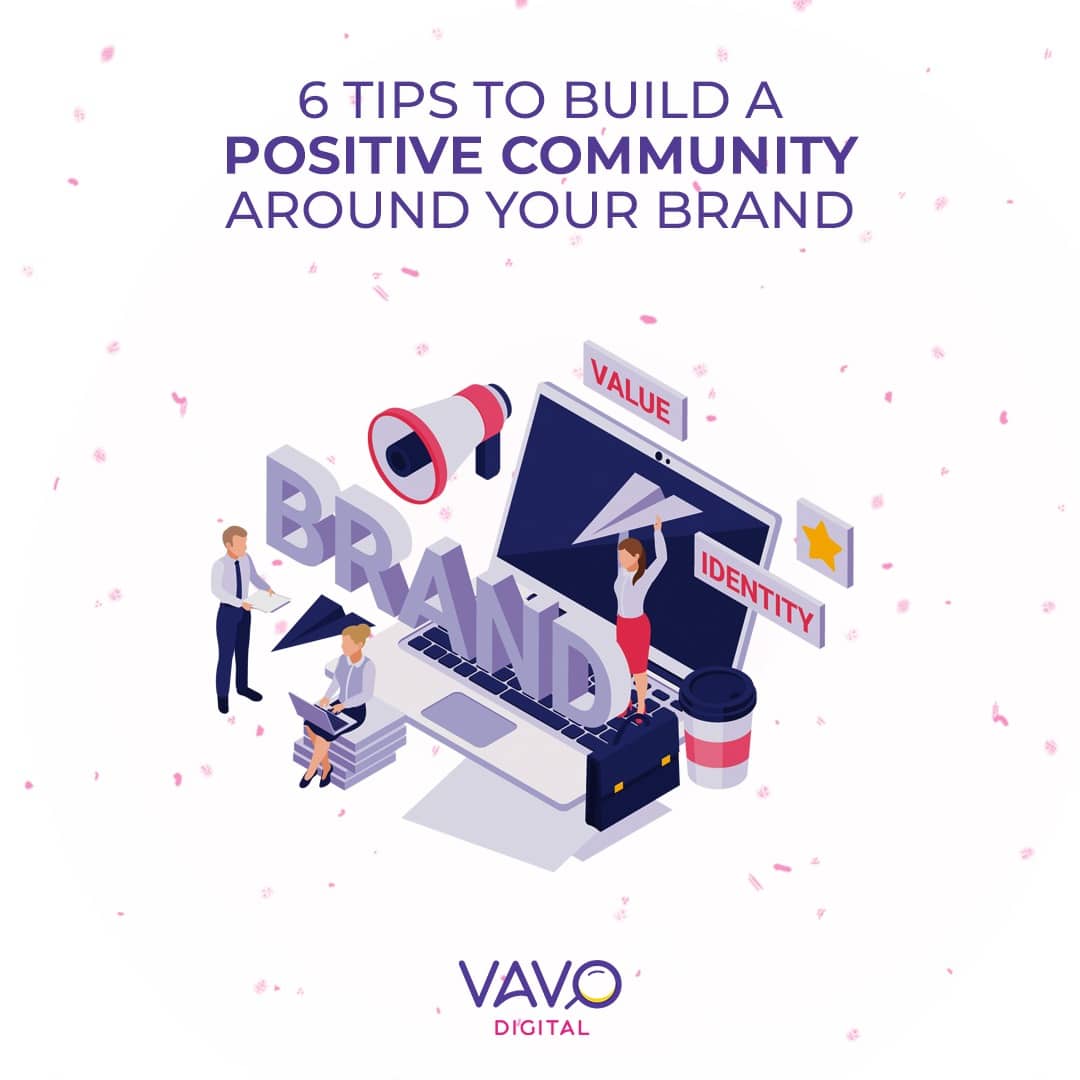 6 Ways To Build A Positive Community Around Your Brand

Your brand can only stand the test of time with a loyal community. Sooner or later, every brand needs people around it who are ready to pour genuine love into it. Therefore, budding brands like you need to consider this need in time.

However, if you don't know where to start, let Vavo Digital help you today!
We are sharing six ways to build a positive community around your brand. This time, you need to channel all your focus on your people, and we will simplify it for you.
1. Show Your Social Media Power
Social media is the most significant medium that a brand can leverage for community building. Now, every social media platform works differently and has a unique algorithm.
Therefore, you can incorporate multiple social media platforms to get closer to your people. The best part about social media for brands is that it supports various content forms. From textual content to reels, there is a lot to experiment with!
2. Check Their Mood Through Reviews
In the old times, people were unknown to product reviews. They have yet to share how a particular product made them feel. Did they solve their problem or meet their need? But today, people are more aware and give consistent feedback to the brands.
You can use these reviews to find out more about your customers. You can respond to their feedback and reviews. This will give you a vivid idea about their mood and preferences on a deeper level. It is also significant that you aim for an unwavering community where you consistently interact with your people.
3. Make Products The Way They Like
The essence of business is to keep your people happy. One thing you can do for this is to make products like they want. For example, if you are an electronics producer, and your customers are unable to use the microwave that they purchased from you.
They had to use their neighbor's microwave oven that night. Well, it is not only a massive hit to your reputation, but you have successfully pushed away your potential customers. Therefore, make sure to improve the quality of your products as per your buyer's reviews. It will help you stem out a loyal brand community in no time.
4. Produce Relevant Content
One crucial factor is the content. Nothing can parallel the power of content for community building. It would help if you leveraged expert content strategies that can connect you with your people.
So that they can keep themselves updated with your brand in the long run, the content will also not let their interest in your brand die any sooner. Therefore, you have to test out all content forms and see what creates a better impact on your people.
5. Foster Real-time Connections
It would help if you also considered real-time connections. Live streaming and in-host events play a huge role in community building. The reason is that your people can see and talk to you quickly.
When you are consistent with live streams and show up for them, it will infuse a sense of connecting in them. It greatly helps when you are just getting started with the community-building.
6. Leverage Affiliate Marketing
When it comes to community building, you need to develop an affiliate network. You can reach out to relevant influencers that can promote your products. You can ask them to leave your product and website links on their Instagram stories or below their YouTube video's description.
By doing this, they will get a fair share of the product they will make their audience buy. Leveraging affiliate marketing not only makes community building easier for your brand, but it is also a great way to nurture trust among your people.
Starbucks is an excellent example of a rewards program that provides benefits to regular customers.
The Bottom Line
It seems like it is not hard to build a positive community around your brand by killing all the hurdles of your way. There is no doubt a strong community behind a brand not only motivates it to achieve more but also makes its stance even more robust in the market.
Thanks for reading at Vavo Digital – a 360-degree marketing agency where you find personalized influencer marketing strategies for your brand, collaborate with the top influencers of your niche and nurture new business connections. Drop us a message at hello@vavodigital.com, and let us start working on your next influencer marketing campaign from today!