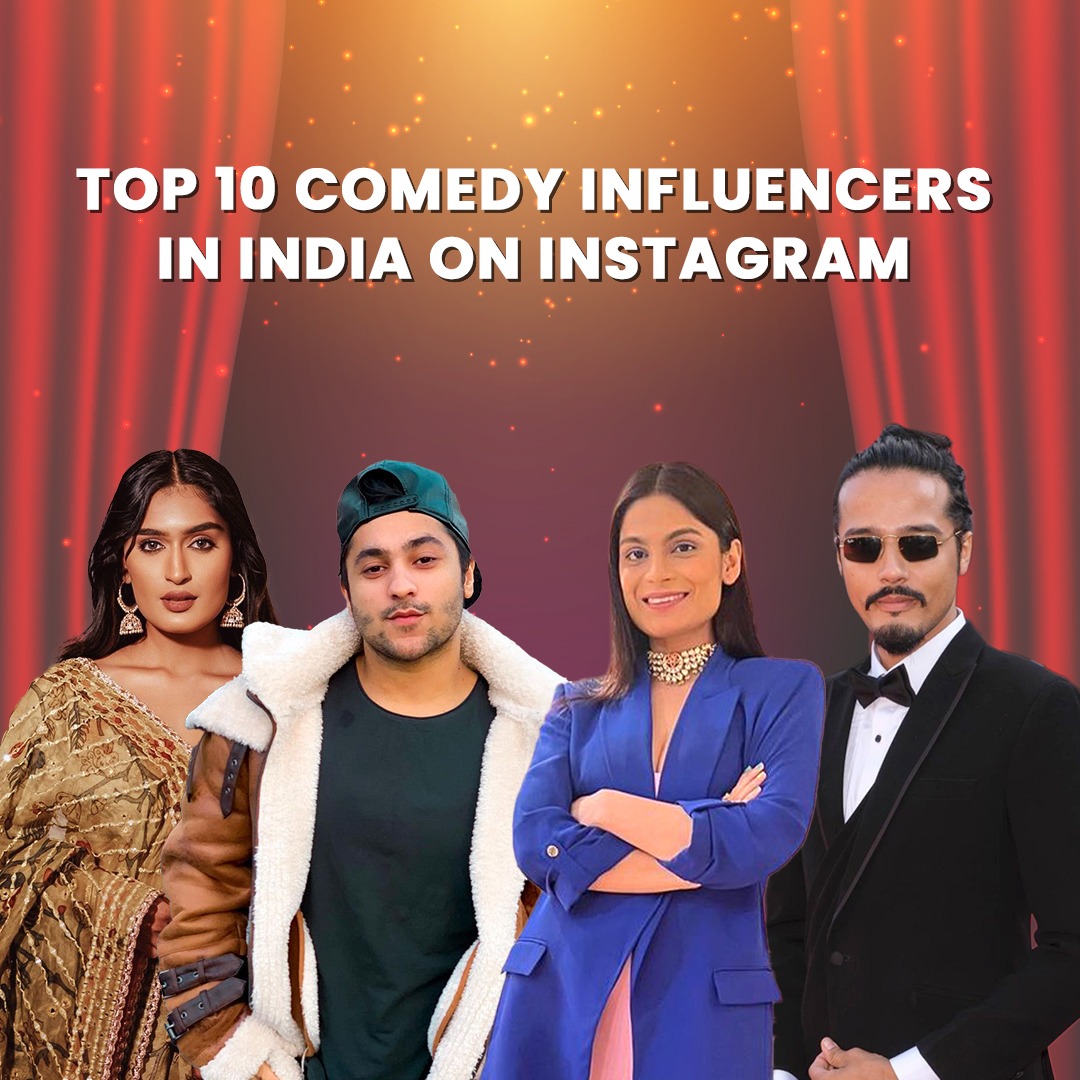 Top 10 Comedy Influencers In India On Instagram

No matter if you are a gen Z or millennial, social media would be a huge asset of entertainment for you. Today, comedy and funny content hold a major place in the hearts of social media users. Take memes for instance. These are one small example of entertaining online content.

If we talk about Indians, they love humor. Several comedy influencers are bringing out laughter on the screens persistently.

If you are a comedy lover then you will be intrigued knowing about these 10 comedy influencers in India. We are going to review the top 10 comedy influencers in India whose comedy actually makes a difference in the lives of their followers!

Let's get started without further ado!
1. Harsh Beniwal (5.7M Followers)
Harsh Beniwal, a comedian and actor, is 27 years old. He started his comedic career on YouTube. You may watch short humorous skits and sketches, as well as a few sporadic rant videos, on his Instagram channel.
2. Niharika NM (2.7M Followers)
Her main weapons are an irresistible accent and a comedic tone that she leverages in her content. No wonder how she comes up with back-to-back enticing content stuffed with comedy.
She has a unique way of addressing her audience in the videos. We bet if you follow Niharika, you will run out of breath due to laughing.
3. RJ Abhinav (4.1M Followers)
The essence of his videos majorly predicates making his audience laugh. All the puns he adds to his videos will make you wonder how is he able to do that. The influencer has an established YouTube channel.
One sole reason for his popularity is his series of "Faad Magician" that got viral on youtube some years ago. Abhinav's fans love to laugh and he knows it. So he never keeps them waiting on consistent humor-filled videos.
4. Funcho (2.3M Followers)
Funcho is all about comedy. The brands like Funcho have genius brains that navigate them. Here we are talking about Shyam and Dhruv who are the men behind Funcho.
Both are engineers by profession. These two influencers have quickly secured a spot in the pool of the top 10 comedy influencers in India. They inspire youth and even adults through their brand.
5. Ronit Ashra (1.8M Followers)
Ronit is among the best mimics of India. One of his most viral imitations was of Ananya Pandey which took social media by storm. The video shows how precisely he is mimicking Ananya and fans couldn't resist it.
Yoga influencers help to spread yoga information through their videos and social media posts. They also help persuade people to live a healthier lifestyle by practicing yoga. Read : Top 10 Indian Yoga Influencers On YouTube
6. Akash Gupta (1.1M Followers)
Who does not know "The Akash Gupta"? He had been struggling at different open mics. Later, he became a well-rounded stand-up comedian in no time. His first video drew the attention of thousands of people and gave him the acknowledgment that he deserved.
7. Kenny Sebastian (1M Followers)
His comedy debut called '9 hours to live" was the reason behind his fame. He also acts and many of his online series have gained positive feedback from the people. He is a multitalented influencer and sings as well.
8. Srishti Dixit (777K Followers)
She has been a part of Netflix's "Bhensplaining" in which her character holds a humorous presence. She has outperformed this character and proved that she can be a good comedian too.
Srishti loves her cat and you will see intermittent pop-ups of her cat on your feed if you are following her on Instagram.
9.Viraj Ghelani (1M Followers)
Here we have another engineer comedian on our list. Viraj loves to entertain his followers besides training. There is no doubt that he is among the well-established comedy influencers in India due to his perpetual humorous performances.
He loves to spend his time with his beloved Nani. Viraj makes sure that his content is relatable and fun to watch.
10. Aishwarya Mohanraj (762K Followers)
Aishwarya's content is enthusiastic and a treasure for pun lovers. Her content has got a friendly vibe to it that catches the attention of her followers. She loves to include her parents and beau in her content.
They are also a part of her daily jokes that you cannot neglect. One of her videos called 'My Pregnancy Test?" is the most popular one. She used hilarious subtitles and her timing was also on point.
To Recapitulate
Comedy influencers in India are making the hard times easier for their followers. Their content is light, punchy, and laughable. A good asset for their fans to divert their minds from the daily hustle.
We at Vavo Digital are delighted to bring you in contact with the top comedy influencers in India for collaborations. So if you are planning to switch to the funny and pun-intended marketing of your brand, then leave us your ideas at hello@vavodigital.com to explore more opportunities together!