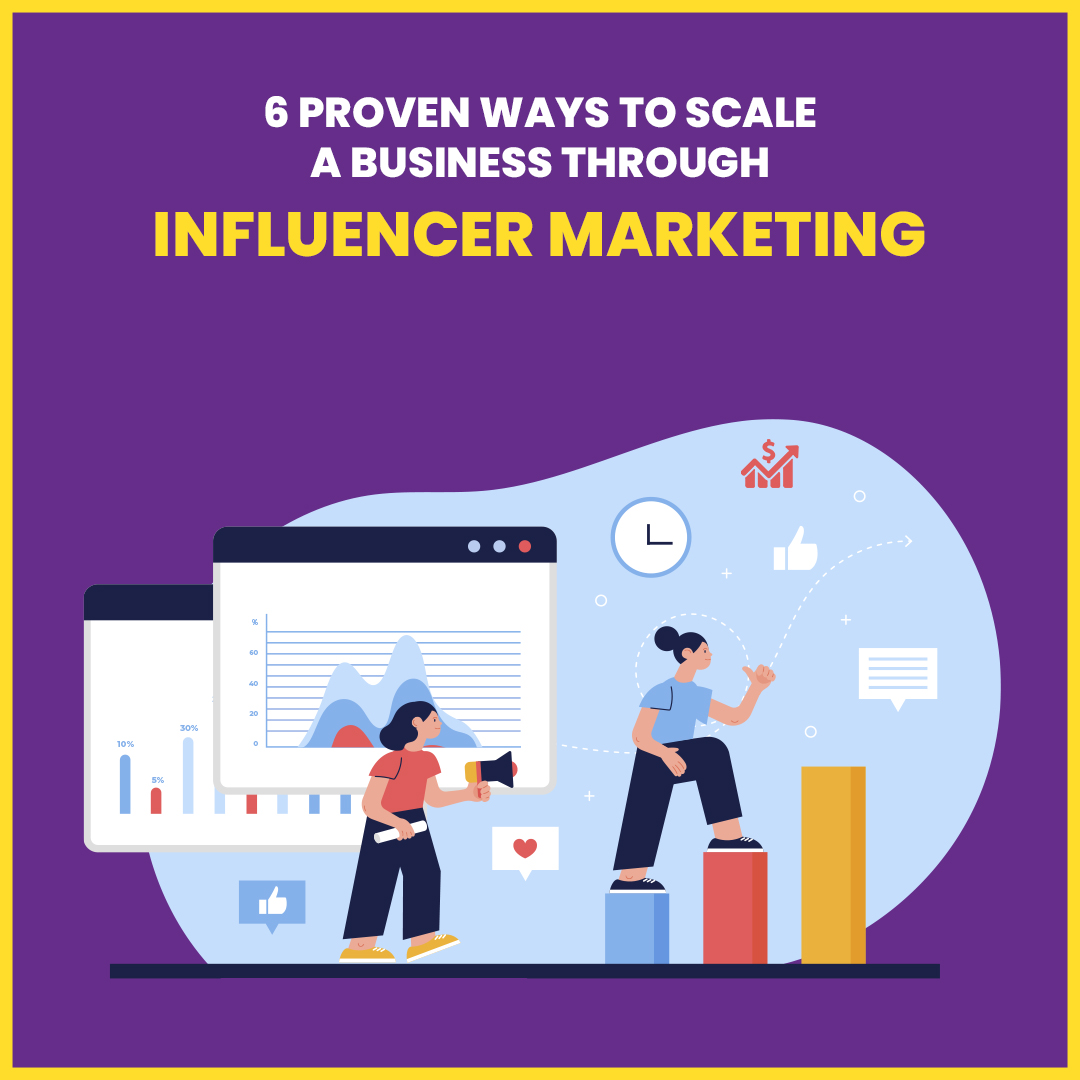 6 Solid ways to scale a business through influencer marketing

A brand can outperform its competitors through influencer marketing. It is an approach that can quickly skyrocket your business! Influencer marketing has also proven to be a successful strategy for minor to major brands worldwide.

Influencers are a bridge of communication between your brand and the audience. You get to analyze the audience and their interests on a much deeper level by collaborating with influencers.

Being a brand, you can use six ways to scale a business through influencer marketing in a hassle-free way!

Ready to explore them? Here we go!
1. Meaningful Collaborations
It means finding the apt influencers for your brand representation. They must align with your brand's identity and purpose. So that your product and services can get a broader spectrum for acknowledgment.
The followers of the influencers you are willing to collaborate with must relate to your brand. Or else the less-interested audience would not be able to reciprocate as you want them to. To avoid this, the right choice of an influencer is important.
One easy way to do so is to identify your campaign's goals. A recognized marketing campaign gets you closer to the perfect match. The influencer's style, bond with their audience, and location have a huge impact on your brand's functionality on all counts.
2. Leverage Storytelling
Storytelling is a differentiator that sets you apart from your competitors. You can use your story for perfect brand promotion through influencer marketing. As per Izea, storytelling increases conversions by 30% when used to answer customer questions
A business can procure benefits if its story relates to its audience.
Discuss your story with your partner. Conversate about the best-performing methods for promotion. Storytelling is a powerful medium to approach more people. It works well for budding brands and helps them in acing the competition in the industry.
3. Audience Interaction In Depth
Another brilliant idea to scale your brand through influencer marketing is audience interaction. Audience interaction can be done in different ways. However, two suitable methods are conducting giveaways and contests.
At the end of the day, your goal is to fetch more visitors to your website. You can easily focus on scaling your brand by collaborating for the giveaways with your partners.
Simple rules will make things easy for the audience. You also need to make sure that the offer you are making is irresistible. So that it will intrigue them to participate and visit your website as well.
4. Negotiable Budget
When hiring an influencer, you need to make a fair deal. A good budget that benefits both parties. It indicates that you are open to negotiations. Develops mutual understanding as well. Planning an influencer marketing budget would also assist you with this pursuit.
Here are a few options for setting up the payment with the influencers:
1. Cost Per Click– Cost per click implies that you will pay the influencer based on the number of clicks they direct to the landing page.
2. Cost per engagement– This allows you to pay the influencer based on the number of engagements they direct to your landing page or profile, similar to cost per click.
3. Giving away free products and/or services- Other influencers will accept free goods and/or services in exchange for promoting your company. Instead of monetary compensation, you can offer them this.
Executing, planning, and assessing your relationship are crucial components to consider while developing a management strategy. Influencers sometimes collaborate with multiple businesses at once, and occasionally they may become disoriented or even forget to follow through on their obligations. Make sure to put together a calendar so that you and your partner can decide when and what to post.
5. Influential Content Creation
Sometimes a brand can miss out on what's in demand in the industry. This is where an influencer comes in. Discussing the small details about the striking content helps in the brand's scaling a lot.
Talk to your influencer and sketch out a persuasive content strategy. Their experience would help you with this. Eventually helping you promote your brand through user-friendly content.
Some of the most common types of content that influencers put out:
1. Videos- There is no indication that video marketing will disappear very soon. It has been around for a while. This kind of content is used by the majority of influencers, particularly those that use YouTube and Instagram as their primary social media platforms.
2. Instagram stories & posts- Instagram is the primary channel used by many influencers for influencer marketing. They typically tag the business they are working with when they upload a photograph using the brand's products on their feed or in an article. Also, they frequently include a link to the company's website or landing page, which improves customer acquisition.
6. Incorporate Hashtags
These little symbols can soon become your brand's social identity. So never forget to rely on them. Of course, create one for your brand too! Hashtags are an easy way to promote your brand through influencers.
Later, you can develop a community through different hashtags as well. Today people love using hashtags. They follow them and relate to them. So in this case your brand's hashtag can also emerge bright in the race.
Final Thoughts
Influencer marketing is undergoing several changes as time passes. Businesses must know how to react to these changes. So that expansion and client acquisition gets easier.
A startup can leverage influencer marketing in different ways. It is proving to be an effective medium for brands to present themselves before the audience.
Collaborating with right influencers is important to scale a business. Our experts at Vavo Digital will guide you through the process, introduce you to the perfect influencers and help you with all your queries. For further discussion, please reach out to us at hello@vavodigital.com if you want to spice up your brand's message through influencer marketing!