Facebook Post Scheduler: Learn How To Schedule A Post On Facebook

Today, every brand needs a social media strategy to create an online presence. Social media has become the primary platform for brands to connect with their customers and potential customers. 90% of consumers now prefer getting their information from social media sites rather than any other source.

To succeed in this digital age, businesses need to develop a social media strategy that covers how they will use different platforms and what they hope to achieve. Having a social media scheduler can help you manage your posts so that you can always stay on top of your game. Here is everything you need to know about the Facebook post scheduler and how to set it up so you can attend all important posting dates.

Can you schedule posts on Facebook?

Facebook scheduling makes it simple to manage your timelines and ensures that all of your updates are consistent. Visibility also significantly improves as a result of this.

Facebook permitted third-party applications to schedule posts on personal accounts up to August 2018. However, after changing its API, Facebook removed the ability to schedule posts directly on a personal profile using the built-in Facebook post scheduler.

But as a brand, you need not be concerned. Facebook provides the following two options for timing posts on business profiles:

1. Natively- This method uses Facebook's built-in posting scheduler

2. Third-party Scheduler tools- Facebook allows you to schedule your posts using third-party tools like Hootsuite, Social Pilot, Later, Spendable, and more. These Facebook post scheduler tools also offer options like advanced and bulk scheduling.
How to schedule a post on Facebook using Facebook Business Suite?
First things first: To schedule posts, you must have a Facebook Page.
After you've set up your Page, use this step-by-step tutorial to discover how to schedule upcoming posts.
Step 1: Write your Post 
To access your company's Facebook Page after opening Facebook to your timeline, click Pages in the top left corner of your dashboard, then choose Business Suite from the options.
Now, click Create Post:
Step 2: Preview the Post
Choose where you want your Post to be published in the Placements section. You can simultaneously publish it to your Page and the associated Instagram account.
You may preview how the Post will appear on desktop and mobile as you draft it. Optimize the Post by making edits if anything seems off. Make sure the link previews are pulling properly at this time.
Step 3: Select a date and time
Click on the arrow next to the Publish button at the bottom of the Page if you want to wait to publish your Post.
Next, decide when the Post should go live and what day you want it to be published.
Its time to click Save.
Step 4: Schedule your Post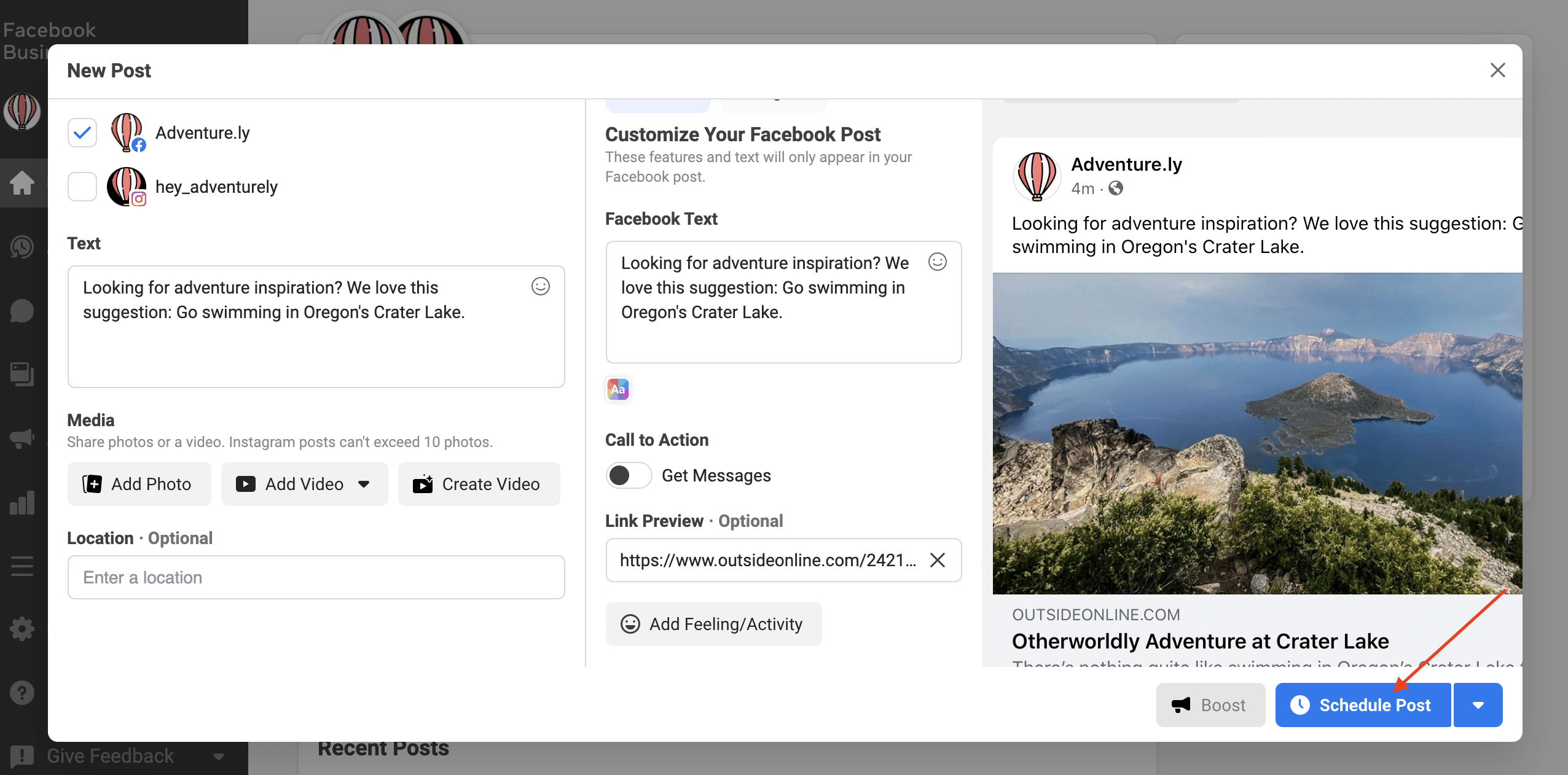 Images Source: Hootsuite
That's it—click the blue Schedule Post button! Your Post is currently waiting to be published. That indicates that it is prepared to go live on the specified day and time.
How to edit scheduled Facebook posts in the business suite?
The Facebook posts in your queue may need to be edited, deleted, or rescheduled. The queue can be found and edited here. In the Business Suite, go to Scheduled Posts. You may view every one of your planned posts there.
1. To read the specifics of the Post you want to update, click on it.
2. Press the icon with three dots. A few choices are available, including Edit Post, Duplicate Post, Reschedule Post and Delete Post.
3. After making your changes, click Save. You can also decide whether to publish the article right away or schedule it for a later time by clicking the arrow next to the Save option.
Did you know? You can execute simple steps to get your first 1000 subscribers on YouTube; read 10 Solid Ways To Get Your First 1,000 YouTube Subscribers to know more.
Third-Party Facebook Posts Scheduler
Although the Facebook post scheduler in Business Suite is straightforward and quick to use, some brands use third-party applications due to their numerous advantages. You ought to think about utilizing one if you're seeking:
1. Bulk Scheduling Your Posts- You can schedule Facebook posts in bulk using several apps. This is particularly useful if you publish several posts in a single day.
2. Targeting Multiple Social Media Platforms- You can only target your Facebook and Instagram audience on Facebook. However, scheduling tools let you time Facebook posts in addition to those for Instagram, LinkedIn, Twitter, YouTube, Pinterest, and more.
3. Structuring The Social Media Process- Tools like Hootsuite and Later comprehend a brand's social media marketing and approvals procedure. You may design a journey for your posts with them, starting with ideation and moving through draughts, edits, and approvals before publication. This makes it easy for brands to manage and schedule their articles without fuss.
Other third-party scheduling apps are Brandwatch, Sendible, NapoleanCat, Iconosquare and Onlypult.
Over to you: What do you think of scheduling?
Social media scheduling tools are a godsend for many social media managers. These resources assist them in saving time and enhancing their social media performance (evenings and weekends).
Scheduling your Facebook posts may seem strange if you usually go to Facebook to make your updates. We would like to hear about and discuss any ideas or worries you may have regarding scheduling your Facebook posts in the space below.
Keep visiting Vavo Digital to learn more about crucial social media strategies and practices.
Note: All images used are for descriptive purposes only; original rights belong to the owner