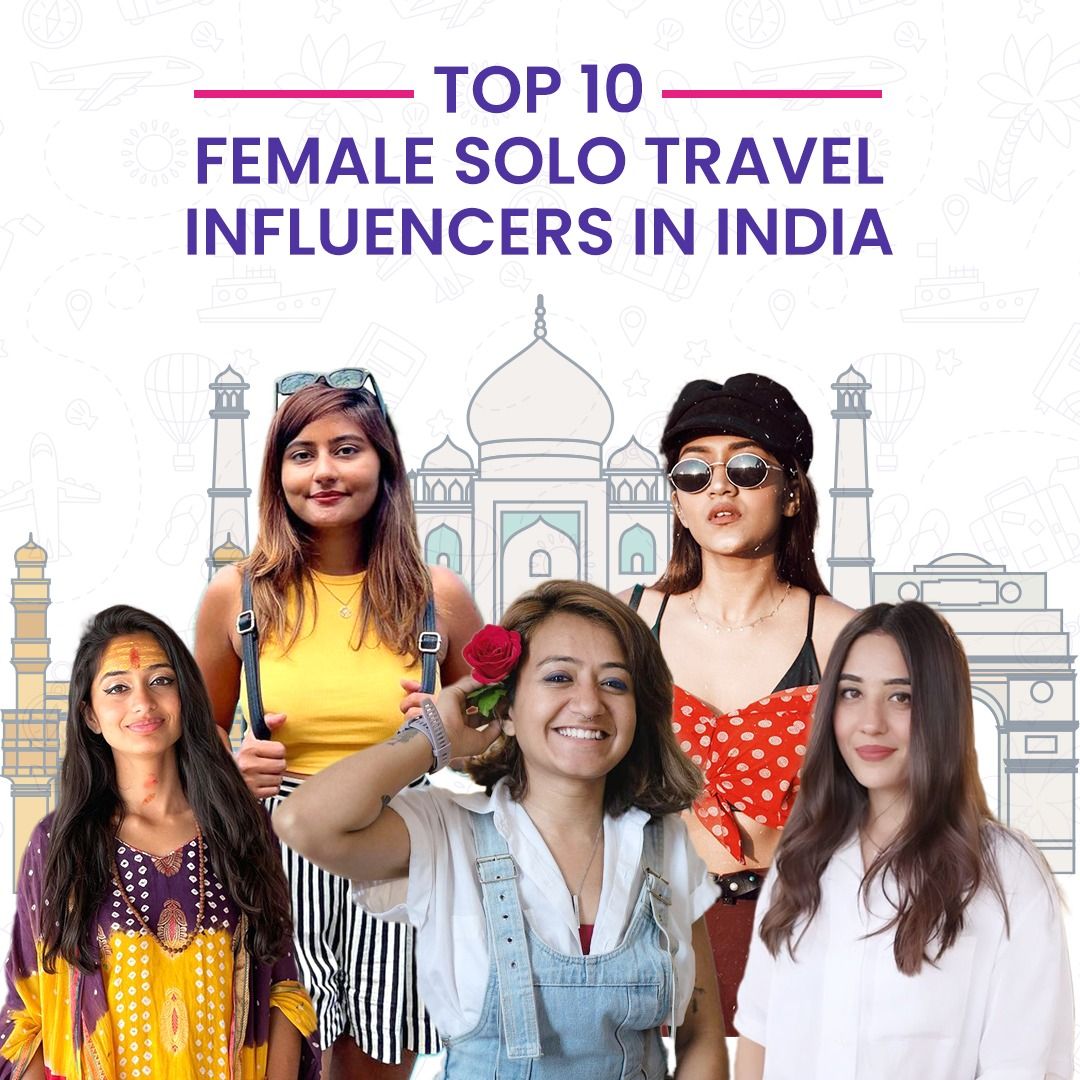 Top 10 female solo travel influencers in India

India is a conservative nation where women's protection is frequently a top priority. The thought of women travelling alone is absurd in Indian society, and many women are forbidden or terrified to leave their own houses.

However, we have evidence that our nation is making modest progress. More and more people prefer to travel full-time instead of working long hours at a desk. The nicest part is that many of these individuals are powerful, independent women who refuse to let patriarchy hold them down.
Few other experiences in life can compare to the delight of travelling the world. Therefore, it is crucial to acknowledge, appreciate, and enjoy it. Word Tourism Day accomplishes all of that and more. World Tourism Day, which is annually observed on September 27th, is a significant occasion intended to increase public awareness of the importance of tourism in general.
The tourism industry helps a nation grow and develop and fosters cross-cultural interaction between visitors and residents. It promotes infrastructure development and helps create thousands of jobs in many industries. The World Tourism Organization (UNWTO) seeks to ensure sustainable tourism while ensuring travel is accessible to all.
On this world tourism day, we look forward to celebrating these solo female travel influencers from India who has done everything from hitchhiking in another nation to backpacking across India. They will motivate you to face your anxieties and live each day as if it were your last.
1. Tanya Khanijow –
This girl has defied expectations since she began travelling. With 952K subscribers on her channel and 558K Instagram followers, her videos on her YouTube channel about her solo travel are incredibly inspiring. You will travel to the best locations in India and internationally with the adventurer.
Simply watching her vlogs, you may quickly leave the comfort of your house and travel to a stunning destination. Tanya Khanijow has travelled to many wonderful locations worldwide, including Bhutan, India, America, and Africa. For all the details regarding your destination, follow her blogs.
2. Wandering Kamya –
 

 

View this post on Instagram

 
She is among the most well-known due to her wanderlust. She is one of the well-known female travelers, with a whopping 210K Instagram followers. Since 2015, she has been a digital nomad. The best thing about her excursions is that she discovers India's lesser-known yet worthwhile hidden gems. With the help of this wandering woman, Wandering Kamya, explore Unexplored India!
3. Anuradha Goyal –
 

 

View this post on Instagram

 
Another instance of how to escape the routine of corporate life and live the way you want to is Anuradha. She spent more than 12 years working in the IT industry before deciding to quit and travel the world. She has been to 15 different nations in the ten years since she left her work. She has received much media attention for her blog, and she has no plans to stop any time soon.
 

 

View this post on Instagram

 
She enjoys travelling a lot and dispels misconceptions, whether regarding driving or going alone, one at a time. She has visited Spiti Valley, Meghalaya, and Nagaland independently and with companions.
Watching her dogs pose while her hair enjoys the air is entertaining. She is determined to climb Mount Everest by 2023. This traveller is perfect for you if you enjoy setting goals for yourself.
5. Kritika Goel– 
With her vacation vlogs to Goa, Koh Phi Phi (Thailand), Varanasi, Gangtok, Dubai, etc., this young girl has been breaching the high ceiling. Girls who want to go alone are among her followers. The girl had to have been in any location you could think of. His solo trip vlogs serve as little site tours. You would genuinely like the in-depth vlogs.
Did you know? There's much more to becoming a travel photographer than exploring exotic destinations and clicking your shutter. Read more about travel photography influencers: Top 10 Travel Photography Influencers In India.
6. Shivya Nath–
 

 

View this post on Instagram

 
This vegan nomad has visited several countries, such as Bhutan, Uzbekistan, Tajikistan, Iran, etc. This eco-aware tourist emphasises harmony with the natural world and animals. She has been highlighted by the BBC, NatGeo, WWF, and other outlets. The next time you want to take a trip, consider following this environmentally conscious person. Her quirky travel tales will brighten your day.
7. Larissa D'sa–
Larissa has worn numerous hats so far. She founded two businesses, Larissa and Feliz Land, and was named the Cosmo Traveler influencer of 2021. She is one of those lifestyle bloggers and travel presenters who would give you a thorough account of their day while travelling. Her trip vlogs are complemented with interesting tips on how to manage your content and take Instagram-worthy photographs.
8. Archana Singh–
 

 

View this post on Instagram

 
The founder of "Travel See Write" has already travelled alone in more than 60 nations. She advocates for eco-friendly travel and represents Lumix. She has attended TBEX, WTM, and Ted Talks. This single traveller offers inspiration to aspiring solo travellers. She has been featured in several publications and news outlets. She emphasises the positive side of travel, having worked with prestigious brands like Atlantis Dubai, Oberoi Hotels, Expedia, etc.
9. Sharanya Iyer–
 

 

View this post on Instagram

 
She is the Instagrammer to follow if you want to go on an adventure rather than just any old vacation. Her blog is about colour, vivacity, and vitality because she has many incredible places, unusual places, and incredible adventures to share. Sharanya will show you how to conquer your fear and explore the globe guilt-free!
10. Priyanka Chandola–
On YouTube, The DesiGirlTraveler has a family of 311k subscribers. Her YouTube videos will take you to the location under discussion, and her Instagram feed is excellent. The most revered locations in Himachal, including Jibhi, have been covered by Desi Girl. You will fall in love with travel thanks to her stances and timeless images of the scenery with her in it.
Final Words
Women who travel alone or in groups will always have interesting tales to share. The greatest method to prepare and be clear of predictable negative events is to study the places we plan to go. And the best way to receive that delicious, sweet inside information is through travel influencers! Make sure to follow these incredible women online for future trips that have been better arranged.
We have executed several successful influencer marketing campaigns with acclaimed travel influencers. If you want to dive into influencer marketing for your brand, Schedule a free consultation with us NOW!
Note: Images used are for descriptive purposes only; original credits belong to the owner