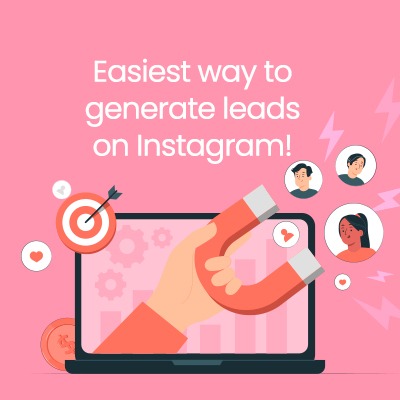 Generate leads on Instagram – the easy way!
In the digital age, Instagram is one of the most potent marketing tools. It provides marketers with access to a large worldwide audience, with over 800 million members. However, a sizable percentage of Instagram users have trouble generating leads. 
Converting followers into consumers on Instagram, like any other social site, requires more than just posting and hashtag-ing. In this article, I'll go through the most effective lead-generating approach for Instagram marketers.
Did you even know that 63% of marketers now engage with ten or more influencers on each campaign? Why do you believe businesses and marketers place such a high value on influencer marketing?
It's because shoppers value social proof and personal recommendations far more than brand ads. Influencers have a high level of trust among their followers. They can assist you in converting visitors into devoted clients.
That's one of the many reasons why influencer marketing is becoming increasingly popular among brands across all industries.

Collaborate with those who have a lot of clout.
On every other social media site, collaborating with influencers is a highly effective lead generation tactic. By developing partnerships with leading influencers in your niche, brands can increase awareness, generate leads and boost conversions on Instagram.

To begin, choose a few Influencers who will act as brand ambassadors for your company. An Ideal Influencer in your sector has a large social following and can personify your brand's personality.
Reach out to them with your goals in mind, and see how a relationship might assist you bring in more leads. If an influencer has won the credibility and confidence of their followers, they will be in a strong position to persuade others to act.
Now doing all of it by yourself can be time taking, so we recommend one must go to an agency like ours who has been in the market for long and has the ability to leverage influencers to build your brand!
Sign up with us now!