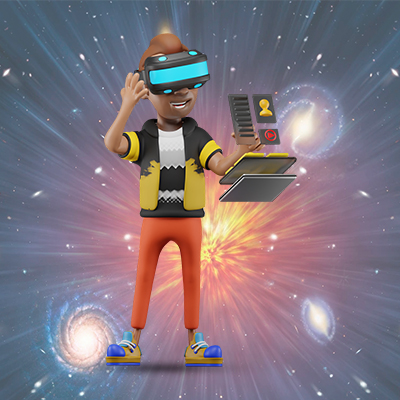 Metaverse or Brandverse?

Metaverse has now entered our day-to-day lingo. Connections are evolving and so are we. Mark Zuckerberg says 3D spaces in the metaverse will let one socialize, learn, collaborate and play in ways that go beyond what one can imagine.

For those uninitiated, Metaverse is a simulated digital environment that uses augmented reality (AR), virtual reality (VR), and blockchain, along with concepts from social media, to create spaces for rich user interaction mimicking the real world. It might look like a new concept to many but in reality, it's not. Over the years, the concept of 3D spaces and virtual worlds has been shown in ample Sci-fi movies and novels. In fact, the term 'Metaverse' was itself coined by author Neal Stephenson back in 1992 in his novel 'Snow Crash'.

The term is old but the change is now and it's going to be revolutionary. With Metaverse, we are moving towards a future where distance won't be a problem. Created by the people for the people, this change will bring together a diverse set of people on a common platform and will let them interact in ways we have not seen before.

As a brand, you should not be late to this party! As your audience moves to the digital space, you need to increase your presence over there and get an edge. For you to understand what all works, we have handpicked a few innovative ways brands have used Metaverse:
Romantic date on the moon, not figuratively but literally:
Back in February 2022, an Indian dating app Mingout took two of its loyal users to a romantic rendezvous in the Metaverse. The virtual date took place in outer space where the couple enjoyed a romantic dinner in a moon-based setting. The co-founder Navdeep Kamboj said in the press release:
" We thought about the most romantic date possible – and in an instant, the answer was clear. The moon represents the two tenets of Mingout – romance and revolution. What's more romantic than moonlight, and what's more revolutionary than humanity's first step on the moon?"
Wedding bells in virtual space:
In February 2022, Abhijeet and Sansrati tied the knot and became India's first couple to get married on a 3D Metaverse, the wedding took place on Yug Metaverse. In a beautiful beach setting, the couple and all the guests joined in their digital avatars. Guests were able to enjoy not only meeting and greeting each other but also dancing and performing complex moves. Wavemaker, part of GroupM, played an instrumental role in crafting partnerships with two major brands – ITC Ltd. and Matrimony.com for this first-of-its-kind 3D wedding
3. Rolling the IPL ball in Metaverse:
Taking the cricket hype to Metaverse, the newly launched IPL team the Gujarat Titans has created a virtual space in the Metaverse, The Titans Dugout for their fans to interact in a safe space during the IPL season. The head coach Ashish Nehra, captain Hardik Pandya, and promising young talent Shubman Gill interacted with each other and revealed their logo in The Metaverse. They are not alone, even the Disney Star is also working on building a cricket show in the metaverse.
These are just a few examples of loads of activities happening in the Metaverse. It is time for brands to realize that our future is taking a different course and it's going to be digital. Start with minor activities, take the first step forward by hosting an event or a part of your service on Metaverse, and then enjoy the ride of the hype!