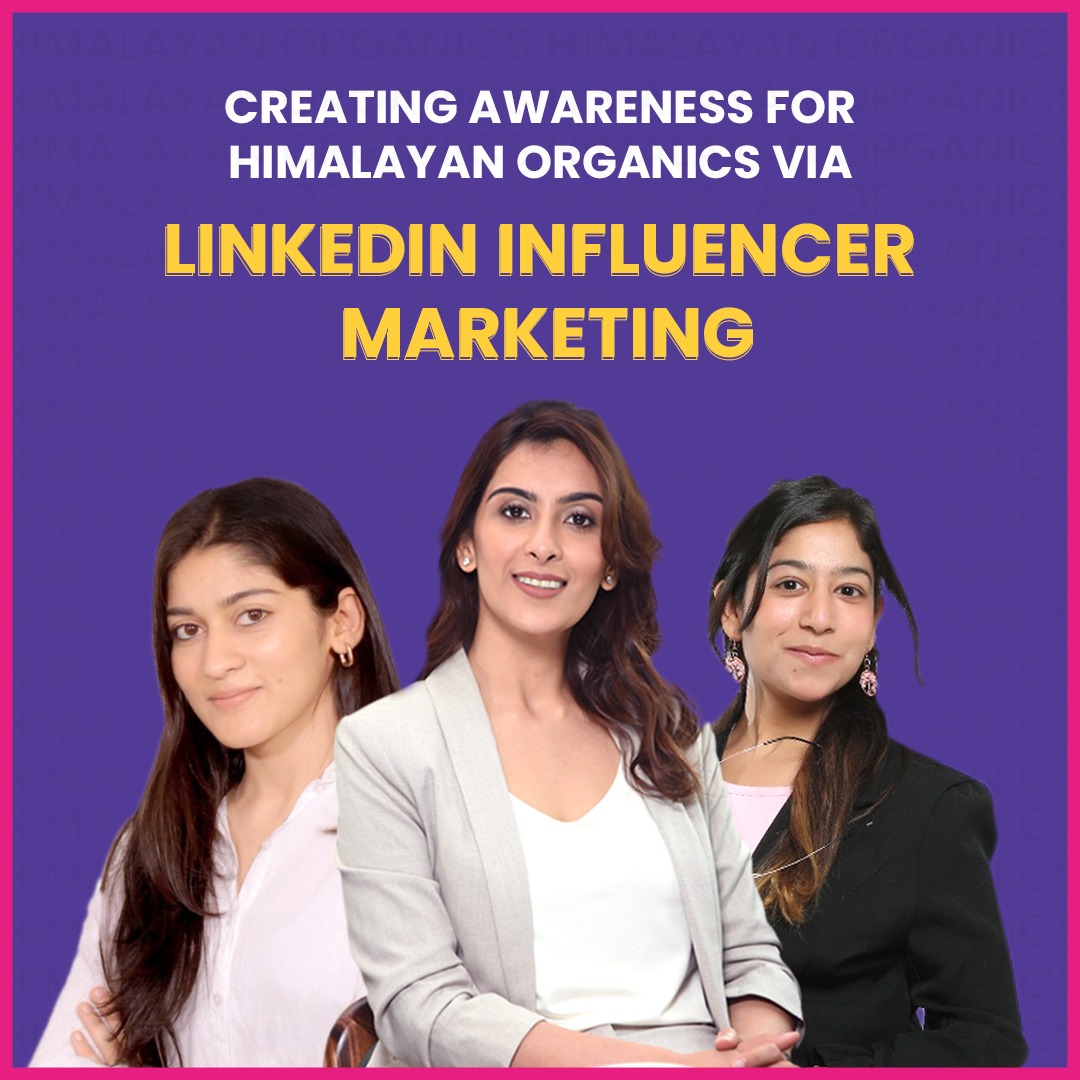 Creating Awareness For Himalayan Organics Via LinkedIn Influencer Marketing

Influencers are exactly what they sound like: individuals with a lot of influence. They already have audiences and a reputation in the relevant fields. Persons pay attention when these people write or speak about their area of expertise. Influencers exist in every business, whether it is B2B or B2C.

Brands like Himalayan Organics, Oziva, and Healthkart are tapping into the power of Influencer marketing on different platforms. One such platform is LinkedIn. LinkedIn Influencer Marketing is also becoming increasingly popular with B2C marketers. The unique audience can be used to create idealized campaigns that work for professionals even when they are not working. For example, professionals are likely to have purchasing power in their houses. If your core target is youngsters, LinkedIn can reach a secondary audience, such as their parents. Furthermore, promoted and sponsored material on LinkedIn is more difficult to spot in major feeds. The postings are notated, yet they blend into the news streams and are not distracting. Furthermore, they can help reach a larger audience.

But wait, B2B isn't behind, 96% of B2B content marketers utilize LinkedIn as part of their digital marketing strategy to drive organic social marketing as it allows direct access to the individuals and companies they are selling to. LinkedIn also helps you create a brand reputation that commands trust and makes potential customers believe in your brand.
Vavo Digital X Himalayan Organics
We recently did a brand awareness campaign #SupplementZarooriHai on LinkedIn for Himalayan Organics. This campaign helped Himalayan Organics reach its desired goal and won us an Impact Influencer Award for Best Platform-Specific Content!! 
To get a depth knowledge about the campaign and its deets, read the article below!
About Himalayan Organics
Himalayan Organics is a leading nutraceutical brand that focuses on overall wellness by serving organic, 100% vegan nutrition to over 1M+ customers across countries. Their product line includes natural supplements, essential oils, skincare, and personal care products made from locally sourced and certified organic ingredients. The brand is committed to promoting sustainable and ethical practices and provides natural solutions for a healthier lifestyle.
Objective Of The Campaign
The goal was to develop Himalayan Organics' online presence with the aid of LinkedIn influencers by building brand awareness of their 100% vegetarian plant-based supplements along with attracting new funding and a customer base. 
Our Solution
Credits: Vedika Bhia
Himalayan Organics is a healthy supplement brand. We wanted to promote those supplements through LinkedIn Influencers. So we partnered with 30 Influencers across categories. Every influencer went through a consultation with a nutritionist so that the correct products reached the correct influencer who needed them.
Campaign Summary
Influencers can impact people. By educating people about new workouts to try or about healthy food, influencers have a positive impact on their health and wellness. Hence, The campaign garnered 2.7M+ impressions with an overall positive sentiment towards the brand, It's crucial to keep in mind the brand's USP and how well an influencer can complement it. 
Ultimately, it's critical to realize that consumers are more inclined to admire your brand when they sense the authenticity you promote around it through influencer marketing.
Why LinkedIn Influencer Marketing?
LinkedIn influencer marketing has seen significant growth in recent years as more brands realize the benefits of reaching a targeted, professional audience through trusted thought leaders.
One of the key factors driving this growth is the increasing popularity of LinkedIn as a social media platform. The platform has seen rapid user growth and now boasts over 700 million members, making it a valuable channel for B2B brands looking to reach a professional audience.
Additionally, the rise of influencer marketing in general has led more brands to explore this type of marketing on LinkedIn. As influencer marketing has become more widespread and accepted, more brands are recognizing the value of leveraging the credibility and reach of influencers on the platform.
Finally, advances in technology and data analytics have made it easier for brands to measure the impact of their influencer marketing campaigns, which has further fueled growth in this area.
Overall, LinkedIn influencer marketing is a growing trend as brands look for new and effective ways to reach their target audience and build their brand on the platform.
Vavo Digital, one of the top influencer marketing agencies in India, is aware of the significant influence these LinkedIn influencers may have on both your brand and their audiences. Would you like to know more? You can reach us at hello@vavodigital.com, and we'll get back to you as soon as possible.

Also Read: Promoting Tourism In UTAH Via Influencer Marketing