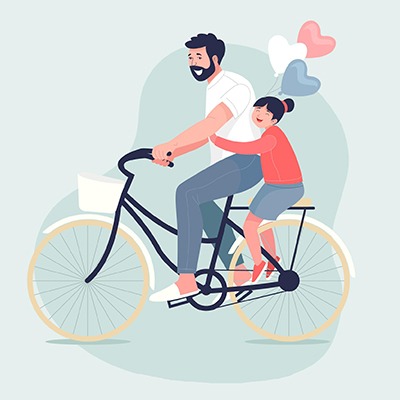 How Can Brands Make Use of Influencers for Father's Day!

Different occasions have become an opportunity for brands to play with their creative freedom and woo their audience. Because of occasions, brands can not only evoke multiple emotions but play around with different themes too. They are a great way to engage with the consumers in the best way possible.

Father's Day is around the corner and people are excited about it. We are pretty sure that many of them are even planning to buy or do something special on this day.

Apart from this, many brands stand a chance to promote their products and services, encouraging people to give these products to their father as a gift. However, times are different this time. After the second wave of COVID-19, people are looking for hope and happiness. Their expectations from businesses have changed.

People are no longer looking for brands that can creatively promote their products but spread the little moments of joy.

So the question is, what are brands going to do to make this day special for their audience?

Many people are distant from their fathers because of the lockdown. So they must deep dive and evoke happy emotions in the minds of their audience.

Wondering how they can do all the above-mentioned things? Well, by making use of different influencers for their Father's Day campaign. Influencer marketing campaigns have not only surprised consumers but many marketers too.

Whether it is a startup or a well-established brand, everyone is aiming to leverage influencer marketing in the best way possible.

Now, you might be thinking how can brands make the right use of influencer marketing in these times!

We know times are uncertain, but don't let these times persuade you to take a pause from crafting incredible campaigns. Instead, use your creative freedom wisely and make the most out of it.

However, if you haven't thought of any ideas about the Father's Day campaign, here are some tips on how you can use influencers for this day!

1) Craft a social media contest!

Amidst the pandemic, everyone wants to feel lively and happy. All they wish is to add some spark to their lives. Contests and giveaways are a great way to generate engagement.

However, as a brand, you need to interact enough with your audience. Positive and engaging interactions can build brand awareness and attract the right audience towards your brand.

Also, since we are talking about Father's Day, make sure your contests and giveaways run around this day. For example, you can start a contest, asking people to create some quirky videos with their dads on the occasion of Father's Day. And in case you decide to offer gifts to the winners, make sure it is related to Father's Day.

For this, you can collaborate with influencers and initiate the contest by asking the influencers to create quirky and funny videos with their fathers.

As said, it will not only drive engagement, but your consumers will start having the feel-good moments and have a changed perception towards your brands.

2) Evoke positive emotions!

Everyone right now is going through a rough and difficult phase. So, brands need to spread joy and happiness and make their customers feel like they care.

With the help of influencers, you can create short and engaging videos where everyone expresses their love for their fathers. They can talk about how the father-son or father-daughter relationship is always extra special. And that the pandemic shouldn't let everyone have the feeling of grief, but should let people be happy about being together in these difficult times.

Believe it or not, but influencers do have the power to encourage their followers to do the same.

3) Play around with different themes!

Since it's Father's Day, you can play around with themes like love, memories, fatherhood, men's health, and of course, dad humour, Duh! Let's just agree on the fact that dads are really famous for their lame jokes.

Well, for this, you can have one or multiple influencers creating videos on their favourite dad jokes.

Or even better? Ask dad influencers to come up with their dad memes and puns! We bet this will not only generate engagement but even have the audience relate to these puns.

Further, you can even ask your audience to create videos on the same. Believe us, user-generated content has a great power to increase your reach and influence your audience.

Incorporating the right themes will give you the right direction for your influencer marketing campaign for Father's Day.

Apart from using these tips, leverage your creative thinking and campaign strategies properly. One wrong step can break your brand, and you surely don't wish for that!

But you are still concerned about collaborating with the right influencers! Don't worry, Vavo Digital has got you all covered!

For your Father's Day Campaign, we can help you in connecting with the right set of influencers to create a remarkable campaign for this special occasion. We will make it easier for you to not only create branded hashtags but simply your marketing campaign.

So boost yourself and get ready to create some incredible and amazing Father's Day campaigns!