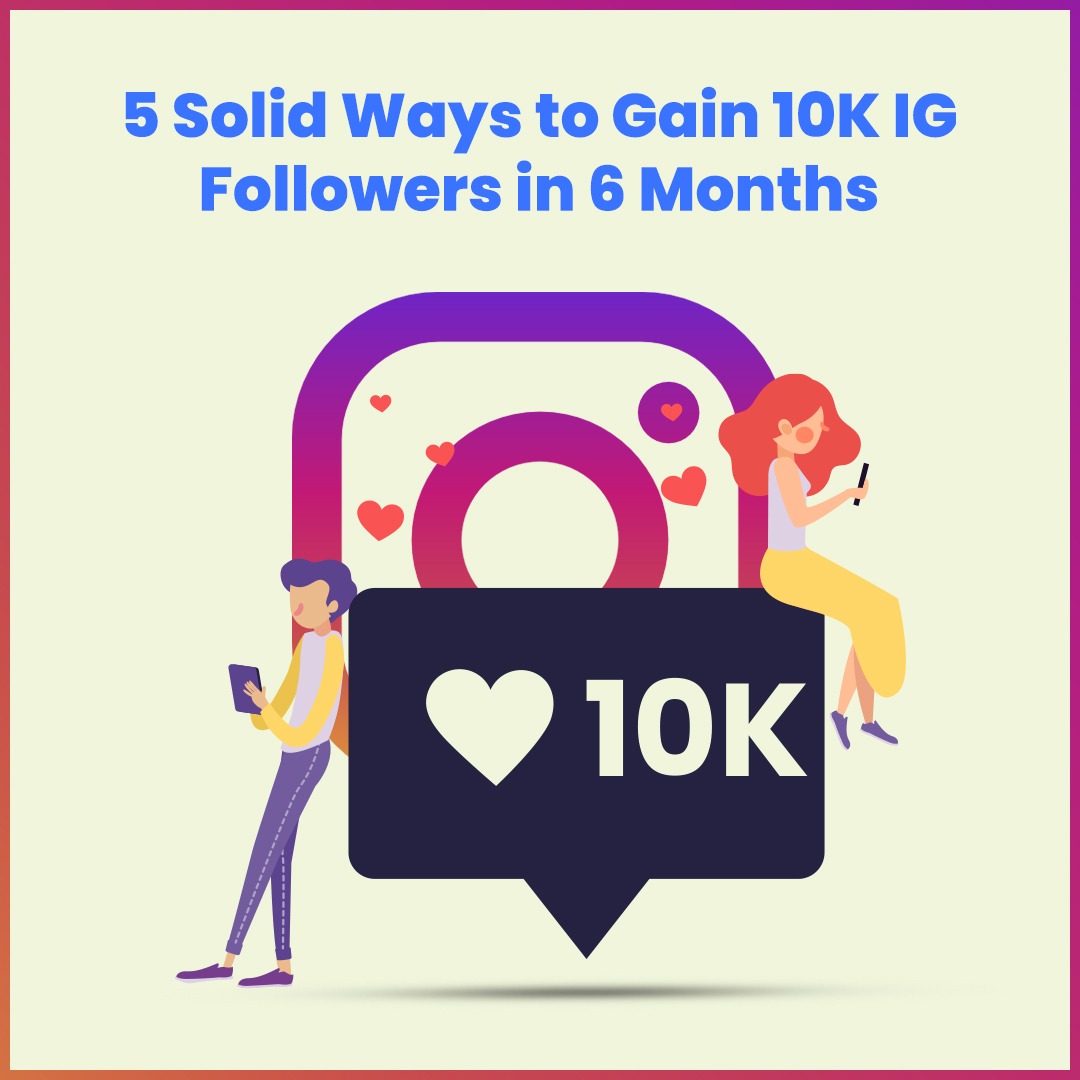 5 Solid Ways to Gain 10K IG Followers in 6 Months 

Great content can move bridges and break boundaries. Content is the king in today's world of fame. If you are not consistent with what you make and present to the audience, then success is still far away from your doors.

The content can be related to a particular niche or include random daily blogs based on your routine job. The core is it should be interesting and appealing to the spectators.

The techniques of Instagram influencer marketing if learned and executed religiously, will surely reap results. It is because influencers have grown up to be a huge marketplace for new ideas and hacks for all the generations watching them out.

Be it your college day function or an important official day, you have to look your best. Taking ideas and suggestions from fashion influencers and beauty product influencers helps you a lot to be sort with your necessities. This saves time and effort in shopping for new things. Similarly, some influencers idealize home decor, food blogging, travel hacks, and many more.

If you are still thinking whether influencer is a career option to opt for then you must give a check on Social Media Influencer: A Legit Career Option?

Sehaye is a friendly app for both brand makers and brand advertisers. So if you are an influencer or searching for one, then rest assured. Register on the Sehaye app and your work is done. We have collaborated with brands like Netflix, Lenskart, Max, Meesho, and many others.

These were the reasons why you need an influencer, now let's jump into the topic and understand how you can be one of them. Here are the 5 vastly accepted methods to gain 10k Instagram followers in just 6 months. Let's go live.
1. #HashtagsBringPublicity
Hashtags and the explore page of your Instagram network work simultaneously. The better or more relevant the hashtag, the more the chances of your post being shown on the top explore page. Similarly, your content should be at par, then see the magic, and people will be bound to follow you for more relatable content.
Any and every page needs a hashtag. You can be specific about what you are going to choose as your hashtag. Search for the latest ones and just apply a few. Too much crowding also disfigures the post.
For example, branded hashtags have a larger engagement rate. Add some in your bio too. Hashtags can increase 25% of engagement rate.
If you are concerned that your caption would not look good with hashtags, then try putting them in the comments section. Using customized hashtags yielded by your fellow influencers from the same niche can also be done. Keep posting with refreshed hashtags. This is because one hashtag generates 9 top posts every second and it keeps on changing too.
2. Your Grid Should Be A Visual Treat To The Eyes
Source: Later
Do you like to see a solved puzzle or a haphazard one? The one which has been solved and beautifully placed. Similarly, after a catchy bio and SEO-generated user name, your profile grid should be a treat to the eyes of the viewers.
3. Roll on Engagements
You can never run a community single-handedly. There is a need for support from all ends. So just be prepared to romp up fruitful engagements with interested influencers or brands who match your niche. Starting, you may need to invite people for engagements from your side. If you are selling a product, then introduce giveaways, and mini gift hampers on participating in quizzes.
You can also start through live video interaction, asking for suggestions, and sharing other followers' content on your knowledge. In this way, you are demonstrating your interest in the interest of your clients. Initiate replying to the comments of your audience and DMs and let them know that you care what they care about. Repost, and sizzle that flame of trust among your peers so that they start visiting your profile for more insight.
4. Be Creative. Be Collaborative
Paid sponsorship are should not be just limited to the date your deal is not done. It is a bond of trust and can go a long way if maintained. If you are posting an advertisement about your product or any other brand's product, then it must be intriguing and catchy enough to make the scroller pause for a second. The visuals should be up to the mark and of interest to the viewer.
People don't like to read a lot in ads. So try out video ads with animations and make them short and crisp to just convey the right message. Ad building is an art that should be able to induce someone to watch it again and again. For example, Fitness foods are usually thought to be bland and tasteless. But only a few people know that even spicy, sweet, and tasty food if taken in regulated amounts can be taken on a diet.
Check out a few examples of animated video ads.
5. Don't Forget to Analyse Every Month
Source : Influencity
What's the advantage of posting content when you don't know if you are benefitting or not?
Switch to the business profile and keep track. There are daily updates on how good the engagement rate is. Hire external analysis tools to check on your performance. Schedule dates for review and take the respective actions according to the results.
Conclusion
We are pretty sure that if the above ingredients are mixed in the right amount and served, make a delicious cuisine platter. Now everything lies in the hands of the influencer. Getting up to the benchmark of 10k followers is just the beginning of a long and beautiful journey of influencing.
Consistency in content-making is the salt and it should be always present. Even after 10k, if you are thinking of going lenient then forget it. It's your bread and butter to keep the audience engaged.
We at Vavo Digital take pride in helping millions of well-known brands and influences in finding their correct sponsorship and deals. We are full of creative souls who have creativity running in their veins. With the help of us, you can be one of them. If this blog popped queries into your mind, then don't worry just drop an email at hello@vavodigital.com and we will get back to you asap.
Note: The images used in the blog belong to the owner and are used for descriptive purposes.