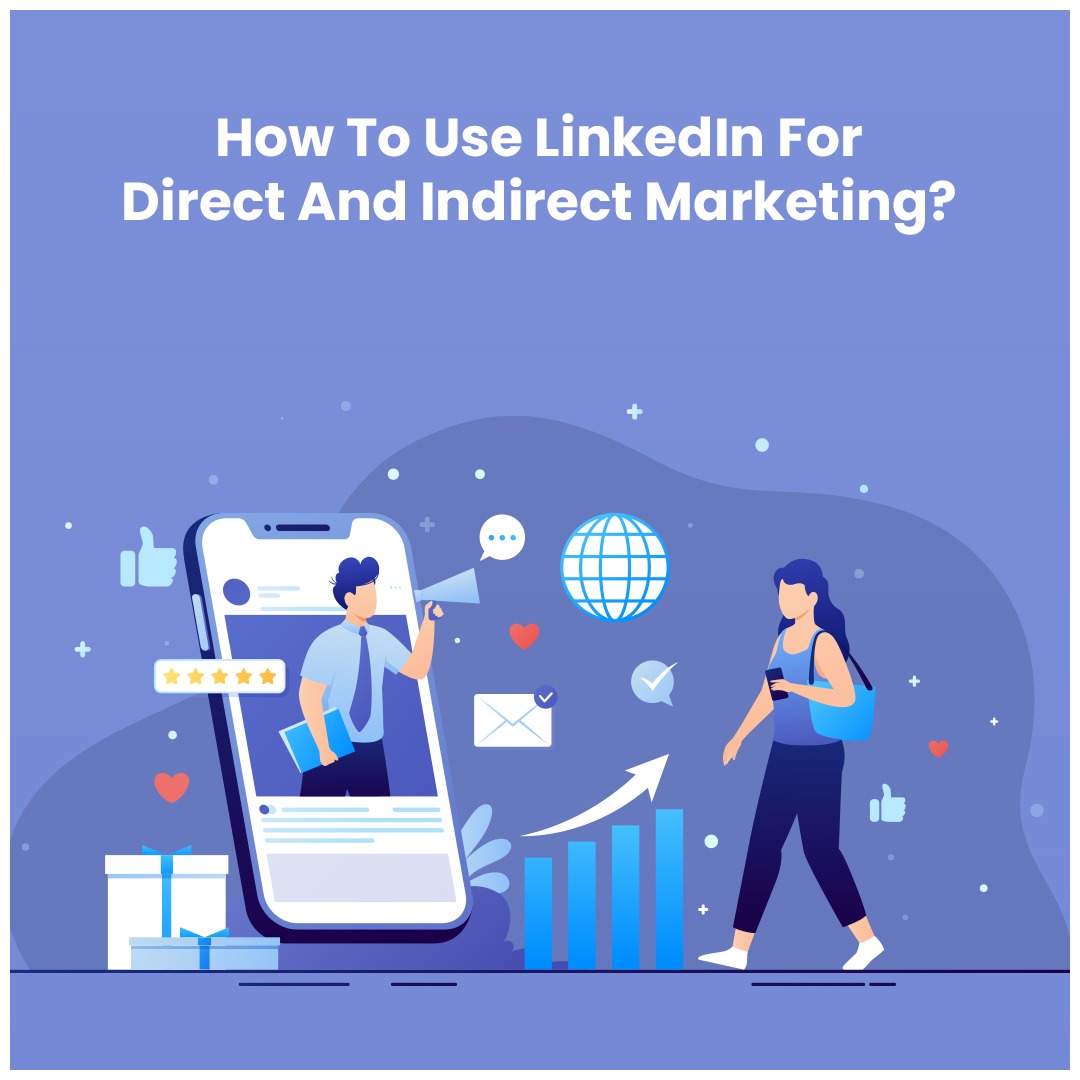 How To Use LinkedIn For Direct And Indirect Marketing? 

LinkedIn is a platform that can easily market your products. When it comes to expecting good lead generation on LinkedIn, there are just 2 approaches. Direct and indirect marketing approach. Implement them rightly and you can have the power to rule digital marketing on LinkedIn.

Your main goal is to be in the minds of your prospective clients so that every content released adds some value to their daily life. Your clients need to be with you in the long run.

Organising contests, asking questions, taking part in live debates with consumers, spotlighting the best ones, and creating polls are some of the solid ways of increasing engagement on Instagram and Facebook.

You can also read: 5 simple steps to grow your brand's organic following on LinkedIn.

Being natural is the aesthetic way of keeping the conversation going on. You can be casual and candid too sometimes. Just showing the human side of your brand and how the process happens, is a good way of being active on social media.

Let's know in detail about the two different approaches to digital marketing.
Direct Marketing
Source: The Investors Book
As the name suggests, direct marketing means feeding direct information about your product, your brand, and its accomplishments into the feeds of your customer and clients.
It doesn't involve making stories or reels on your brand utility. Being direct means saying about your brand's usefulness in the lives of those who have been a part of it or want to be a part of it.
That never means you have to be spamming their feeds with your company info. Be subtle and respect the other person's time. Know about the interests of the targeted audience. Get acknowledged if they really need your help or service. This knowledge will help you connect better with prospects.
Direct marketing is more of the art of communication when consumers realize why they need your product/service. It's because you are striking up a conversation with a stranger whom you don't know, not vice versa.
So being patient by using discussion boards or resolving a message initially can help you get a grip on the situation. Here we shall look at the different types of direct marketing you can adopt while you start your journey of advertising.
The different types of direct marketing include:
Sending direct mails about their new launches, announcements, and reminders directly to the customer's mail id. For example: Businesses offer complimentary samples of their latest product to their current clients.
Running attractive campaigns concerning the interests of the customers. It can be through pamphlets and newspaper outlets.
Providing product catalogues to your interested section of the audience. They can e-catalogs or announcements made on websites. For example: Prospective customers can access product inventories from businesses like Amway. Buyers can select from a variety of goods and place orders as needed.
Personal selling techniques. Send your advertisement through your employees in the footsteps of your customer's doors. For example: Byju's addresses its target clients by offering a kit demonstration at the client's residence. The kit includes a tablet, a bag, learning materials, a badge, and other items.
Teleselling advertisements and order placing service. There are two types of telemarketing – Inbound and Outbound telemarketing.
Showcase your brand by sponsoring large crowd events and installing stalls at their place. This is known as Kiosk Marketing
Lastly, online marketing through social media but in a much more direct form.
Advantages
Easy, cheaper, and less creative efforts are required.
Secrecy about the marketing strategy is maintained by competitors.
You can know your customer personally and have a long-term relationship.
Interactive if said through storytelling.
TIP: Giving advise, information, and industry insights is an excellent method to establish a relationship and build trust. So, using discussion boards and messaging, start a conversation on LinkedIn before moving on to the various products or services your company can give them.
Indirect Marketing
The more interesting of the two is indirect marketing means offering valuable tips and information regarding your business and then directing the consumers to your web page.
Indirect marketing turns out to be a silent marketing skill that in the long run gains more engagement and attention from new members.
You can offer subscriptions to your e-newsletters or provide entry-level discount coupons for every new registration.
These are some of the offers that attract new leads the most.
You can be a quick-response person on your social media posts. Give heed to both good and bad comments on social media.
Provide free advice to people on quora and other similar apps. This will help you be a strong connection to users. Building trust is the first step in mutual relationship building.
Strike up questions in the minds of your readers. Your advice should be invaluable and not generic. Copying and pasting it from other websites makes it boring and of less value to your viewers.
In the end, start linking it to your business with good incentives and welcome offers.
Advantages
A larger audience was grabbed at a single platform.
Subtle but creative.
Short messages and attractive.
Attracts the younger generation.
Short-term investments for a larger return on investment.
You can spread a bigger message without even having an app.
TIP- Provide free advise/information in forums, status updates, and so on, and then use this 'valuable content' to initiate interactions with those who respond to your advice. Once they become a connection, send them to your landing page where they can learn more about your company's products and services or download a white paper.
Which One to Choose?
Direct and Indirect marketing are the two ways described above to know about efficient marketing in today's world. Though we cannot rank them together. They aren't comparable on the same grounds. Both marketing techniques need to be followed from time to time.
Both usually start by cracking conversations and offerings to the customers and clients. Thereafter the process differs. There should be a balanced presentation of both processes. Too much indirect marketing can confuse the customers leading to ignorance. Similarly, without direct marketing, there shall remain no clarity of data.
Your potential consumers must be shown your profile through direct marketing. While through indirect marketing, you are inciting new leads every day.
More the diversity in the techniques the better will be the engagement with the audience. The point of view of the audience and clients may differ, hence better to follow a broad spectrum view.
By taking the help of both techniques, you will not miss even a single potential client. Remember your goal should be to promote your product while you maintain organic reach and authenticity in your content.
To give a boost to your influencer marketing campaigns, here comes Sehaye. It helps to easily execute the collaboration. Now, Barter collaboration is accessible to all levels of influencer along with big brands.
Conclusion
Be it direct or indirect marketing, each of them requires a different approach. It requires both time and effort to take up the tasks and execute them properly. So having a department dedicated to digital marketing should be a part of your budget.
Vavo Digital just serves the right purpose with several features of influencer marketing. If you have any doubts regarding how to start with influencer marketing as a startup or a brand maker, we are just an email away. Connect with us at hello@vavodigital.com. We will get back to you with the complete outlook.
Note: Image shared in the blog belong to the owner and it's descriptive in nature.