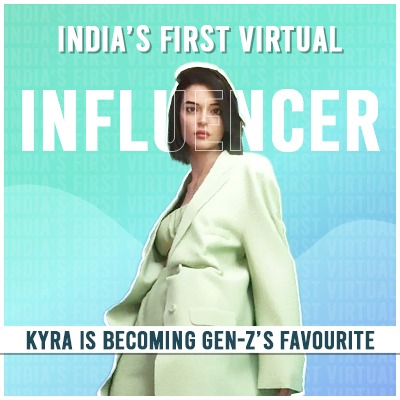 INDIA'S FIRST VIRTUAL INFLUENCER, KYRA IS BECOMING GEN-Z'S FAVOURITE

Virtual influencers are burning on social media platforms all over the world. The virtual influencers can be customized to look like a real person in a graphical representation. India has followed suit, and we now have our own virtual influencer in the form of Kyra.

Kyra follows in the footsteps of Lil Miquela, a 19-year-old Brazilian-American who started on Instagram in 2016 and currently has over three million followers, as well as Rozy Oh of South Korea.

Why are virtual influencers being created? Mostly because they're a tremendous hit with advertisers in the metaverse.

RISE OF THE VIRTUAL INFLUENCERS

Virtual influencers are just what their name implies: virtual influencers. It's all CGI. They lack every single bone in their bodies. These are digital characters that have been given a personality, a plot, and a social networking page using computer graphics software.

You might think it's weird. And you'd be partially correct. Virtual influencers have become a common fixture of luxury brand advertisements and Instagram feeds, thanks to technological breakthroughs in imaging software that have levelled out the "uncanny valley."

On a scale of following and engagement, the biggest virtual influencers are vying with some of the highest-paid influencers. Brazil's Lu do Magalu, for example, has almost 14 million Facebook fans, 5 million Instagram followers, and the same number on TikTok.

ALL YOU NEED TO KNOW ABOUT KYRA
Kyra shared this photo on her Instagram account
She posted a photo of herself wearing a blue shirt, along with a touching remark. She shared her joy with her fans and thanked them for coming along for the adventure. "100,000!
The caption on her picture said "I could never have imagined so many people would choose to follow me when I started. The last 5 months have been a beautiful, chaotic journey. Thank you to all those who have joined me on this ride. Watch this space as there is still a lot more to come."
The post went viral on Instagram in no time and got over 10k likes and caught the attention of all sections of social media.
"There's no way she is not real," a user wrote.
Another Instagram user commented "If 3d character was reality"
Check out the comments below:
Kyra is India's first Meta-influencer based in Mumbai, according to her Instagram account. According to her bio, she is a dream chaser, traveller, and model. In case you're wondering who created Kyra, it's Himanshu Goel, the business head at Top Social India. Since 2020, Goel has been working on and leading the project. It's fascinating to see how people are transitioning to the virtual world. What do you think about this new trend of virtual Influencers getting all the hype on social media? Tell us your thoughts!