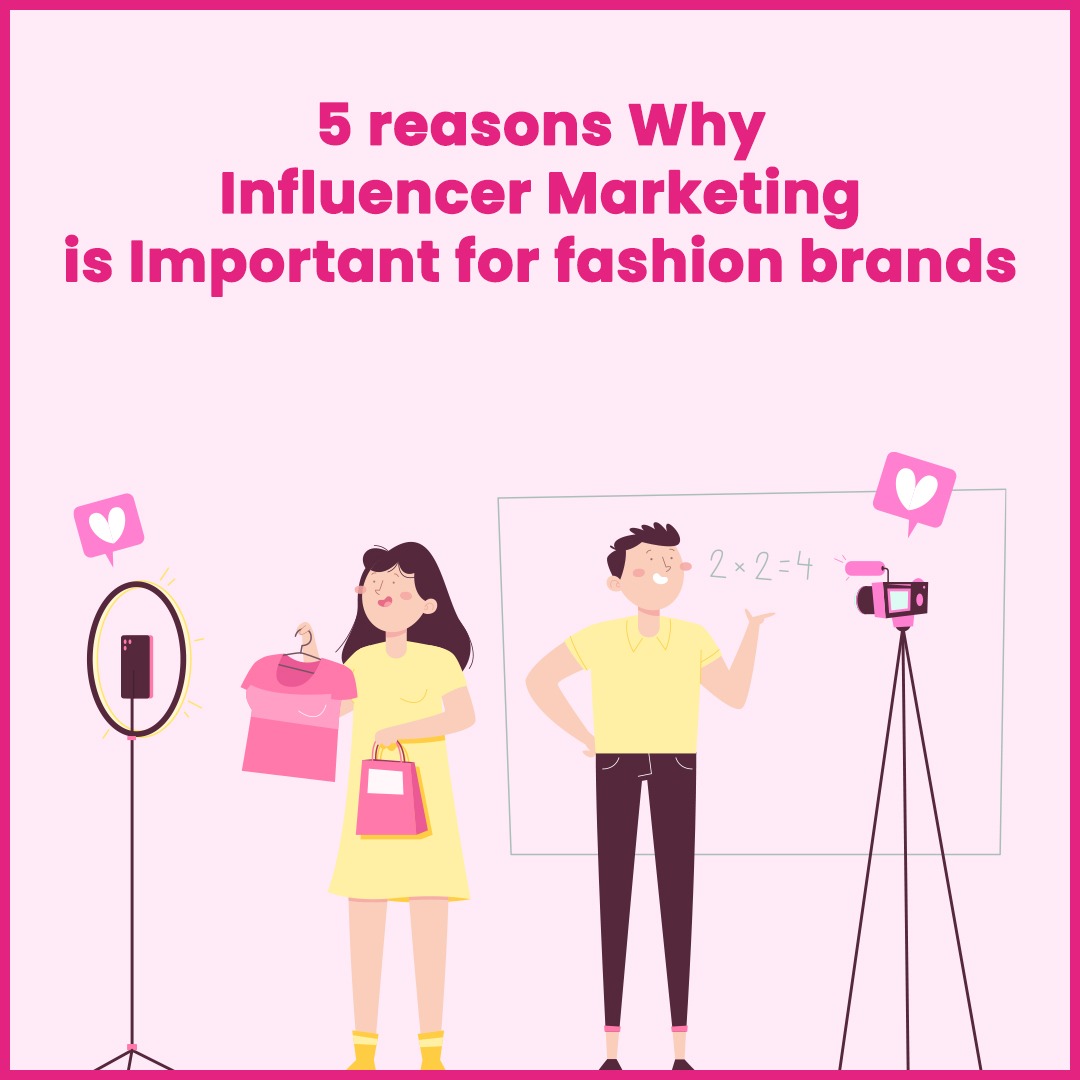 5 Reasons Why Influencer Marketing Is Important For Fashion Brands

Stop depending on outdated promotional methods for your fashion products, try influencer marketing! It is an effective way when you want to boost your visibility among diversified audiences. Can you imagine that fashion influencer marketing is growing at a rapid rate of 35.7% as of now? Now you might be getting an idea of how much influencer marketing is important for the fashion brands' survival.

Especially for those consumers who love to buy online, influencer marketing can prove to be helpful. You just need to find out the perfect influencers for this purpose and then you are all set for witnessing how influencer marketing serves your fashion brand.

Worry not, we also have a solution that will help you find the best match for an influencer as well. So let's get started without further ado!
What does Influencer Marketing mean in Fashion Industry?
Influencer marketing is taking the fashion industry by its storm these days. Therefore, before we further dig into its importance for fashion brands, let's see how does fashion industry see it from its own perspective.
Fashion influencers act as a bridge between fashion brands and audiences. So that these brands can enable themselves to secure new audiences. From high-end fashion brands to mediocre brands, everyone is looking up to the influencers.
Now, let's see 5 reasons why Influencer Marketing is Important for Fashion Brands:
Influencers get you Closer to your Target Audience
Fashion brands need to develop a deep connection with their consumers at any cost. So that these brands can intrigue them more and get them to buy from them at the same time. No, this is simpler said than done. A lot of factors determine whether your brand is going to be successful in this or not. Now, here's where influencers come in.
Fashion brands collaborate with them so that they can maximize their promotional efforts. Influencers convey their brand message impressively to their target audience and get fashion brands what they want.
2. Influencers Know How To Hold The Reins Of Social Media
Yes, it can happen! Influencers can become your social media managers as well. In some cases, fashion brands want to try something new so they let influencers control their social media platforms.
Well, it's not always about a "paid partnership" in fashion influencer marketing. They can perform just like an SMM. They will update your Instagram account, for example, and will post stories on it intermittently.
This is how you can kill two birds with one stone if you happen to find a perfect influencer for your fashion brand. Now, are you going to do this, or still need more reasons?
3. Allow Your Audience To Enjoy Discounts
Your audience loves when you offer them discounts through promotional emails, paid ads, and influencers, of course. It is because the audience trusts their influencers. Now, if you will offer them their favorite thing through their favorite influencer then there are more chances that you will have their undivided attention quite easily.
Daniel Wellington
Credits: Kritika Khurana
Daniel Wellington debuted with an extensive influencer marketing campaign. The brand collaborated with a slew of micro and mega influencers to raise brand awareness by providing exclusive coupon codes and deals.
A fashion brand should never discriminate between influencers. So here, we recommend you to know some plus size fashion influencers on Instagram to give your promotional campaigns an edge!
4. Affiliate Links And Influencers Is The Best Duo
That is right! Some brands choose to meld Affiliate links with influencer marketing. Well, if you are from such brands then feel yourself lucky. Affiliate links are a witty way to boost your sales
How do you combine them with influencer marketing? Just simply ask your influencers to leave your website's link in their post's captions or put them on their stories. This way, influencers will deduct a little commission from each sale through that affiliate link and the rest will be your ROI.
5. Your Product Promotion Becomes Effortless
Selling your products and services to your consumers is not an easy job. Product promotion requires blood and sweat and for this, influencers are a great help. The same implies to fashion brands.
You hire an influencer, send them free goodies to promote and the end result? A decent amount of sales, new people that want to buy from you, and a massive ROI.
Remember we talked about offering you a solution for your influencer-hunting spree? Keep reading to find out more about it!
The Final Say
Influencer marketing for fashion brands is the lifeblood. Without influencers, these fashion brands might fail to impress their audience and take their products to them seamlessly. If you have not hired a fashion influencer yet for your brand, then you don't have any time left to think further. Get inspired by our post and collaborate with an influencer!
We at Vavo Digital understand how crucial influencers are for your fashion brand. From driving sales to establishing a firm spot in the fashion industry, influencers are your lifesavers. Don't worry if you need to know more about how Vavo Digital introduces you to the best fashion influencers. Drop us a line at hello@vavodigital.com!