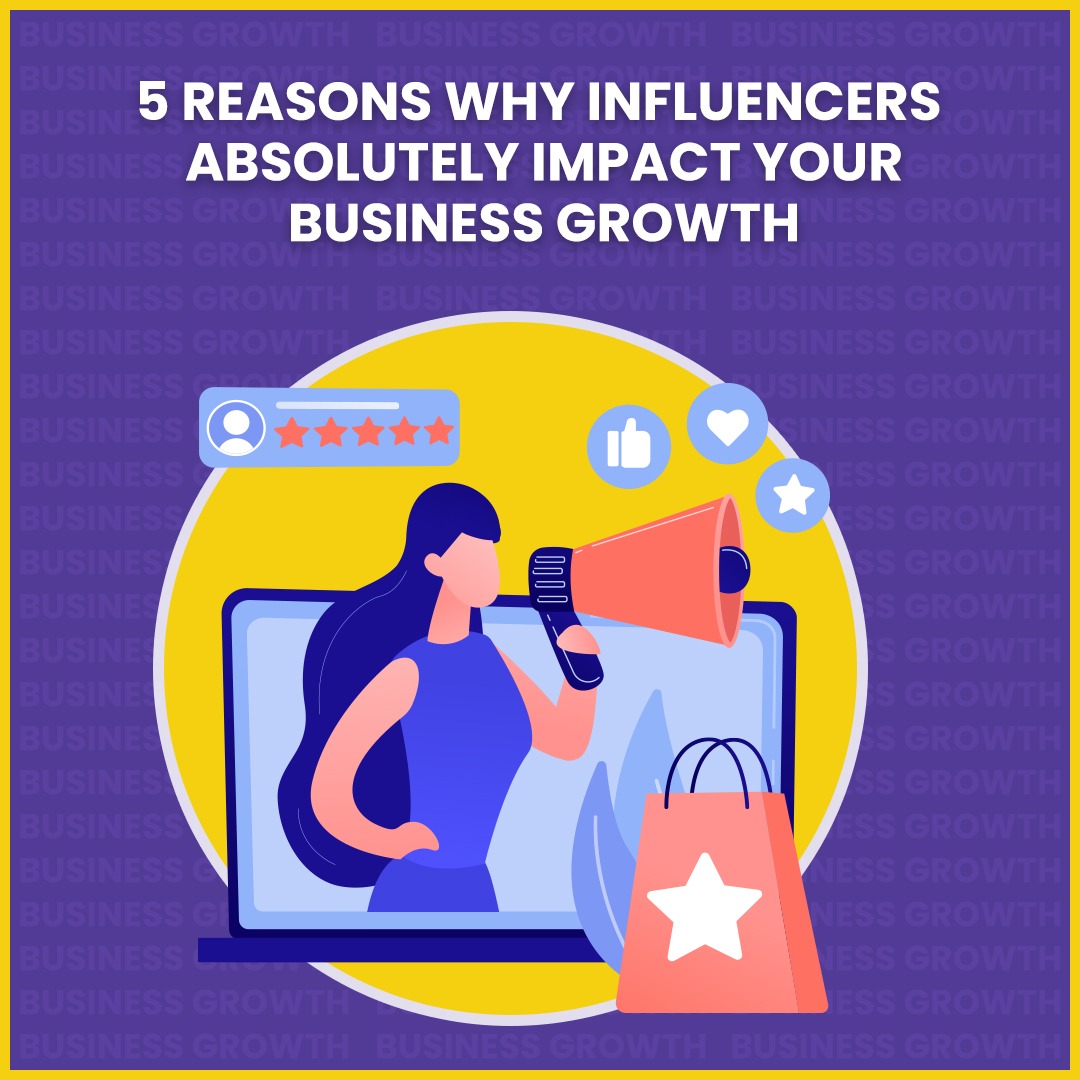 5 Reasons Why Influencers Absolutely Impact Your Business Growth

Using influencers for marketing is at the top of the list of marketing trends that are grabbing the attention of CMOs worldwide. This type of marketing has been embraced by numerous brands in an effort to raise brand recognition, draw in new clients, and foster business expansion. Influencer marketing, which was formerly exclusive to PR or social media departments, is now recognized as a crucial component of marketing strategies and is incorporated into media plans.

With that in the picture, e-commerce has grown rapidly over the past few years and months, giving online firms a special chance to use social media influencers as integral members of their marketing team.

We'll look at how brand collaborations with influencers help them achieve goals including fostering customer trust, boosting online traffic, and raising conversion rates.
Source: Influencer Marketing Hub
Who Are Influencers?
To further grasp how influencers might benefit your brand, let's first define who they are. A professional or an expert who is respected and trusted by their audience is an influencer. Despite the fact that there are more influencers than ever, many of them have been successful thanks to the agency management. This is a result of the numerous requests for collaboration from businesses.
In other words, influencers are in charge, and businesses may either act as if they are unaware of this fact or seize the chance to promote themselves. Another truth that might shock you is that, according to Forbes, micro-influencers—not the Kardashians with their millions of fans—are the future of influencer marketing. This is excellent news for companies who struggle to entice influencers with large followings.
However, if you disagree that influencers have a significant impact, consider these 5 points:
1.Influencers are skilled in organising people and increasing traffic to the websites of their partners-
Because they know how to engage their audience and put important messages in front of their target audience, influencers are powerful. The most effective influencers are those who have identified a particular, niche audience and engage with them in an effort to persuade them to take some sort of action. Some people are regarded as specialists in a variety of fields, including marketing, DIY, finance, and cosmetics.
2. Influencer marketing can increase conversions- 
According to studies, an astounding 84% of consumers have purchased a product after hearing about it from an influencer. This demonstrates how influencer marketing is much more effective than conventional word-of-mouth advertising and may really motivate consumers to make purchases. Influencers can also assist a client in selecting the best option for them, which can enhance brand loyalty and sales.
3. Influencers are cost effective and have a high customer acquisition-
It is incredibly economical to use this influencer marketing method. It is a very cost-effective technique since it has lower production costs, lower Cost Per Mile (CPM), and it reaches the proper target population. Additionally, it is very engaging, leading to a high client acquisition rate.
4. Influencer marketing is suitable for all business sizes-
Influencer marketing may help you succeed whether you're an established brand trying to monopolize your market or simply a little startup trying to get your name out there. Because social media is constantly evolving, influencers can essentially act as brand ambassadors for you. Influencers can continually promote your offering and buyers will have access to buy them at any time thanks to tools like Live Shopping and e-commerce.
5. Influencer marketing will prevail-
An estimated 49% of companies spend less than $10K on influencer marketing, yet a sizeable proportion spend more. Spending between $10K and $50K accounts for 23% of total spending. Budgets are anticipated to increase across the board in the coming years as more and more sectors produce these influencers and they continue to be a reliable source for consumers.
Brands pump up spending on influencer marketing this festive season
80% of Diwali shoppers engaged with influencer-led content on Meta technologies for the 2022 festive season, 53% of Diwali shoppers made online discoveries through influencers, and 56% agreed that public figures/celebrities influence their purchase decisions, according to a consumer insights report by Meta.
This festive period, D2C brands and ecommerce businesses seem to be investing extensively in influencer marketing, making it the rage. Fashion, lifestyle, and beauty brands are particularly interested in interacting with influencers.
Innovative partnerships between brands and influencers from many genres are used to engage audiences with catchy words, smart wordplay, opulent images, humour, and educational material.
For instance, to discuss the importance of investing in education this Diwali, UpGrad, an online education provider, recently teamed together with personal finance blogger Sharan Hegde (Finance with Sharan).
Did you know? You can use influencer marketing to grow your business during this festive season, read 5 Effective Tips To Use Influencer Marketing During The Festive Season for some excellent tips on how you can do so.
Our Thoughts
Any brand looking to increase its reach and promote its products should consider using influencers as a powerful marketing tool. The best aspect is that any business can successfully launch a campaign because there are so many original approaches to draw up a plan and work with influencers.
Don't set boundaries; instead, attempt to consider all the options. To increase your reach, work with influencer teams. Watch your engagement soar by encouraging users to create their own content. To increase conversions, test several mediums.
Vavo Digital, one of the best influencer marketing agencies, is aware of the significant impact influencers have over their audience for brands across all industries. We help you establish relationships with these influencers so that they can effectively spread the word about your business.
Are you interested in learning more about influencer marketing and how it may help your brand? Please email us at hello@vavodigital.com, and we'll respond as soon as we can!